Jojo & Nikki
How They Met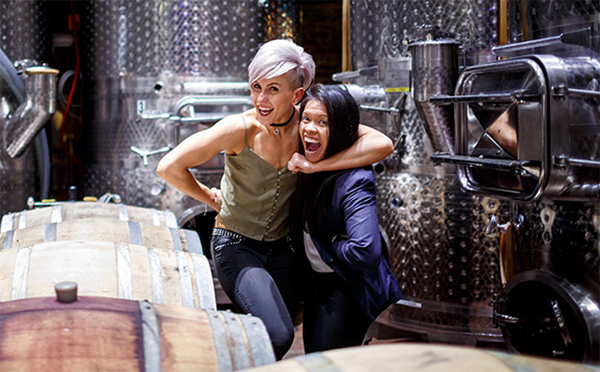 In the middle of ocean [literally]! We met on the Jillian Michaels Wellness Cruise in 2010.
The Proposal
When we started dating, I knew that this was the person I was going to spend the rest of my life with. We've been together for just about six years, and I've been planning this surprise proposal for a long time. With the global traveling that Nikki does as an international trainer, we've been incredibly fortunate to make amazing friendships around the world. I wanted these people, along with our friends and family, to be a part of the proposal.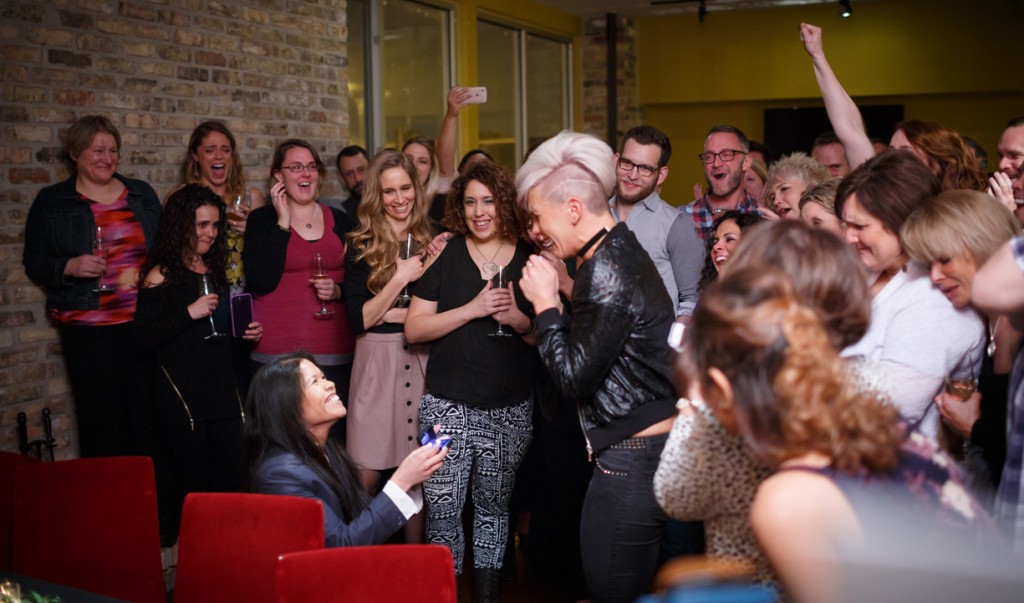 The concept was simple: before I gave Nikki the ring, I wanted to pass it along to the very people who love and support us every single day. And they would pass it on to one another, until it came back to me. While she was on a work trip to New Zealand, I began executing my plan: I created an instructional Youtube video to explain how they should send in their video clips in January, sent out emails with deadlines, and began compiling the video as the clips came in. I setup a meeting with her boss at work to stage a fake work dinner at the venue, so she knew she had to show up.
The venue was close to my office so I could go during my lunch hours to hammer out details and logistics. I worked with a jeweler in Chicago to pick the perfect stone and setting — without knowing exactly what her ring size is, we made sure it was just big enough to go past the knuckle

I hired my colleague to capture every surprise moment [she and her husband also run a wedding photography business]. I flew in her parents from Utah to be in on the surprise.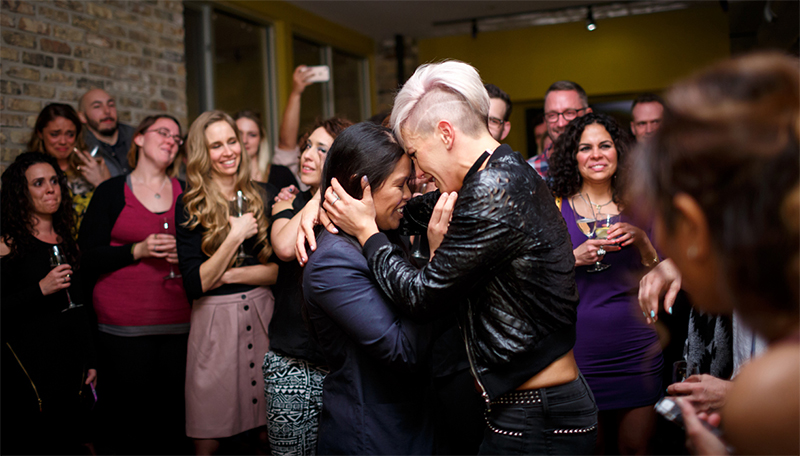 Every detail was worked through the time she was away. We got to dinner with her work colleagues that evening. The venue greeted us at the door with wine, and sat us down at our table. City Winery often offers tours of the winery (it's the only winery in the city of Chicago), so we grabbed our drinks and went on the tour. First stop was their wine and barreling room, next stop: the upstairs private event space where everyone was waiting. As we walked up the stairs, I distinctly recall thinking that I should have put on more deodorant haha! As we turned the corner and saw the crowd, Nikki didn't immediately register it was a crowd she knew. She thought, "Oh, there's a party up here, we should probably go". And then she saw her father.
Once she saw him, waterworks started. Then she started to recognize more people: her mom, my mom, my brother, our closest and most dearest friends. As we worked through the crowd and I grabbed her hand and said, "It's ok, I want to show you something." I pressed play on the video that I worked on for months and together with our friends and family, we watched as I handed the ring off to one side of the screen, and it was passed around the world, from one person to the next, screen to screen. When it got back to me at the end, I turned to her and said, "There are a million things I wanted to say at this very moment, but I can't remember any of it, and I'm not even sure what words are coming out of my mouth. But all I know is that I love you, Nikki. Always have, always will. And it would be amazing to spend the rest of my life with you." I pulled the ring box out of my pocket, got down on one knee and looked up at the love of my life as I said "Nicole Ann Snow, will you marry me?".
Through the happiest of tears, she said "YES!" and I couldn't get up fast enough to pull her in my arms and hug my future wife. Our friends and family shouted in joy as I slid the ring on her finger. We spent the rest of the night celebrating our love, surrounded by the people who mean the most to us. It was absolutely a magical night. I pulled of the surprise of our lives and it couldn't have been more perfect! I posted the video I showed her, along with the proposal on youtube. Enjoy!
The Engagement Ring
Specs: Cathedral Setting Circle Cut Stone 1.57 ct. From Diamonds Chicago