Cindy & Scott
How they met:
Scott and I are from Ashland Ky and went to High School together. He was a senior and I was a freshman.We reconnected Via Facebook 01-22-12 after he commented on one of my modeling pictures (see attached). We chatted for many hours on facebook and he missed the football play offs! It had been 20 years since we last saw each other, and I invited him to Charlotte, NC to visit me.  He came to visit in February and we've been together ever since.
The proposal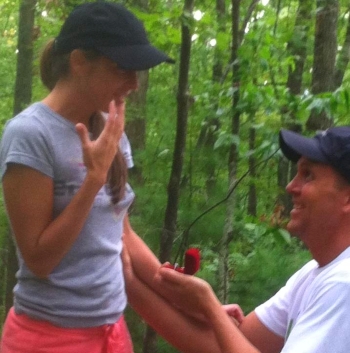 Scott and I discussed marriage often.  Our relationship was long distance for many months (him being in Ky and me NC) and wasn't sure if he was willing to uproot his life to move to Charlotte but…..He had a plan up his sleeve. Actually him and my daughter Victoria had a plan!!!!!  I had no clue he was going to propose but my daughter knew all about it and was the one that helped Scott  planning it!
We planned a camping trip at Pipestem State Park for the weekend of 08-24-12.  But a week prior Victoria (9 years old) had a very grown up conversation with Scott (without my knowledge) telling him that he should ask me to marry him while camping.  She had obviously had this conversation with him a couple of times and during one of his visits she had given him an old costume ring or hers to give me when he proposed.  So their plan was in the works!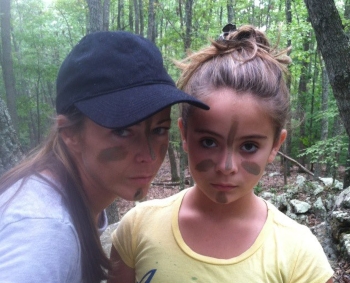 My daughter and I met him there and our camping adventure began. Located behind our campsite was a beautiful trail with huge rocks that we were able to climb on and have a picnic.  My daughter and I decided to play in the mud and take pictures.  After we washed the mud off our face Scott asked if we could walk down to the rocks to take pictures of us before it got dark (it was our last night camping).  Victoria started taking pictures of us and he asked her how she wanted us to pose for the next picture and she chuckled.  He then pulled out the red box and dropped to one knee and as I reacted in pure shock he the proposed with a shaky voice and tears in his eyes.  My daughter captured the moment on camera and enjoyed being a part of such a meaningful time in all of our life.
I said yes without hesitation then stopped and said wait a second…..did you ask my mom and dad???  He laughed and said he spoke with them a few days prior and asked for permission to marry me and their blessing!  I then proceeded to ask if "candid camera" was going to pop out and both him and Victoria just laughed at me.  We all had tears of joy and a hug for 3 full of love!
The engagement ring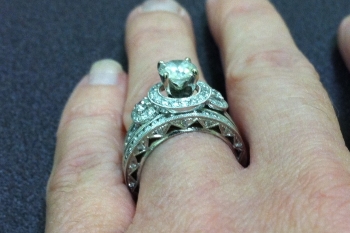 The ring that Scott proposed to me with is little less than a carat and was placed in a very simple setting.  He does a lot of advertising work for Pollocks Jewelry store in Ashland Ky so the owner helped him pick out a great diamond within a week of proposing.  After he proposed he told me the setting was temporary because he wanted to propose during our camping trip and he knew the ring that I have always wanted would take time to get. The diamond was then placed in my new setting! He always knew I loved Vintage style rings and got me more than I ever expected!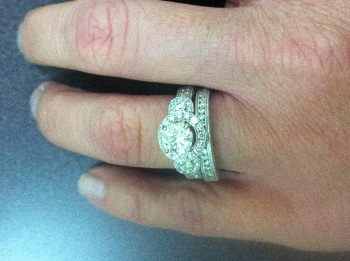 The original setting has so much meaning to me we are having my daughters birthstone placed in the setting to give to her along with saying vows to her during the ceremony next year.   I'm positive there won't be a dry eye during that special moment!
What about their wedding plans?
We had a very very simple ceremony on 09-01-12 but planning on a more formal ceremony Spring 2013.  We are planning the ceremony to take place at Pipestem State Park on the same rock he proposed to me. My step-dad will marry us.