This couple is at what's supposed to be a wine tasting. What the bride-to-be doesn't know is that her boyfriend has planned a special wine just for the two of them.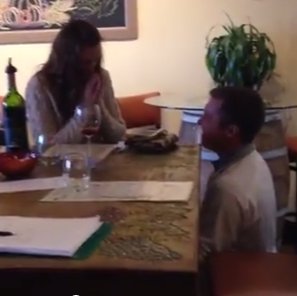 You can tell, watching the man, that he's rather nervous. He doesn't look super happy sitting there waiting for the bottle that we can assume reads, "Will you marry me?" is presented to his girlfriend. In fact, if he didn't have the wine, I'd say he looks like he's about to pass out!
He drops to one knee around 1:25.
I'd say this was one way to do it! I mean, who doesn't love wine and an engagement ring?
Emily