When two self-proclaimed geeks fall in love, it's a very special moment. Having a mutual interest and passion is important for any couple, so why not incorporate it into your proposal?
There are a couple video game inspired proposals and rings circulating in cyberspace right now. Here are the top of the top today.
1) Pokemon
For many of you, your inner child is super excited right now. However, proposing with an actual "pokeball" is no longer "cool." One guy gets creative by using the opening text from Professor Oak and putting it on his ring box. It says "It's dangerous to go alone," but instead of having her choose a pokemon, he offers himself. Super cute for a Pokemon fan!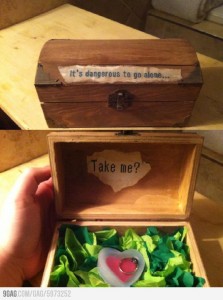 2) Legends of Zelda
This is one of my PERSONAL favorites. A lot of the designs and art in this game can be great inspiration for the engagement ring. After all, the Triforce is a symbol of unity and power (and everyone wants to be a power couple these days). These styles for him and her from Custom Made are pretty fantastic. After seeing these, even my husband is wondering when he can trade in his wedding band for something like this.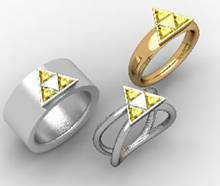 Want a more subtle way to incorporate your love of the Legends of Zelda? Check out this one from the The Classy Geek Etsy shop. Instead of the Triforce symbol, it's Zora's Saphire from The Ocarina of Time version of the game.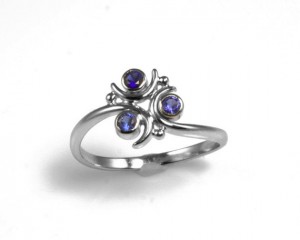 3) Super Mario Brothers
Now this is crazy dedication. The guy decorates the entire living room to look like the Super Mario Brother's world. The best part? She has to hit the box with her head to reveal her "prize." Any guesses on what it is?
4) Portal
In the game Portal, which can be played on the Xbox, PC, or PS3, there is something called a "companion cube" which you carry with you during a level to help you through some puzzles. It's meant to be carried with you forever and always. So, as a symbol of always holding your love with you as you solve the puzzles of life, why not give her a companion cube engagement ring, like this one from Custom Made.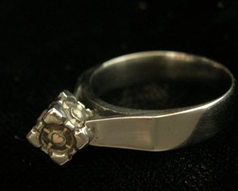 5) Mine Craft
This guy took the time to create a whole area in the video game dedicated to proposing to his girlfriend. She had to ride a roller coaster to see the messages. The best part? The end explosion timed perfectly with the sunrise. Check it out below.
Nikki