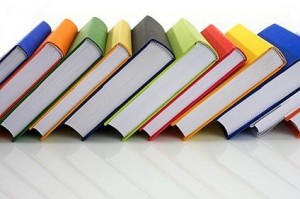 Self-publishing is definitely on the rise in the book world, but lucky for you, that means you just have another means to pull off an incredible proposal. This is especially perfect if she's a bookworm.
1) Write her a book of poems 
If you're a sentimental guy who loves writing poetry, and she's the lady who loves what you write, why not dedicate a whole book of your most romantic prose for her? It's easy to get a collection printed, just make sure you dedicate it to her in the first page. Not only is it a great gift on it's own, but it's a wonderful keepsake for her to remember the day you proposed.
2) Write a Choose-Your-Own-Adventure Book starring HER!
Are you a fun couple always looking for a good time? Does she have a love of books? Why not marry the two (pun intended) and write a choose-you-own-adventure novel like the kind you used to read as a child and make ever ending lead to the big moment. She'll think it's hilarious and awesome.
3) Write a Book about Your Relationship
The guy in the video below used a book called "The Story of Queen Vanilla Bean and Her Count Chocolate Crunch" to propose to his girlfriend in Barnes & Noble. This book, which obviously sounds like a children's book, is actually about the couple themselves. Look how surprised and excited she is!
Self-publishing is easy with the help of numerous websites like Lulu.com and CreateSpace.com. Google it today!
Nikki
Photo Credit: PaperChase.net