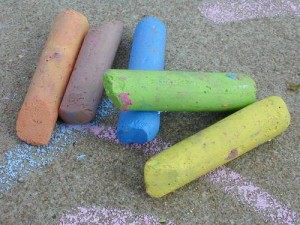 Who said guys aren't sentimental? Trevor never deleted a single text message from his girlfriend since they day they met. That's nearly three years worth of text messages!  He printed off the messages and used them to create a timeline of their relationship which he wrote with sidewalk chalk all around the city.
His friend followed him around as he made the timeline, taking photos which he then turned into a stop animation film. When the timeline was done, Trevor parked himself on a bench and waited. His girlfriend was left with a message telling her to "get cute and wait for further instructions." The photographer friend was able to capture pictures of Trevor's bride-to-be following the path. At the end, he proposed where he had written the date in chalk. Afterward, they wrote the word, "YES!"
Kudos for such a fantastic propose. Check out the whole thing below!
Nikki
Photo Credit: SidewalkChalk.org