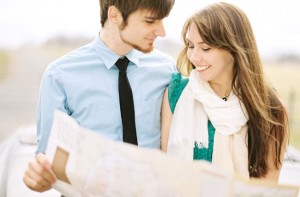 If you thought the actual proposal was fantastic, wait until the engagement! Being engaged brings tons of opportunities, awesome experiences, and beautiful memories. Here's a list of the top 10 reasons it's great to be engaged to make sure you don't miss minute of it.
1) Sending cute save-the-dates
Whether you're making your own, buying some magnets or doing a cute video– announcing your engagement and your  wedding date is one of the most exciting moments in the early days following the proposal. Get creative and show your couple's personality.
2) Taking awesome engagement photos
Get all dressed up, grab some props and rock out like a celebrity with your honey and a cameraman. Either splurge for a professional photographer or have a slightly artsy friend take some pictures for free. They'll be great to have to look back on years later.
3) Updating your status on Facebook
It may be a silly little thing, but watching the comments of congrats roll in by the dozens is an experience you'll appreciate.
4) Having an engagement party
My engagement party was at a laser tag/arcade place (and it was FANTASTIC). These parties are the best and can be thrown a variety of ways. Fancy cocktail party at someone's house? Going out to a nice dinner with your families? Enjoy the moments that come with being newly engaged.
5) Going to premarital counseling
While some people may not see it as a perk, a couple learns so much about each other during these types of premarital sessions. My fiance and I were counseled by an older married couple and it was a great experience. We'd encourage anyone to try it.
6) Wearing awesome "bride-to-be" gear
Tank tops, flip flops and tote bags, oh my! There seems to be an endless number of options when it comes to bride-to-be apparel. You can even make some yourself with iron-on rhinestone words like "bride" or "newlywed." My favorite find is my Princess Bride movie-inspired tank that says "Mawidge is what bweens us together today."
7) Going to Bridal Shows
Even if you haven't set the date yet, going to bridal shows is a FABULOUS experience. Bring your mom, maid of honor or even your fiance. The best part? You can usually score awesome free stuff and prizes like honeymoon suites.
8 ) Entering online bride-to-be contests
There are so many sweepstakes online for you to enter now that you're getting married. There are honeymoons to be won and dream weddings to be had. I'm still in shock over my winning of my Simon G engagement ring which my fiance and I won through an online voting contest. Start Googling!
9)  Being able to introduce your boyfriend/girlfriend now as your fiance
There's something special in the word "fiance." Maybe it's how fancy it sounds or just how you'll only get to call your significant other that for a short amount of time. Regardless, it's a real treat to introduce them to new people as your fiance and showing off the ring. It never gets old.
10) Planning the wedding
While wedding planning can be difficult and stressful, it's also a joyous occasion and process you'll only have during this special time. It's also fun to get the families together and help with the planning. If you're lucky, maybe your fiance will help as well.
What's your favorite part of your engagement?
Nikki