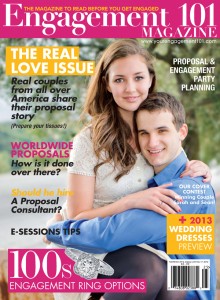 Wedding season is in full swing! If that's got you antsy and filled with excitement, WAIT until you see this summer's issue of Engagement 101 which comes out this July!
This is a VERY special issue because a real couple graces the cover this month. Not only are they real, but you helped pick them. You voted and now you'll see who your favorite engaged couple is. What's more? Flip through the issue to read the love stories of all eight finalists.
But of course, we know just 8 stories of happy couples isn't enough, so enjoy reading engagement stories from all over the U.S.
Also we have you covered when it comes to the pre-engagement and pre-wedding topics you've been curious about. Should he hire a proposal consultant? Once you're engaged, should you get engagement portraits taken? Find all those answers within this issue's pages, including a "His & Hers" engagement checklist that you'll be happy you have. You'll never be left in the dark when it comes to the ins and outs of navigating the exciting waters of your engagement.
So pick up a copy or order one online here.  This is one issue you aren't going to want to miss.
Nikki