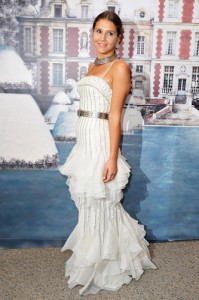 The youngest child of the very fashionable Missoni family is getting hitched! 28-year-old Margherita is marrying 26-year-old Eugenio Amos, a race car driver. The engagement is slated to last less than a year with a possible June or May wedding, according to Women's Wear Daily.
Being from a famous designer family and being a designer herself, Margherita's engagement is spurring one main thought  in everyone's mind: WHAT WILL SHE WEAR?
I know I'm among the many who can't wait to see what her wedding dress will look like. I wonder if she'll be feeling the pressure to wear something fabulous?
What do you think? Should someone pick their wedding dress based on the expectations of others?
Nikki