Not everything is roses and sunshine in the relationship department. Sometimes you think you have it all figured out, and then you get a surprise. That's just what this guy decided to do for his girlfriend when he figured out she was cheating on him.
He set up the perfect proposal: rose petals, candles, glitter, poems, thoughtful gifts… and then it all blew up.
When his girlfriend came home from work, he had her follow the candles and glitter to get to the bed. He says, "I promise to clean it all up, just go this way." She's ooh-ing and ahh-ing over the beauty of it all, thanking him for being so thoughtful. She sits on the bed, looking at what she thinks is a brochure for somewhere they're going and then reads a poem from him that ends with, "This is the big question I'm asking you…"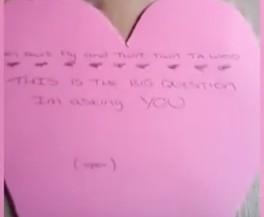 And then it asks who the "heck" the guy is that she's been cheating on him with. *Warning: there's language!* 
Here's the lesson: don't cheat. Because just when you think you could have it all, it blows up in your face. I really wish we could have seen the woman's reaction, but this guy must have a little class because he blurred out her image.
Emily