HOT TOPIC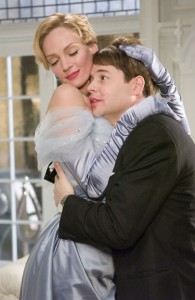 The Huffington Post has a photo slideshow of famous tall woman/short man Hollywood couples. Included in the feature is Mick Jagger and designer L'Wren Scott, Janet Jackson and Jermaine Dupree, and Tom Cruise and Katie Holmes. The feature ignites the age-old question: Would you ever date a guy shorter than you?
The whole stigma of short men seems to come from years of outdated advice that gets passed along to women since they were young girls. When you start dating men you have to look for these key things: They have to be slightly older than you, they have to be taller/larger than you, and they can't be more attractive than you. So whenever someone finds themselves in a situation that goes against the nifty check list, suddenly there's a sense of uneasiness.
My dad used to always make it a big deal that he's two years younger than my mom. Two! "Your mother was robbing the cradle," he used to joke (much to my mother's annoyance). But is it really that big of a deal? I mean, so what?
Is there anyone here in a relationship like this or similar?