It is a very unusual year to say the least… but you can still create amazing 2020 memories. Though flash mobs, jumbotrons and faraway travel are not in the cards yet, your should not push back proposing to the one you love. In this article, I picked 4 recently engaged couple stories. All these couples proposed in a way you can easily emulate, whichever level of Covid-19 safety rules you have to follow in your state. All the rings featured in this article are set in platinum.
A Remote Beach Proposal like Ritha & Harman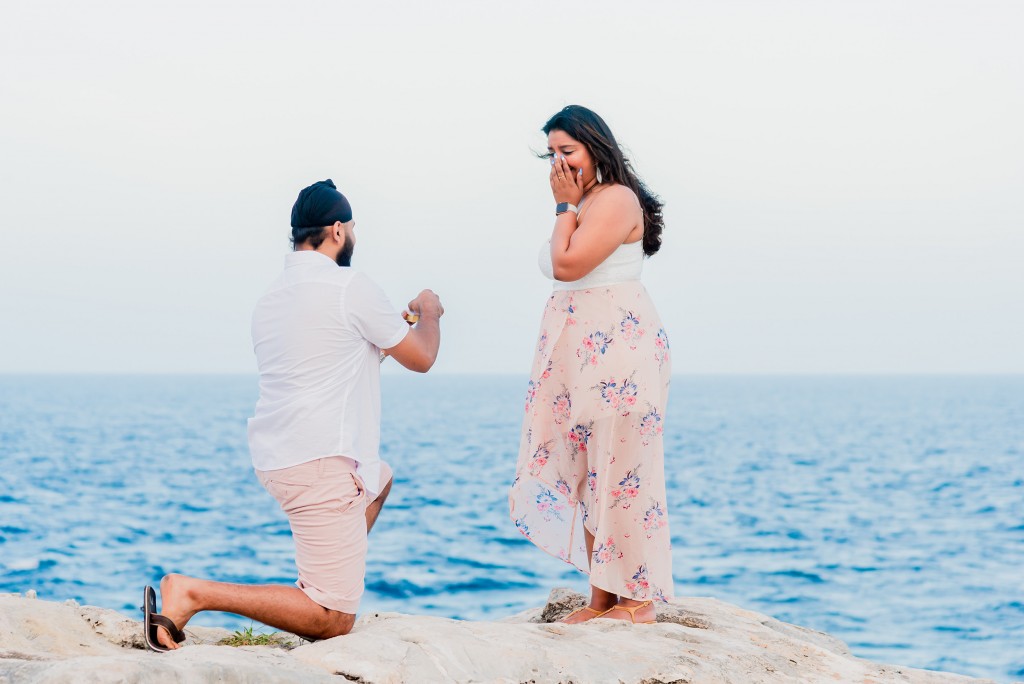 Inspo  They  went on a trip to Cancun to celebrate their  2-year anniversary. Harman surprised Ritha  in Isla Mujeres by popping the question while the sun was setting. He even hired a photographer, Jonhy Adán,  to capture the proposal.
Ring  Harman purchased the engagement ring from R. K. Jewelers in  Baltimore.  He knew Ritha preferred platinum over gold and wanted a cushion cut. He picked a timeless cushion halo setting.
2020 Execution  International travel is limited this year. However, there are plenty of beautiful and isolated American beaches to pick from as a proposal location. Whether you have to follow social distancing rules or not,  hiring a photographer to get beautiful shots on the day is totally safe and so helpful.
---
A Fashion Photoshoot like Kimberlie and Aleron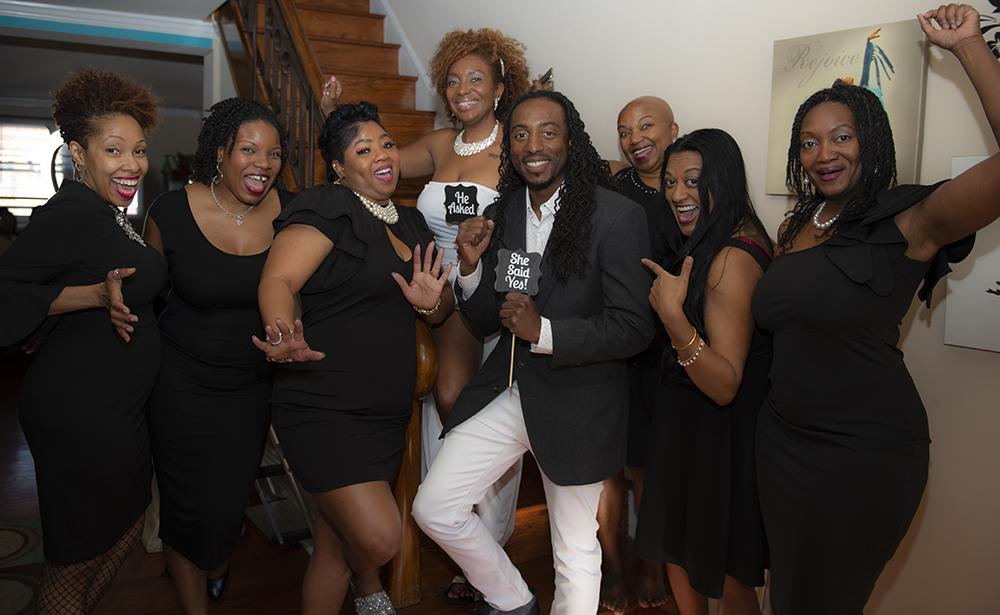 Inspo  Aleron asked fashion photographer Frank Siegel to book Kimberlie for a photoshoot at the couple's home. Siegel pretended that the shoot was organized to promote International Women's Day.  Aleron showed up during the last wardrobe change. As Kimberlie came downstairs, he was waiting to propose with a house full of their friends and family.
Ring   Kimberlie likes the look and durability of platinum and picked a split-shank setting.
2020 Execution   Surprise engagement photoshoots are amazing on so many levels. They usually involve getting the proposee glammed up and camera ready. If they are organized for a special occasion such as a birthday, they are a great way to have an engagement party on the day of the proposal. At home, you get to control your environment and the size of the party to keep everyone safe.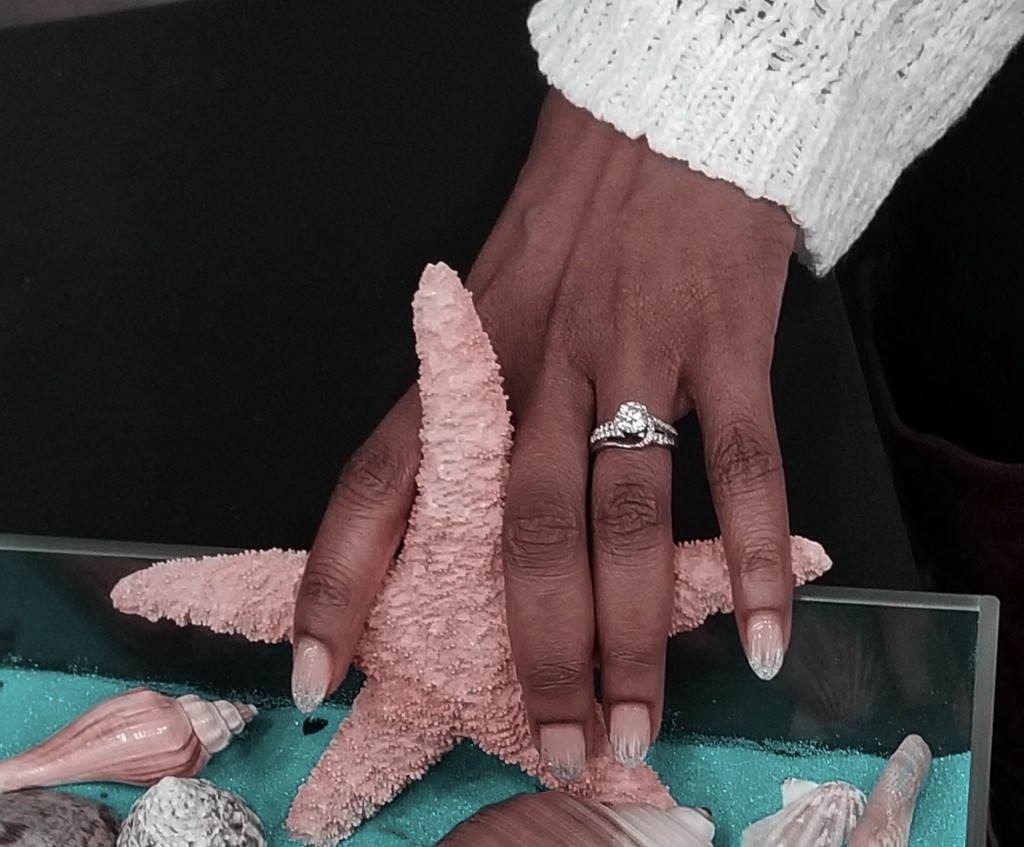 ---
A Week-end Getaway like Lauren and Dan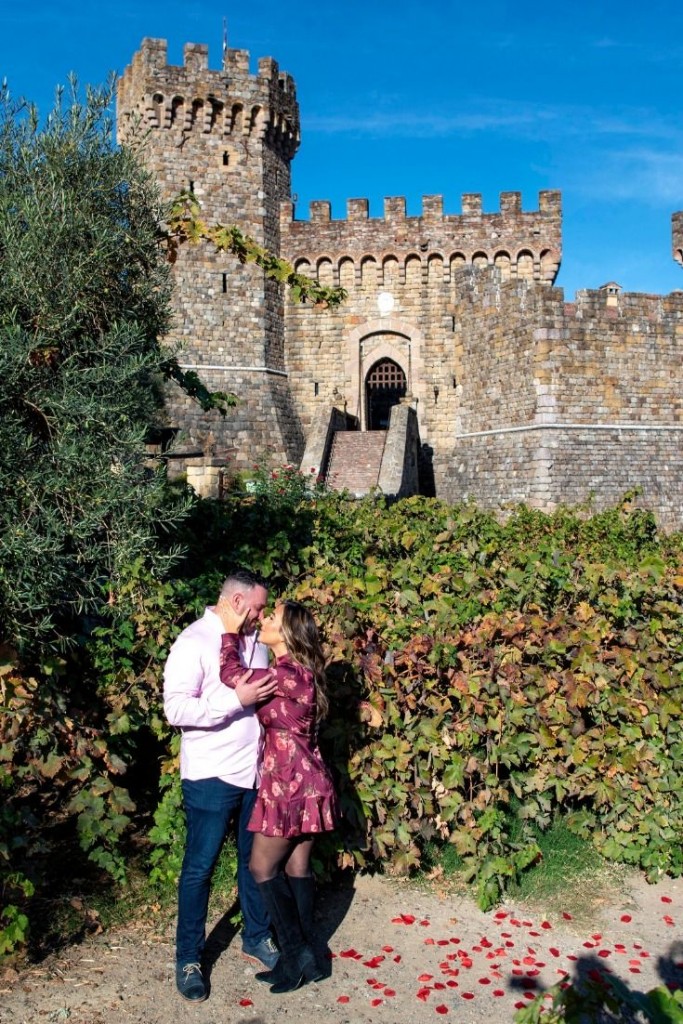 Inspo  Dan and Lauren had planned a trip to Napa Valley. When they arrived at the stunning Castillo Di Amorosa for what Lauren thought was just a tour and a tasting, they  were  guided by a 'tour guide' up the stairs to the front of the castle. There were red rose petals scattered everywhere and Dan got down on one knee. The tour guide was actually photographer Louis Romo , Dan had also hired a videographer.
Ring   It's an elongated cushion cut with a very thin platinum diamond band. It is exactly Lauren's dream ring. Dan chose platinum because of its timeless elegance and its durability.
2020 Execution  Find a picturesque location that you can drive to, not too far from home. This is a very easy proposal to produce for maximum effect. You just have to find the right spot and a good team of helpers.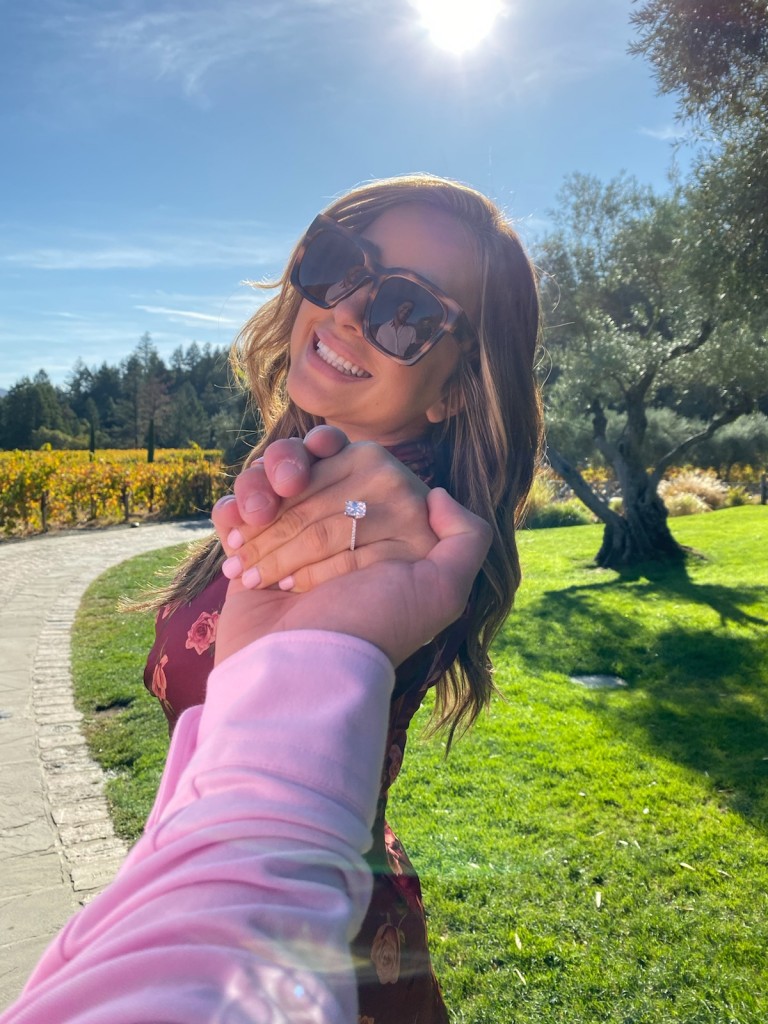 ---
Home for the Holidays like Shayne and Jason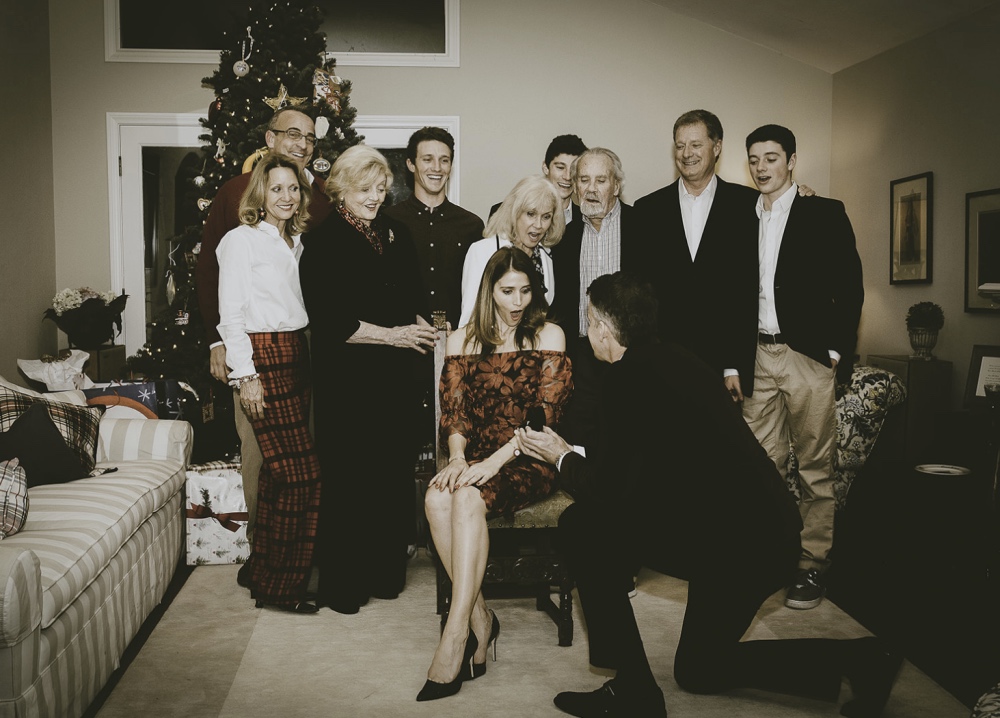 Inspo  On Christmas Eve, Jason asked Shayne to marry him in front of both their families. He had suggested they hire photographer  Melissa Montoya Photography  to capture their families meeting for the first time. Jason had hinted at a possible Spring proposal to throw Shayne off. She had no clue he had planned a holiday proposal and was truly surprised.
Ring  Her ring was designed by Philip Press in West Hollywood, CA. He specializes in one-of-a-kind platinum engagement rings. The ring features a classic 2.06 carat round brilliant cut diamond with two bezel set baguette side stones placed vertically on the shank. We love the Art Deco vibe. Shayne is relatively hard on her hands and wanted a metal that wears well and does not tarnish, which is why she picked platinum.
2020 Execution  The Holidays are going to be even more special this year. You still have plenty of time to plan something special and get both your families involved. Don't forget to use Jason's bait and switch trick and pretend you are planning to propose in 2021.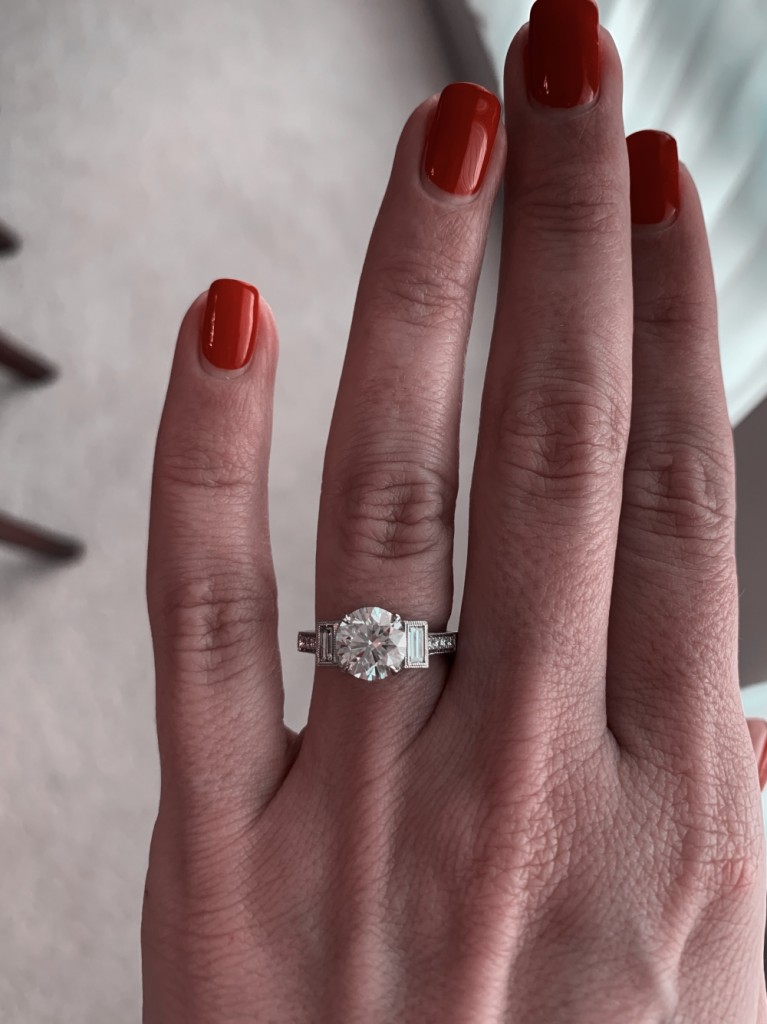 Last, but not the least, don't forget to share your proposal with us. We want to hear all the details!
Sponsored by Platinum Jewelry