Finally! Our special contributor style expert Michael O'Connor put a ring on it. We are so excited for him and his long time partner Len Parisi as they just tied the knot. No engagement or proposal but as to be expected, jewelry was a big part of the wedding day!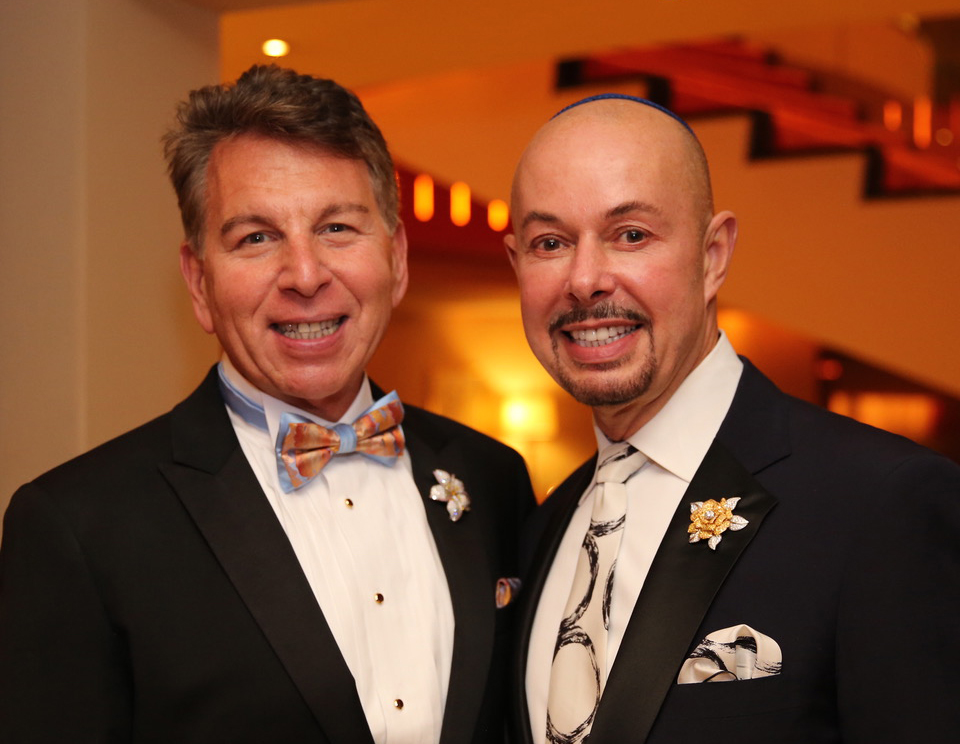 How did you meet Len?
Len and I met by chance while enjoying margaritas at one of Acapulco's well-known and vibrant hotel bars during happy hour. Len was living in New York and vacationing in Acapulco with a friend. I was living in Toronto and also on vacation with my two best friends and a group of about 4 others. The place was jam-packed but I had managed to score two seats at the bar. While ordering margaritas, Len started a conversation with one of the people in my group who introduced he and his friend to our group.
I'm afraid I was rather short during the introduction, as I was in a deep conversation with my friend and really didn't want to get caught up in intros. I simply said hello and returned to my conversation.
Interestingly enough we ended up close to each other on the beach the following day. One of my group invited he and his friend to join us for dinner that evening and we were positioned sitting next to each other (we're not sure if that was planned). There was definitely some chemistry during dinner, despite the fact that he thought my original "hello" from the previous day was a rather "cool".
We spent much of the time in Acapulco together and then when I returned home to Toronto he called and suggested that I come to NY for the weekend. I did!
The rest is history.
Before the wedding, had you ever offered each other pieces of jewelry as a symbol of your commitment?
Before actually getting married we had been together for over 32 years! We've exchanged many pieces of jewelry over the years for holidays, birthdays and to mark special events! We had never really chosen a "band" or other piece that was a symbol of our commitment. But about 2 years prior to getting married Len bought me a silver band-style ring. He kept saying how much he loved the style of the ring so I purchased the same ring for him.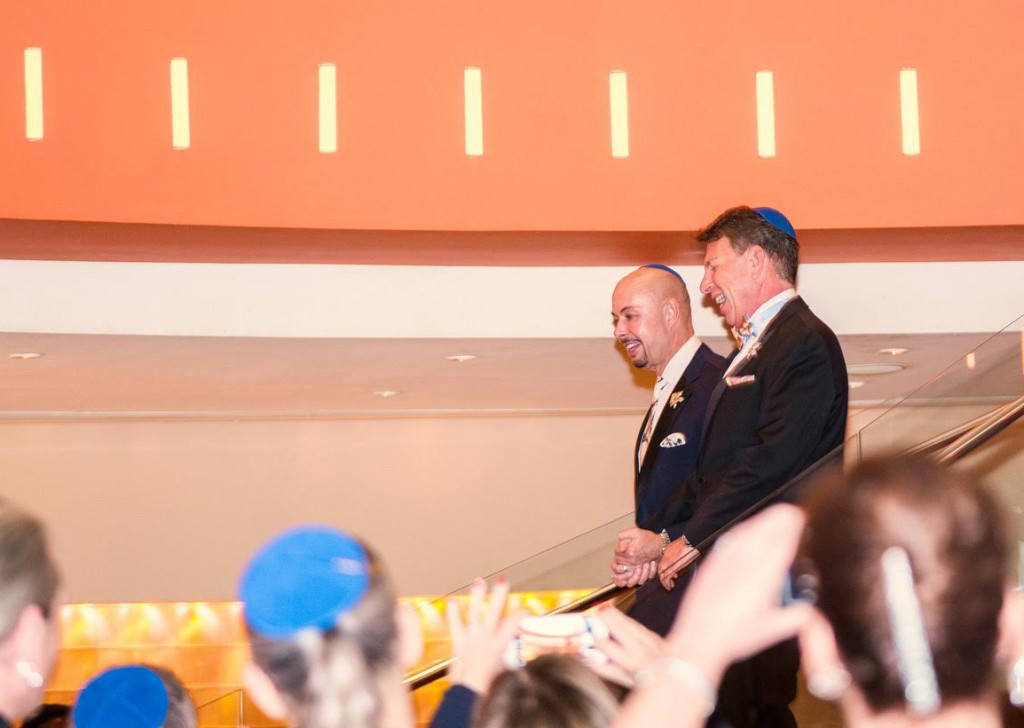 Tell us about the wedding and ceremony.
We wanted the wedding to have a chic New York feel to it and still be elegant and intimate. We were married in the center of elegance in New York, 57th street and Fifth Avenue at a chic restaurant called Brasserie 8 ½. We've both eaten there often and love it. The restaurant was featured on "Sex In The City" episodes. They were so great to work with! The ceremony took place in the round, high-ceiling reception area on the landing of the grand staircase. The 5 foot elevation from the reception area ensured that it could be seen by all invitees. There was a musical procession down the stairs to the landing accompanied by the gorgeous singing voice of Cantor Julia Cadrain, who also officiated the wedding. She sang several times during the ceremony. Additionally, we were offered a beautiful blessing by Rabbi Amy Goodman. When the ceremony was over, we each broke a glass and continued down the rest of the staircase to music to greet our waiting guests of friends and family. It was a truly magical ceremony followed by a sumptuous dinner and music in the restaurant's private banquet room.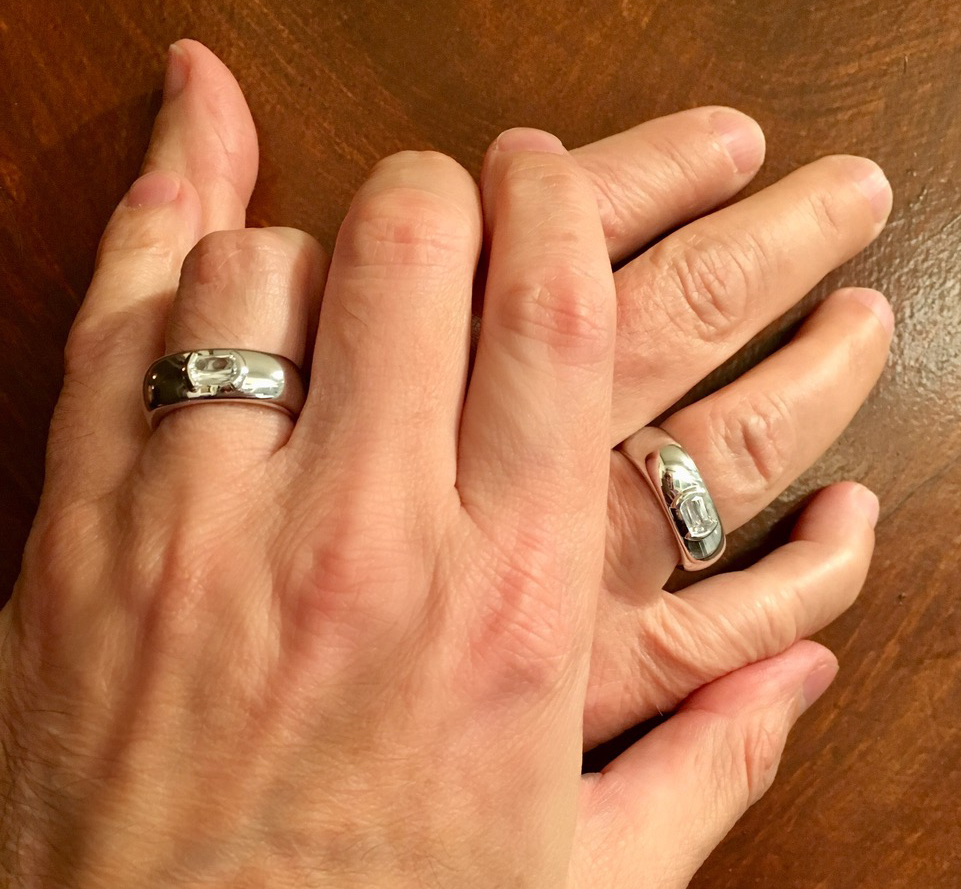 You have matching wedding bands that are so gorgeous they'd make perfect engagement rings. Tell us about them.
We both really loved the simplicity of the silver bands that we had mutually given one another, but for the wedding we both wanted something that was more in keeping with the specialness of the event and the meaning. We also both wanted a little sparkle. I approached Christopher Slowinski of Christopher Designs and asked him to create bands that were reminiscent of the simplicity of the ones we had, but also would incorporate something that would be unique and set our bands apart from others. What Christopher decided to do was keep the simple shape of the original but differentiate our rings by adding a L'Amour Crisscut diamond, set across the finger. The shape and cut of the diamond make the bands unique to us and we were both immediately taken with the superior sparkle and brilliance of the diamond.
You both looked amazing on your wedding day. Tell us about your tuxes and of course, the jewelry!
Len wanted a classic look, but with a pop of color. He wore a classic Hugo Boss black tuxedo with a notched collar and partnered that with a white shirt. His bowtie and pocket square brought in color in shades of baby blue, gold and orange.
I had my tuxedo made by one of my favorite red-carpet designers in Beverly Hills, Ali Rahimi for Mon Atelier. Ali had made my tuxedo especially for me to cover the red carpet of the Primetime Emmys. The tuxedo is deep midnight-blue with black satin lapels, buttons and details. Underneath, I wore a Burberry shirt. Ali also hand-made the tie and pocket square for me as a gift, from antique silk fabric from the 1930's.
Both Len and I had originally wanted an exotic flower on our lapels. We decided that we should go with jeweled flower pins. Of course, the only choice was to speak to Oscar Heyman as they are known for amazing pieces. We found two perfect pins for our lapels. The pin that I wore is a gorgeous gardenia encrusted with yellow and sitting on white diamond leaves. This beautiful piece consists of 371 diamonds of almost 10 carats in total weight set into platinum and 18 karat gold. Len's pin is a beautiful Dogwood flower set in platinum and 18 karat gold. It contains rare vivid orange/pumpkin color diamonds in the center of each petal that have an ombre effect moving toward white diamonds in the center and outer edges. Each petal contains an outer edge of rare pink diamonds. The colors worked perfectly with his bowtie and pocket square. The pins added the dazzle that we both wanted for the day.