How They Met
We met in undergrad where we attended Ohio University. Go Bobcats! Through mutual friends, we crossed paths, again and again, and again. We didn't really get a chance to know each other until one summer night when I invited Corey over and we hung out on the balcony of my apartment talking for hours while we bingeate an entire box of popsicles. The rest is history!
The Proposal
I knew I had to plan the perfect proposal for the perfect woman. With that said, my proposal took months of planning! Patricia mentioned to me in the past how beautiful she thought hot air balloon proposals are. She had never been in a hot air balloon so I thought it would be the perfect opportunity. The location of the proposal was at King and Bear Country Club in St. Augustine, Florida.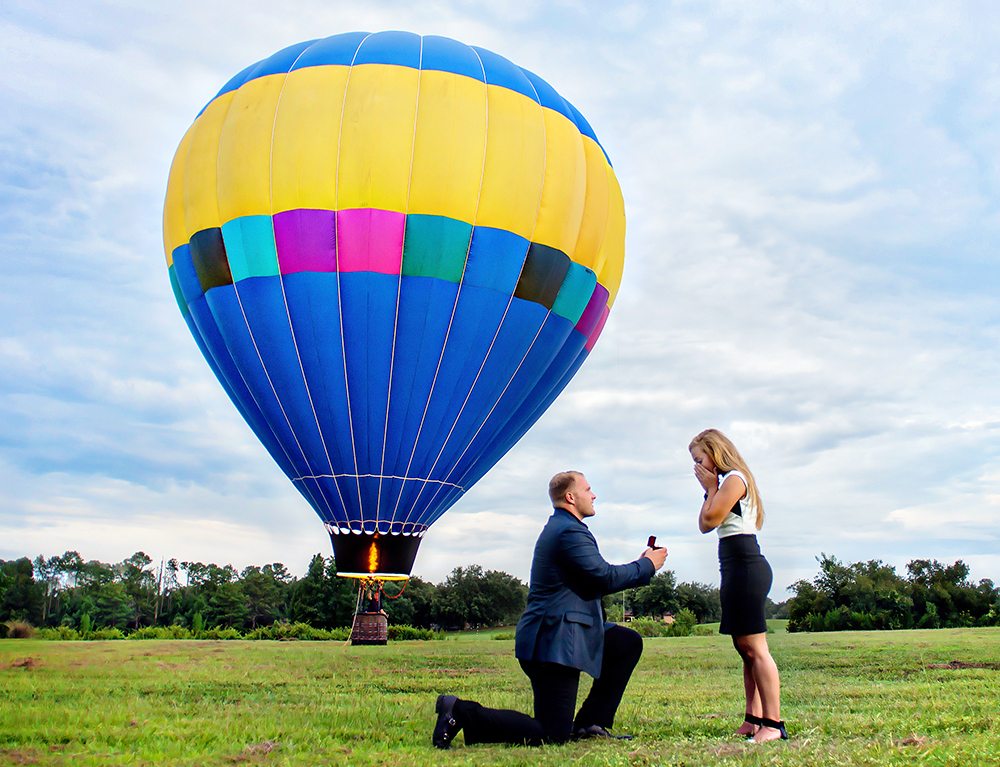 Patricia loves being in the loop so planning a surprise proposal was not easy! In order to get her to King and Bear Country Club without suspecting anything, I ordered a custom invitation inviting us to an "Annual Awards Dinner" from my employer. I mentioned the dinner to her a couple weeks in advance and the week before the proposal I gave her the invitation that "my employer sent me."
The day of the proposal we drove together to King and Bear Country Club. Once we pulled into the club, I told Patricia that she needed to put a blindfold on because I had gotten her a surprise birthday present. I then continued driving to the location of the hot air balloon. Once parked, I directed her where to walk. She thought she was getting a puppy!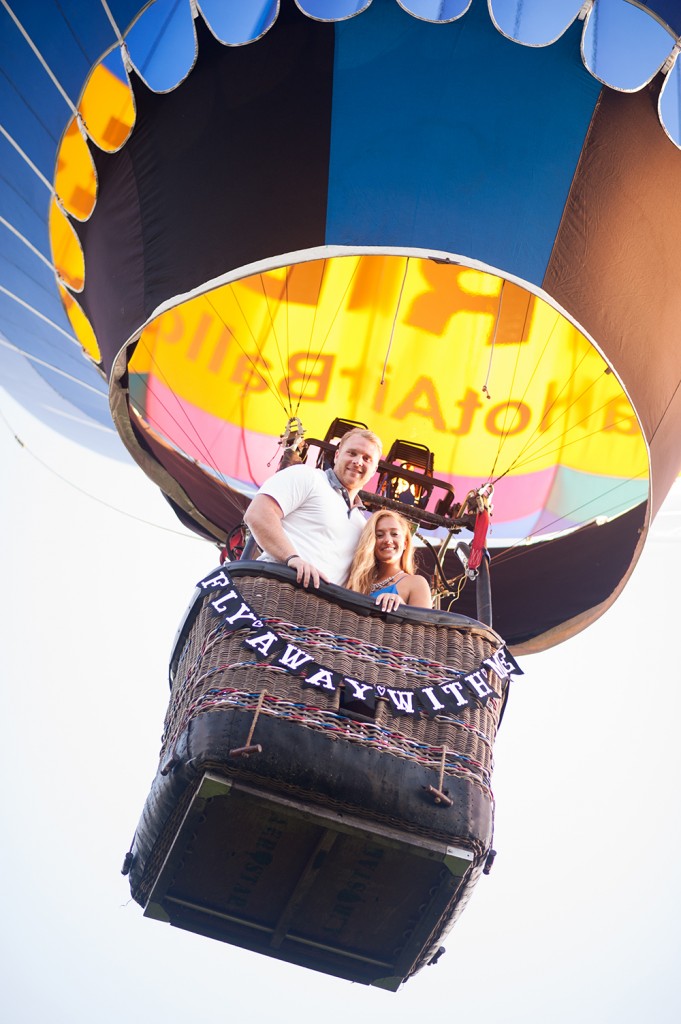 Once we reached the hot air balloon location I got down on one knee and told her to take the blindfold off. It was then I asked her to marry me and she said yes! There was a lot of clapping. Patricia said to me, I don't know these people! Should I know them?! I laughed and said no, we acquired an audience from the neighborhood of the country club! There were two special people there she did know though and those were her parents. Patricia's parents wouldn't miss this moment for the world! From Pennsylvania, they flew to Florida just to be a part of our engagement. A short distance away, Patricia's parents help me set a table up with desserts, cheese, grapes, and of course champagne!
After the proposal, I told Patricia we were going to spend the evening in St. Augustine. We stayed at the Casa Monica Hotel and enjoyed a delicious dinner at Collage with her parents and two of our close friends.
The ride itself was like nothing we had ever experienced! The views were beautiful and the ride was so peaceful. As the hot air balloon descended we were targeted to land in a field of cows. As we got closer to the ground we realized that they were not cows, they were bulls and Alison was running from them! Once we landed and everyone was safe from the bulls, Alison captured the rest of our engagement pictures. We had such a fun and memorable engagement and are thankful that we have such beautiful photos from Alison to cherish!
The Engagement Ring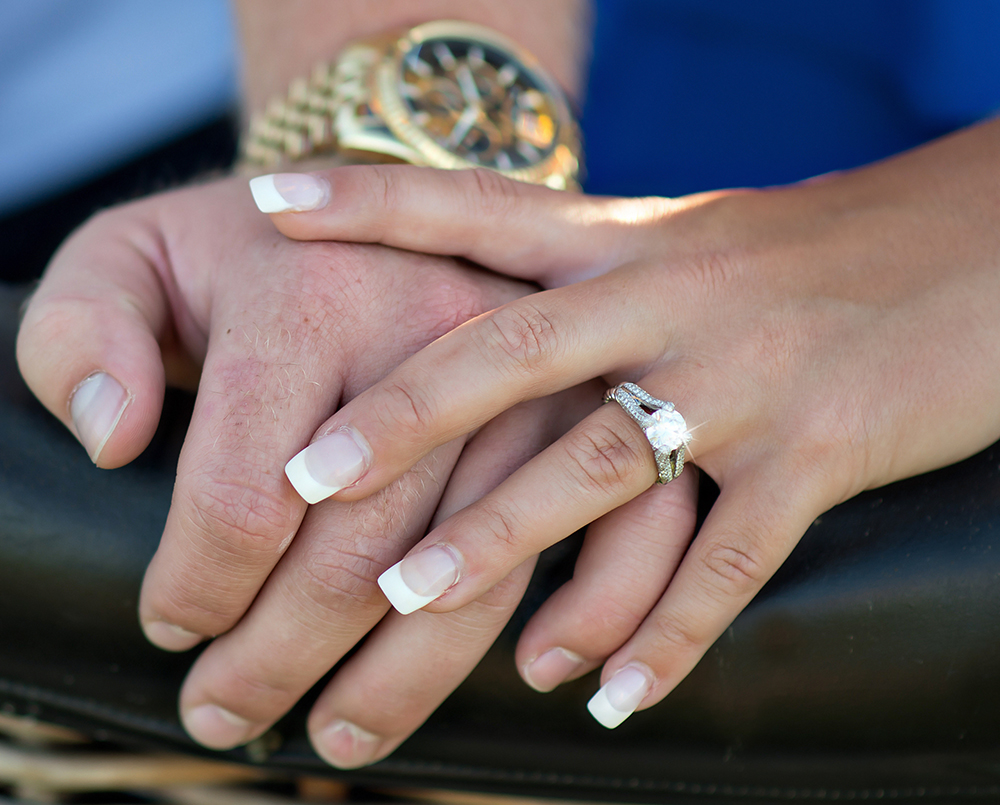 The ring was custom made at Buchwald Jewelers in Miami, Florida. The ring features a two carat round diamond surrounded with cable bands that are embellished with additional diamonds and a hand twisted platinum band.
The Photographer
Alison Neumark from Life and Love Studio
Instagram @lifeandlovestudio
"One of my favorite parts about the proposal was planning it with Cory.  It was so exciting to hear all of the incredible details and thought he put into the hot air balloon proposal and elaborate food and drink station to celebrate with Trish and her parents afterward.  It was exciting to come up with the story and plans to keep it a surprise.  It really made me laugh that he used a puppy barking sound effect on his phone to trick her into thinking that was the surprise as they walked over to the balloon.  She actually believed it!!"