Kimberley & Adam
How They Met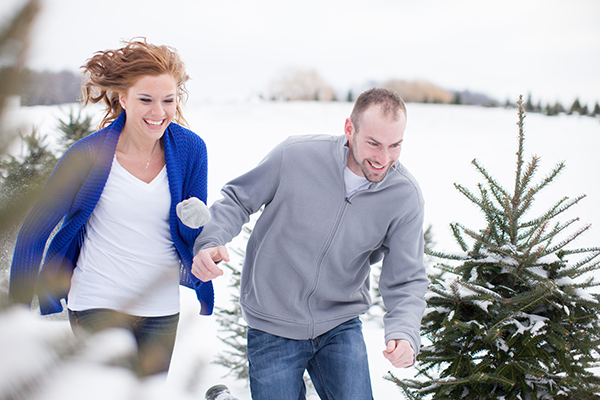 We have been together for 10 years now and met in high school in Kewaunee, WI. We started dating the summer before my junior year and the summer before Adam's senior year. We are one year apart so we had one year together in high school before Adam was off to college with Kimberly going to college the following year. We initially started talking during the spring track season and we kept in touch over the summer months before we officially started dating in September 2005. During this time we had many late nights together after Friday night football games talking and getting to know each other. It's crazy to think that was 10 years ago and we have really been able to grow up together and enjoy many of life's special moments together.
The Proposal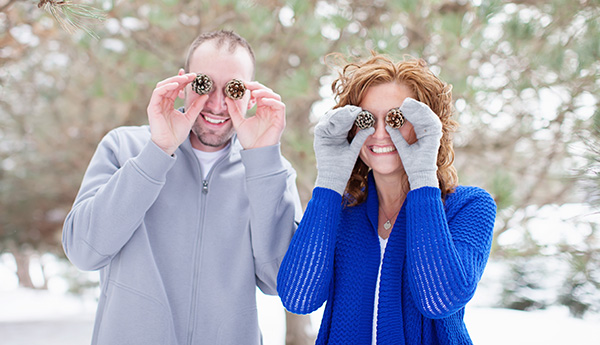 We left for New York a few days before Christmas to spend some time in the city. We went to see the New York City Rockettes at Radio City Music Hall (awesome!) on Christmas Day after we attended Christmas Mass at St. Patrick's Cathedral. It was such a beautiful day and then we just went out to explore more of the city. Earlier that day Adam had to secretly hide the ring in his jacket pocket in hopes he could hide it all day (honestly I had no idea he was carrying it all day!). On Christmas night we walked over to the area where the Rockefeller Center Tree was so see it lit up at night. It was there in front of the tree, that Adam got down on one knee and asked me to marry him. It was such an awesome day and a perfect ending to a dream trip I had. On the way back to our hotel we called our families to share the good news. The following morning we went over to the set of Good Morning America and we even ended up being shown on TV during a few shots…really cool!
The Engagement Session
As we were thinking about places for our winter engagement session, I had the idea of taking our winter pictures with us getting our first Christmas tree. The timing just didn't work out, but I still wanted to take the photos at a local tree farm (Aissen Tree Farm) only a few miles from my parent's home. The owners of the tree farm were very generous and allowed us to take our photos there.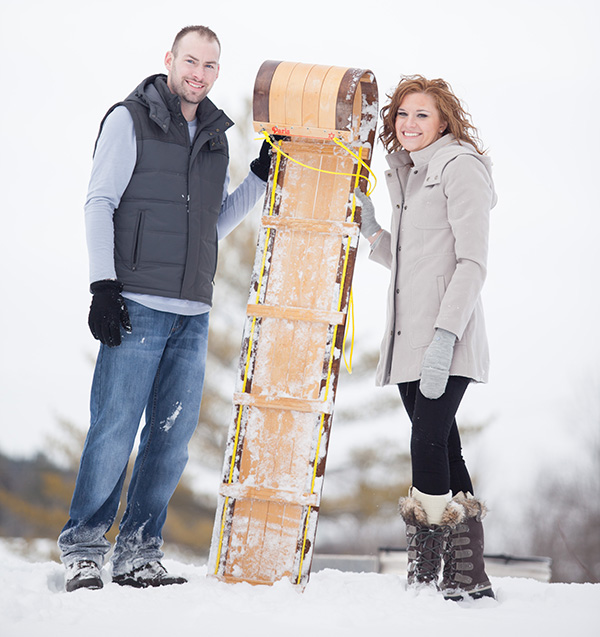 We also went to a local ski hill (Dana Farm) in Kewaunee and explored the fresh white snow we had just gotten (timing was perfect for that!) along with taking a few rides on a toboggan that I had since I was a kid (thanks Dad for keeping that all this time!).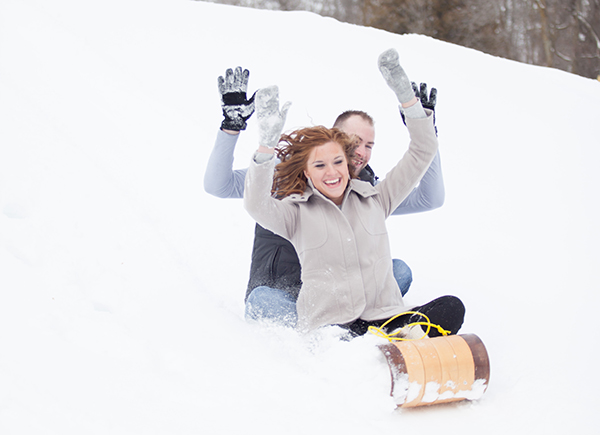 The Engagement Ring
The engagement ring is from Kesslers Diamond in Appleton, WI. I knew before we got engaged that I wanted my ring from there (Adam knew that as well). They have the best guarantee and I had friends who also had great experiences there. The ring itself has a rectangular diamond surrounded by smaller diamonds and the band has diamonds half way down both sides. I couldn't love the ring more!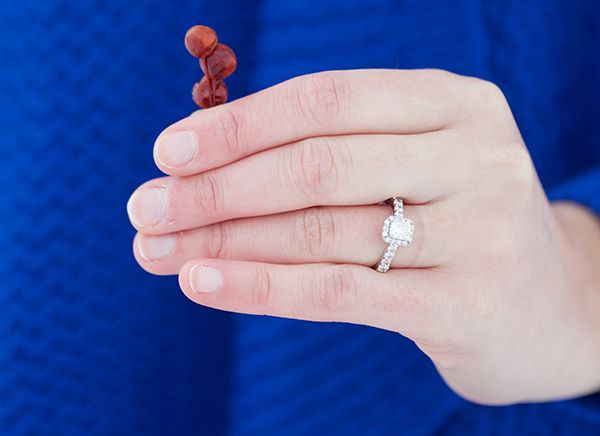 Adam allowed me to come shopping with him to just get some ideas. After the first trip I had a few picked out, but was still unsure on the design I wanted. My loving boyfriend at the time allowed me one more trip to the store and after that trip he had a pretty good idea of what I wanted. He was so sweet to give me that opportunity to shop for rings.
The Photographer
" There's a lot to do in Wisconsin in winter but some of their favorites included sledding, cutting down the Christmas tree and snuggling up to a winter fire. So we asked the lovely people at Aissen Tree Farm if we could use their farm to do the session. They were more than happy to share their beautiful venue. Most people I've found are very happy to help a couple out; you just have to be willing to ask (nicely)."