Leah & Brad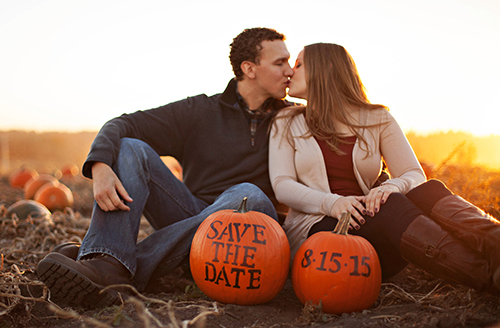 How They Met
We met through mutual friends during my first semester in college. I liked Brad so much that I was extremely nervous to go on our first date. I kept making excuses, until finally giving in. We have been together for 5 years now!
The Proposal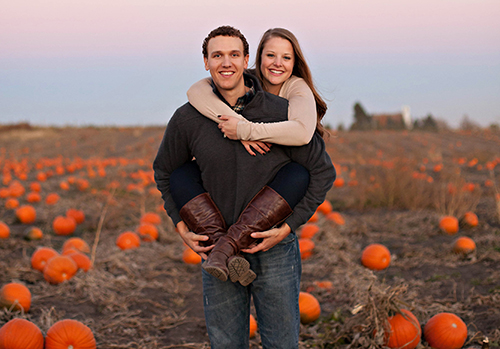 We decided one Saturday last fall that we wanted to go to an apple orchard. We hadn't been to any near our place, so I researched some favorites online. We decided on one that was about an hour away, but looked great. On our way we ended up taking a wrong turn and driving around for far too long only to find out that the place was closed-oops the article I read was from 2007! We finally found a place that had amazing donuts, apples, cheese, and big pumpkins! After that we went to Minneopa State Park to look at the beautiful MN fall scenery. On the way home Brad suggested that we have a pumpkin carving contest between the two of us. We would each carve a pumpkin in secret and then reveal the finished product at the end. The loser would pay for dinner J I am very competitive, so I traced and carved an elaborate witch's face. I noticed that Brad was free handing his carving, so I thought I had the competition in the bag. When I was finally done I showed Brad my illuminated pumpkin, with some smart talk I'm sure. I was in for the surprise of my life when he turned his pumpkin around and carved in it were the words, "Marry Me?" He got down on one knee, and I said, "Yes!" It was a perfect day, and yes, he definitely won the competition!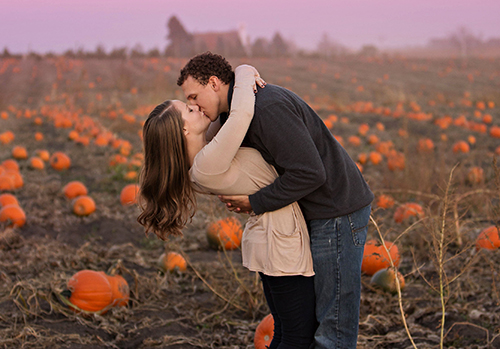 The Engagement Session
Our photographers live about an hour from us, so we had originally thought of meeting somewhere in the middle. After seeing some of their work, we fell in love with Carver Park Reserve which is near where they live. Since they were familiar with the location and it is beautiful, it was an easy choice. Then Nikki had the idea to go to the pumpkin patch near their house because of the way Brad had proposed. We went there at the very end of the session, just as the sun was setting. The colors were so gorgeous!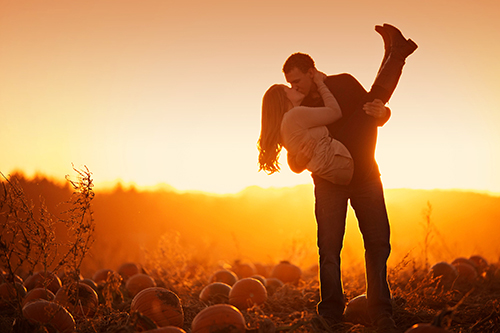 The Engagement Ring
Brad proposed with a gorgeous engagement ring by Scott Kay.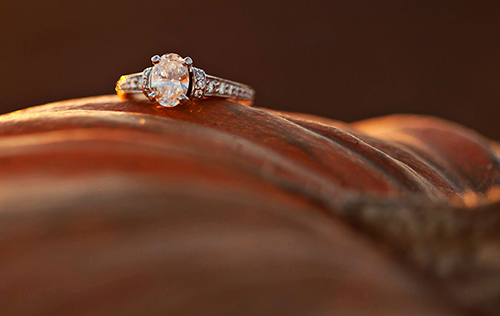 The Photographer
Nikki from Nikki Tran Photography
"Last year, in the midst of this beautiful season, Brad carved "Marry Me?" into his pumpkin during a pumpkin carving contest they had with just the two of them. How stinkin' sweet?! When I had the idea of going to the huge pumpkin patch near our house, I'm so grateful they said yes. I've been wanting to shoot a session there ever since I discovered it two years ago. It's one of my favorite things about the area where we live and I was so excited to have all of my visions come to life!"