Jan-Marie & J.D.
How They Met
I met J.D. through his twin brother J.R. We met my senior year, his junior year, of high school at a basketball game and went to my senior prom together. When it was time for me to go to college, we decided to try long distance until he ended up joining me at Ohio University to play football.
The Proposal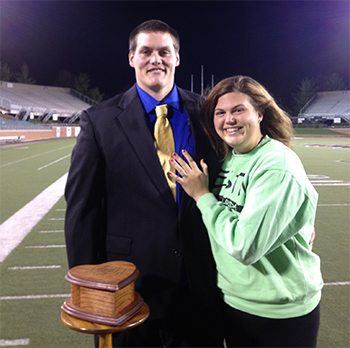 I went to every single game of JDs football career at Ohio University except his final one, due to the death of my grandmother. The weekend of the annual spring game was also the week of my first-ever half marathon so my parents came in for both. The night before the spring game, he had an alumni golf outing so I went to dinner with my parents. After dinner we were going to get frozen yogurt and he asked me to pick him up from the football stadium. When we got there, the lights were on and the gate was unlocked so my dad wanted to explore. JD was waiting between the 7 and 6 yard line ( he was #76 when he played) with the heart jewelry box he made me for our first Christmas on a table his grandfather made for his parents' wedding. He had the whole thing videotaped and of course I said yes! When the AstroTurf is replaced next week, we will get the part of the field we were standing on. Here's the link to our video!
The Video
The Engagement Ring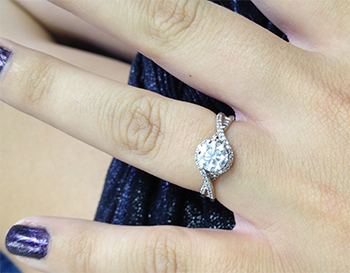 Looking for a similar style?