Stephanie & Kolb
How they met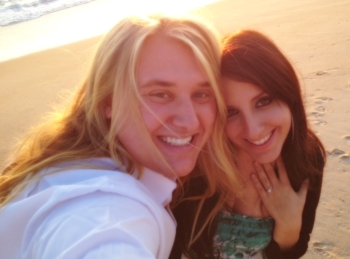 Kolb was on a main page of a social media/non-dating website and I happened to see his question, so I replied with an answer. We started talking from there and getting to know each other. Soon after, we started dating! We have been together almost 3 years (December 21st) before he proposed to me on November 1st, 2012!
The proposal
My fiance' and I were planning to do things for Halloween different this year. He wanted us to have a "romantic 2 days together", so he booked us a nice hotel for Halloween night and then we planned on going to the Laguna Art Walk, which is one of our favorite past times. We went to an Italian restaurant for dinner, where at one point, he got down on his knee and said my name. I got slightly nervous and then he told me I had a thread hanging from my jacket and got back up. I thought maybe he was about to do it, but chickened out!
After that, we went back to the hotel and there was a bucket of chilled champagne and chocolate covered strawberries waiting there for us! I went over and was so excited and then when I turned around, he got down on his knee again, said my name and this time I nearly teared up. He then mentioned the string from my jacket again (there really was one!) and I was kinda frustrated because I was getting too nervous with these fake outs!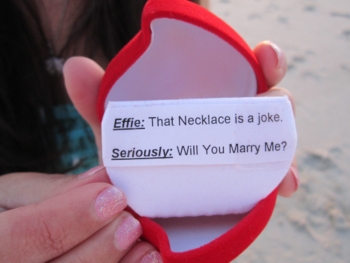 When he asked why I almost cried, I told him that I thought he was trying to propose and he apologized and said that I knew he wasn't going to until sometime next year. When we went to lunch the next day in Laguna, he told me he had something for me and told me it was in his pocket. Inside, I felt a ring box…Took it out, and there was a rhinestone necklace inside. Another fake out!
When we finally went to the beach, he told me he wanted to play a game and to turn around and close my eyes. When I opened them, we spotted a bottle that looked like it had washed up from the sea with a scroll inside. He went over to it and we tried to open it, but he said to wait because I still hadn't opened the rest of the box.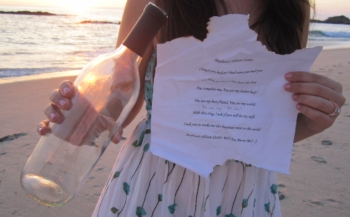 I said "Of course I did, the necklace was inside!" but he took the box, opened it and flipped the piece that was holding the necklace around. It said my name and that the necklace was a joke. Then below that, it said "Will you marry me?" I immediately started crying and he "magically" had a corkscrew to open the bottle and took the scroll out.
He got down on his knee and read the proposal to me, all while I was wiping away tears of joy from my eyes. I said "Yes" of course and it was one of the happiest moments of my life! It was of course also a relief that I knew there weren't going to be any more fake-outs to get anxious about!
I later found out that the reason he faked me out so much is because he thought I had some ideas that he might be proposing to me, so he kept trying to throw me off!
The engagement ring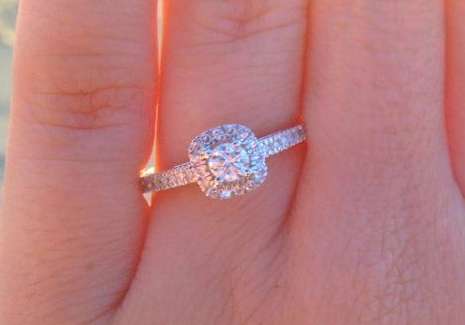 The engagement ring is a Cushion Halo from Zales.