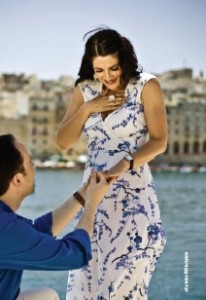 For some guys, finding the right words to say when proposing can be difficult, but it's really not as hard as it seems. It really is just as simple as taking a deep breath, getting down and on one knee and staring into her eyes while saying those magic words. The more you try to relax, the less chance you will have of saying ILOVEYOUWILLYOUMARRYMEPLEASE in one incomprehensible breath.
Keep it short and sweet
That's also why, according to 21-year-old Josh Reid of Tampa, Fla., the words used in a speech should be short, sweet and straight from the heart. Josh has been with his fiancee for three years and has been engaged for nearly one year. He began his proposal with a brief speech that expressed his affection for his then-girlfriend and followed it up with an engagement ring.
Put some thought into it
Like Josh, I also had a bit of a speech prepared for my proposal. I personally think the "short but sweet" approach to a marriage proposal speech is the best way to go. You don't have to get Shakespearean with your speech or dazzle her with your impressive vocabulary to win her over. Even if you're not the most eloquent of speakers, giving some kind of marriage proposal speech at least shows your girl that you took the time to give it some thought and to put into words your thoughts and emotions for her and the proposal.
After all, most guys aren't typically known for being so vocal with those kinds of things, so saying something heartfelt and simple really will make the moment special for her. Girls like that kind of thing, so take advantage of it.
-Joe Pasternak