Some guys wait years before they ask the one they love to get married. Some guys ask after a few months or a few weeks. But the real question isn't how long should you date before getting engaged, but rather, how do you know when it's the right time? -Isaac Sweeney
I've been married for eight years. We're a happy couple with a 2-year-old son who has brought even more joy into our lives. You would think I could answer this seemingly simple question. But I don't know the answer. We got engaged because we were in love, and that's what people in love do. But that answer seems way too simple. I'll explore more.
My wife, Melanie, and I dated for five years before we got married. We are in our 30s now, but we were in high school when we met. She was a senior and I was a junior. It was young love, and it was great. We weren't as wild and crazy as most back then. In fact, I think we may have been boring.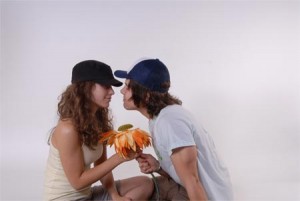 We did things together, sure, but not always. Sometimes we just sat at home and watched a video. Yes, a video. Remember, we were in high school; DVDs didn't hit prominence until we were in college. And staying home meant we were in a house with parents and siblings. Even if we were, by some strange chance, alone, we didn't buy into those high school notions that we had to go out and be seen by our friends to be a real couple. We were just happy to be together.
Then came college. She went off to a school two hours away while I finished up my senior year of high school. Then, for a year of college, I went to a different school not far from my house. This was a tough time for Melanie and I. It consisted of juggling phone calls, weekend visits, jobs, family members and friends. After two years of a medium-distance relationship, I transferred to Melanie's school; I was interested in literature and writing, and I could study that anywhere.
In my last year of college, we got engaged at her apartment in front of her roommates. It was in February 2001. We were married in June 2002. After I asked, knee and all, I soon found out that the engagement is a funny thing. It's a promise of marriage, a contract. It's your single friends begging you not to "cross over." It's monogamy (and worrying about monotony). It's a diamond and a happy girl.
Engagement is also an important stepping stone in a relationship, a sort of testing of the waters. A lot of guys worry about how to pop the question, and a lot of women place a lot of emphasis on the when and where of the actual "Will you marry me?" I worried about popping the question, that's for sure. I knew I was good at writing, so I wrote sweet sayings on 3×5 index cards and tied them together with string. When she got to the end, there was the engagement ring we had picked out together.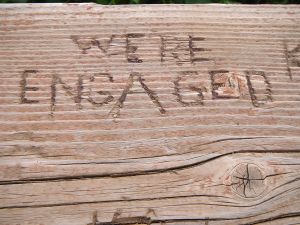 But why did I pop the question? How did I know it was the right time to get engaged? I still can't put it into words. It's a hard question to answer, especially for a guy who has a hard time putting his feelings out there. How did I know it was the right time to get engaged? Melanie and I also share an inquisitiveness for life, I couldn't picture her not being there, and Melanie and I are emotionally compatible (most of the time), and I love learning about her every day.
I knew it was the right time to get engaged because, well, I just knew. I trusted the feeling; I trusted love. I was willing to take our relationship a step further for no other reason than it just felt comfortable, like a natural progression. Isn't that enough?
Yes, it is hard to put into words, these reasons why we get engaged. Maybe it's supposed to be hard to put into words. Maybe that's why we buy a ring and get on a knee so we won't need as many words. We worry so much about the act of popping the question because words, written or spoken, can't adequately describe all the nervousness, the excitement, the joy and the love that comes with an engagement. In the end, we do the best we can, and we just hope she feels the same way.
It is also very cool for the woman to initiate the proposal. Check out our Propose Too blog.