Mining a single carat of diamond requires moving 250 tons of earth. It's why diamonds are so rare and expensive. Brilliant Carbon lab-grown diamonds display the same characteristics as natural diamonds. The only difference is how they are produced and the price. Brilliant Carbon takes pride in the transparency of their supply chain: every single one of their stones can be traced back to the lab that created it and the artisans that brought it to life. We spent some time browsing the Brilliant Carbon website, their jewelry is beautiful, fun and very sparkly! We were also very happy to learn that for each Brilliant Carbon piece of jewelry purchased, a portion of the sale is going to charity. Our audience always has many lab-grown diamond questions and so do we! Thanks so much to  Camilla Lubatti, brand manager of Brilliant Carbon, for taking the time to answer them.
Sponsored by Brilliant Carbon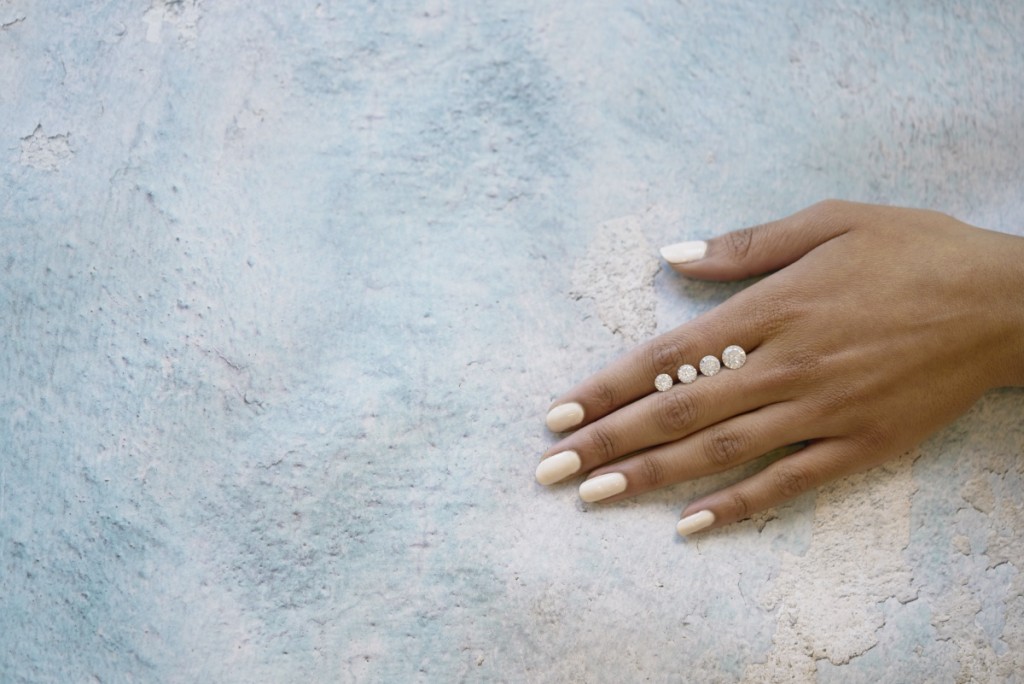 Can you tell us more about your "Impact" Program?
We believe that jewelry should spread joy and make the world more brilliant. So we're donating a portion of every purchase to support the cause that our customer chooses. You can select to donate to protect the environment, wildlife conservation, COVID-19 relief efforts, ending hunger, fighting racial injustice, improving education or all of those causes. You decide how you want to make a positive impact so you can really feel good about your purchase.
Are lab-grown diamonds really real diamonds?
Diamonds are the only gem that is a crystal of a single element: carbon. When carbon crystalizes into diamond, its atoms move closer together than in any other material on earth. You'd have to travel to a neutron star to find atoms closer together! That gives diamond some amazing physical properties: brilliance, dispersion, scintillation, and unrivalled hardness and durability. Lab-grown diamonds are actual diamonds: they display those same physical, chemical, and optical characteristics as natural diamonds and exhibit the same fire, scintillation, and sparkle. The only difference is origin: lab vs mine.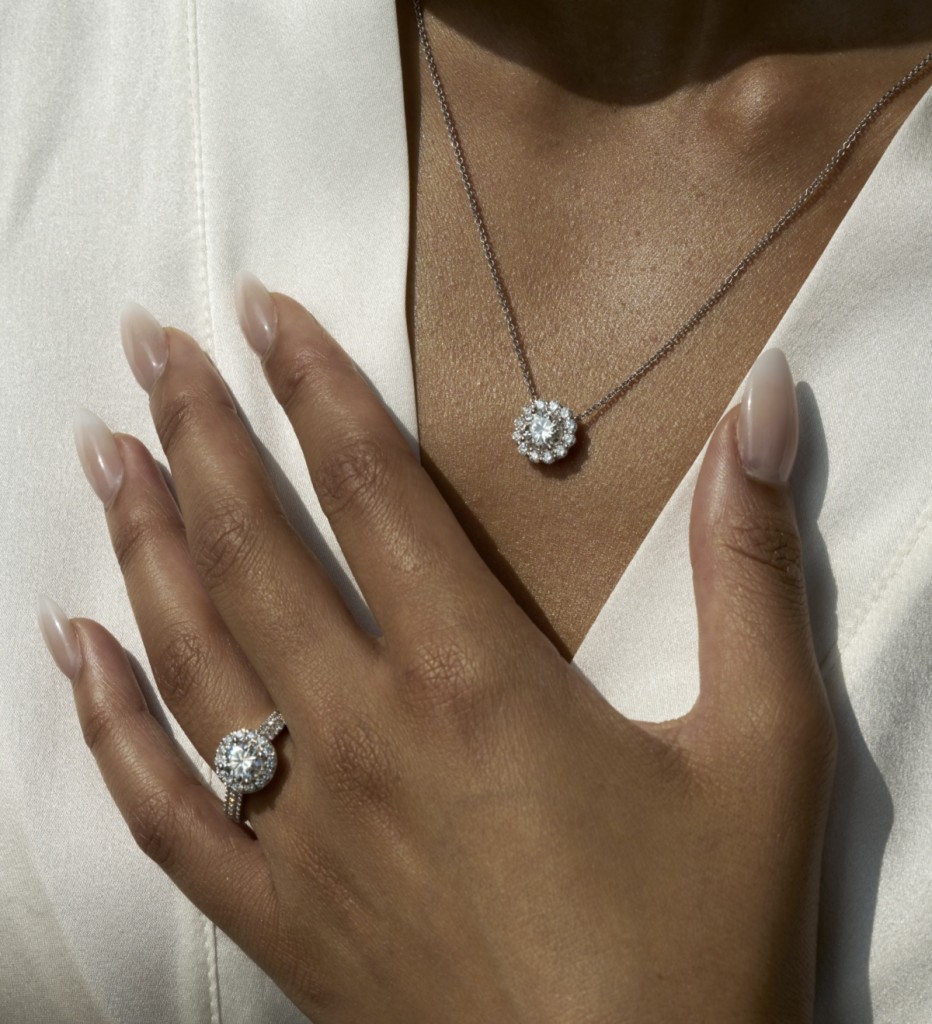 Can people tell the difference between lab-grown diamonds and mined diamonds by just looking at them?
No one can tell just by looking at a diamond whether it is natural or lab created. Gemologists who have specifically trained to identify man-made diamonds can tell the difference by using gemological equipment. Because the growth environment is different, lab-grown diamonds can have differences in their absorption spectroscopy, microscopic metallic inclusions, and fluorescence and phosphorescence.
Are lab-grown diamonds sustainable?
Lab diamonds don't require mining tons of earth or creating large infrastructure in remote places. But growing diamonds in a laboratory does use a lot of energy to create the conditions for crystals to form. The carbon footprint of a diamond lab depends on the source of that energy. Labs that use solar power or hydropower have a much smaller carbon footprint than labs that use fossil fuels. At Brilliant Carbon we have pledged to reach carbon neutrality by 2021 by requiring the diamond growing laboratories we work with to switch to solar power.
How does the price compare?
Because growing diamonds in a lab doesn't cost as much as mining in far-flung locales, lab grown diamonds cost less than natural diamonds. The price difference depends on size and quality but can range from 50% to 35% less than a similar quality and size mined diamond. For the same budget, you can afford a larger lab-grown diamond.
Are moissanite and cubic zirconia the same as lab-grown diamonds? 
Moissanite and cubic zirconia are imitation diamonds: they aren't diamond at all: they are other materials that look somewhat similar. They are easily detectable because they have different optical and physical characteristics. For example, moissanite is doubly refractive so you can see the difference in the facet pattern.
---
Thanks so much Camilla, now let's talk jewelry and our 5 favorite Brilliant Carbon pieces for your consideration….
1. The Gravity ring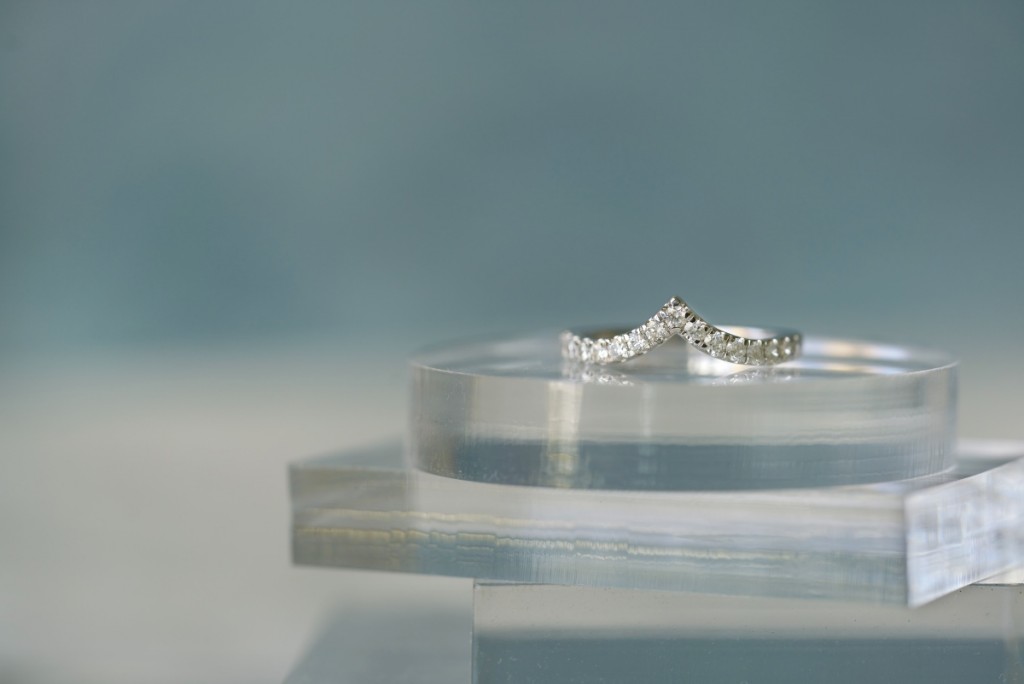 Chevron wedding bands are very popular. They are great to wear alone or stacked with an engagement ring.
This one is beautiful, comes in 3 gold colors and the price is awesome, just $249!
---
2. The Neptune engagement ring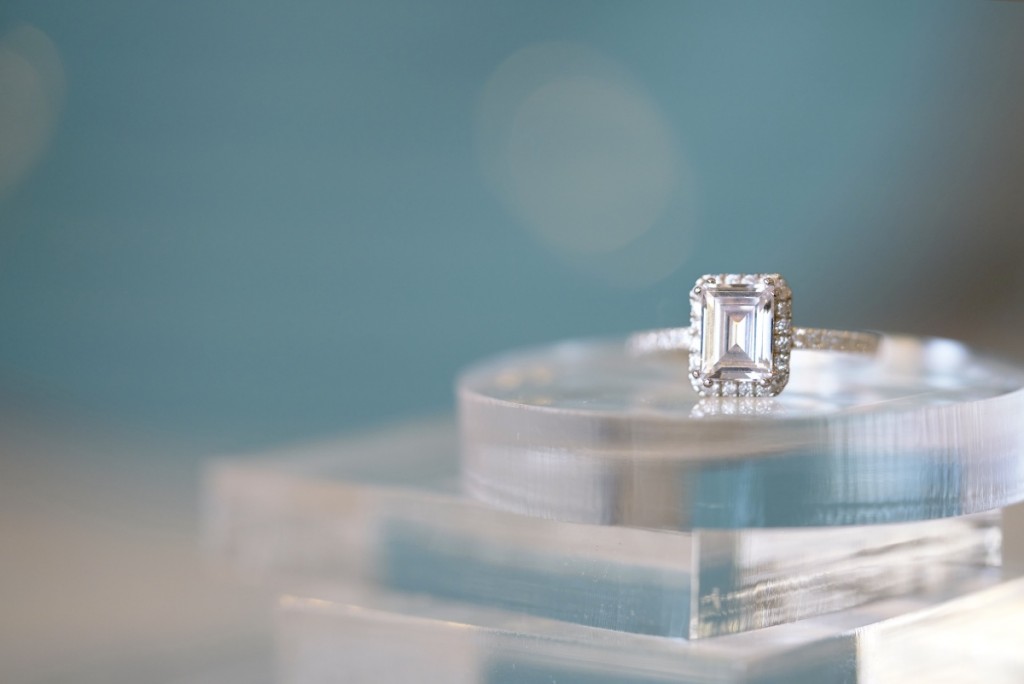 Another hot trend: emerald cut diamond rings! Unfortunately, this step-cut is unforgiving if your diamond has flaws. Picking a lab-grown diamond in this shape will allow you to get a larger and almost perfect stone on a budget. We played with the diamond search tool on the Brilliant Carbon website and with an about 1 carat center stone set in the Neptune setting, the price was below $2,000 all included!
---

3. The Altair engagement ring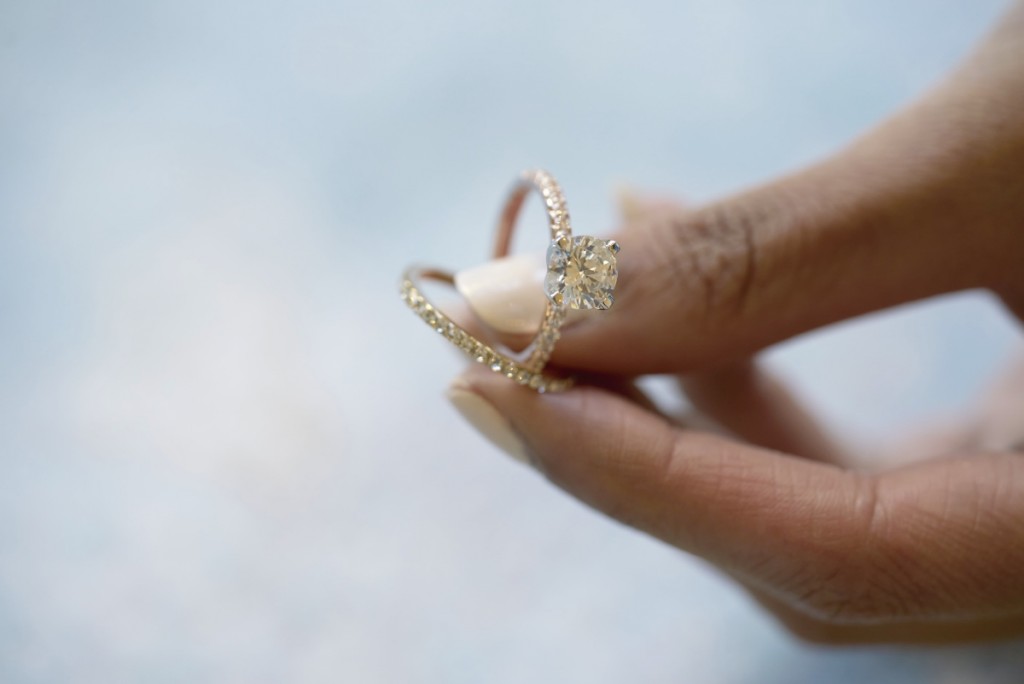 You can't go wrong with a classic pavé solitaire. There are 2 versions of the Altair engagement ring, one with a single row of pavé and one with a split shank and a double row of pavé. They both come in 3 gold colors.
---
4. The Binary Engagement Ring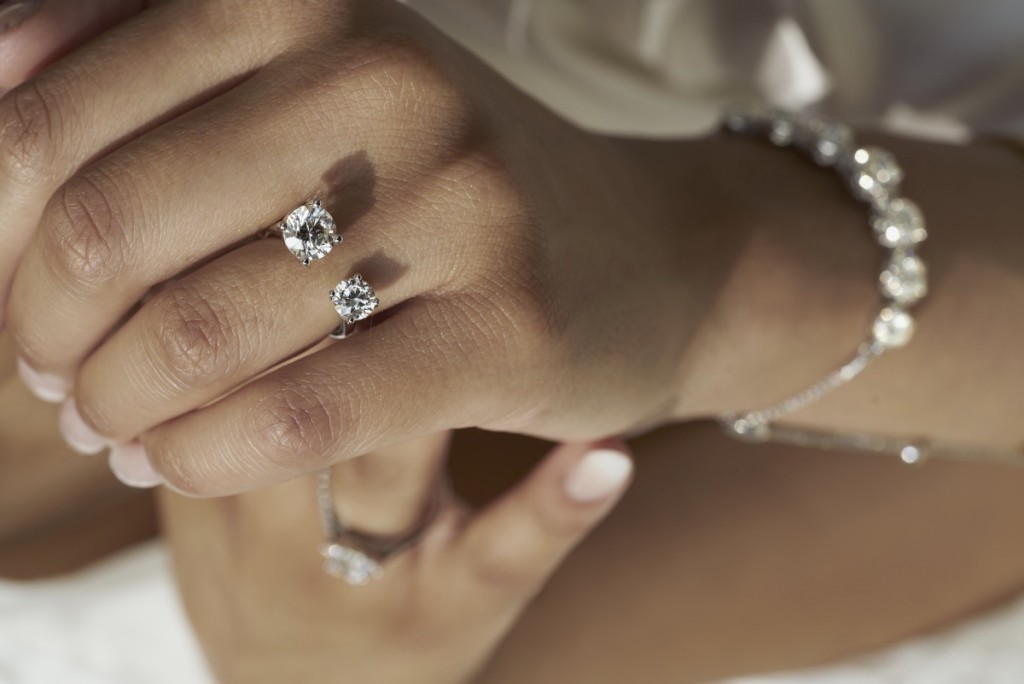 We love that Toi & Moi diamond rings are having a moment. Yet, you need 2 large diamonds $$$ to get the look!  Once again, considering a ring with lab-grown diamonds will make your dreams come true and will not break the bank . We love the negative space of the Binary Setting.
---
5/ The Sirius Pendant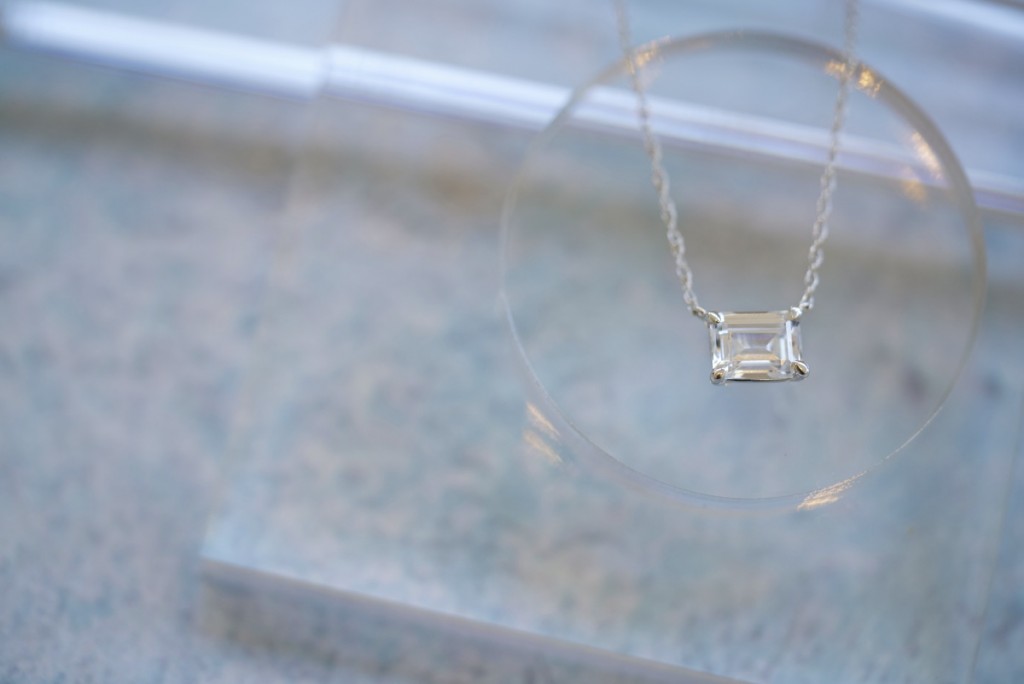 Brilliant Carbon has a great selection of diamond pendants, we love the East-West offering, especially the emerald cut version starting at $399!
---
GIVEAWAY CLOSED


We have partnered with Brilliant Carbon to giveaway one of their pendants, the Shooting Star Necklace.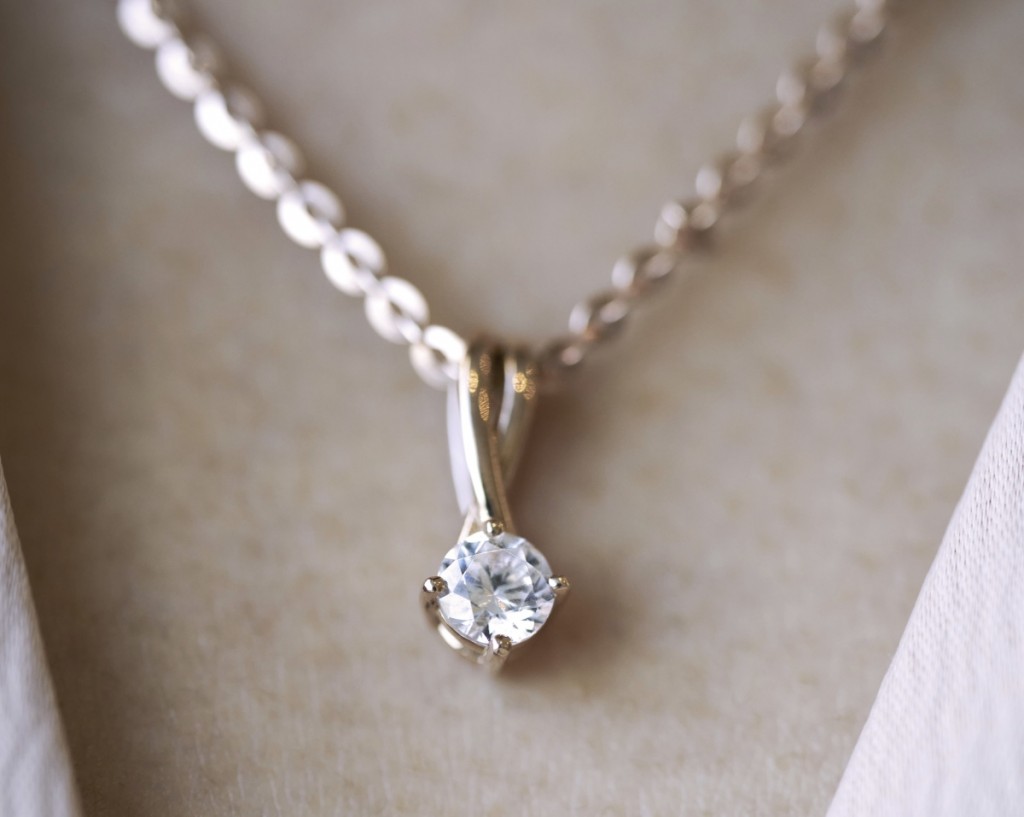 You can enter this sweepstakes 2 ways
Follow these 2 accounts on Instagram
+ tag 3 real friends personal accounts each time we post a giveaway post in the Engagement 101 feed
---
 OR/AND
Subscribe to the Brilliant Carbon and the Engagement 101 newsletters/alerts for an extra entry and chance at winning
This contest is open to US residents  18 years and older, void where prohibited by law. The winner will be selected randomly and win this Shooting Star pendant.  It its made of rose gold and  set with a lab-grown diamond with a  total retail value of $399.00. The entry period starts December 9,  2020 and will end December 31 2020 at 11.59 PM Pacific Time. Winner will be announced the first week of 2021. This contest is in no way sponsored, administered or associated with Instagram,Inc. No purchase necessary.