Jon went away to basic training for the Air Force, leaving behind his girlfriend Emma. When the two had time to talk on the phone, they knew they wanted to get married when he got back, so he proposed over the phone in October. However, he didn't count that as a "proper" proposal.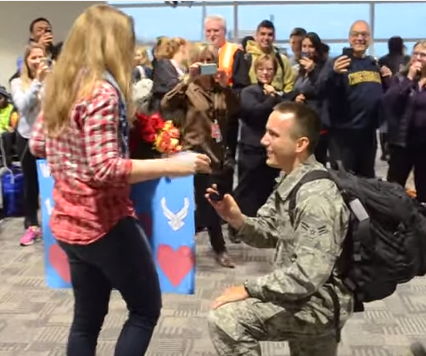 So, when Jon was coming home, Emma got a special gateway pass so she could go through security and meet Jon at the gate. While she thought she was the one surprising him, Jon had gotten the Delta crew to help him out with his official proposal. He had passengers hand out roses to Emma as they got off the plane, including flight attendants, and then he was the last one off with roses and chocolates in hand. After handing her surprises and a note, he dropped to one knee (2:20).
Sure, the two were "already engaged", but there's something about it happening over the phone or internet and then having it happen in person. And who doesn't tear up during moments like these? I mean, he's coming home after training for 100 days and surprising the love of his life with something she'll never forget. I'd say that's a total win.
A special thanks and shout out to all the men and women who serve our country.
Emily