What's better than a beautiful proposal surrounded by blooming flowers and the sweet, perfect temperatures of spring? Having the man you love start if off with some star gazing and then proposing to you on the steps of your childhood home. Though the movie doesn't have quite the ending that we would all love, in "A Walk to Remember" – Landon (Shane West) and Jamie (Mandy Moore) have just about the most idealistic high school romance. Here's what we can learn from this sweet scene: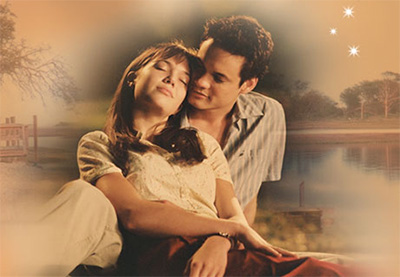 Marry Someone Who Wants You Now
Jamie only had a limited amount of time left after being diagnosed with a terminal illness, but that doesn't stop Landon from falling for her (even though she warns him not to). When you consider the man you're going to marry, think about someone who wants you for better or for worse – right this very second. If he doesn't want to commit or even discuss the future, consider if he's the right person for you. Regardless if we are sick or not, our time is limited and you should be with someone who wants to savor every second with you.
Be With Someone Who Helps You Chase Your Dreams
In the movie, Landon helps Jamie check off all of the things on her wish list before she passes away: being two places at once, building her a telescope so she can see the universe and more. Though you hopefully will have decades to share these experiences with your man, whoever you're with, make sure you both want to chase each other's dreams together. Not having a supportive counterpart can hold you back financially, emotionally and personally.
Be With Someone Who Keeps Their Word
Though Jaime begs Landon not to fall in love with her because she doesn't want a reason to hold onto anything at earth, he does anyway. And he even proposes so she can walk down the aisle and share a married life with someone before passing away. But Landon stays true, no matter what. When you look for your life partner, consider someone who not only keeps to his word and wants to make a lifelong promise to you.
By Aurora Brown