Shirin & Eric
How They Met
We first met on Dec 10, 2011 at a Christmas festival in San Francisco, CA through a mutual friend. He was dressed as Superman Santa and I was Ms. Gingerbread. We connected instantly and before long we were lost in conversation. At one point we looked up and noticed a random guy had a mistletoe dangling above our heads. He said " You two look like a couple! You should Kiss" and so there you have it, our first kiss. I still joke with Eric that he must've paid the guy but he denies it to this day.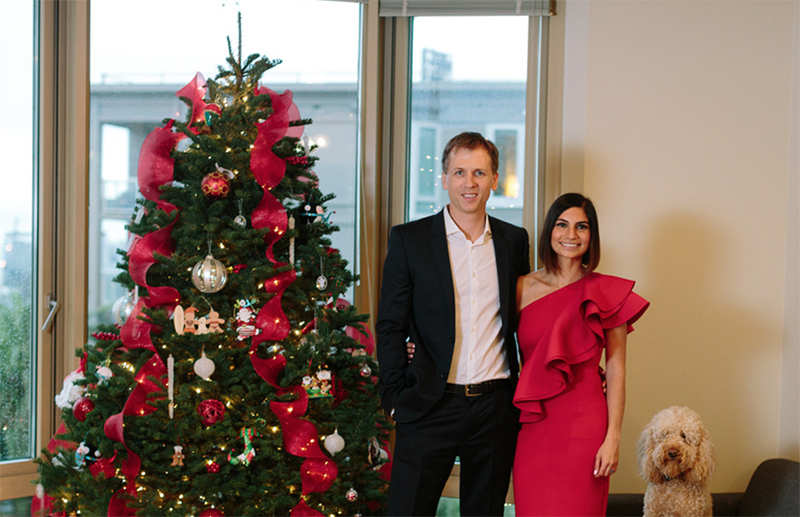 The Proposal
Eric proposed to me the eve of my birthday. It was absolutely epic and took me by complete surprise. He had spent the past year designing and building a fairy tale proposal book with secret puzzles inside every chapter. He knew that I loved making story books for my family when I was a little girl so he decided to create a fairytale story based on our relationship. The book is about the two main characters – Super Santa and Ms. Gingerbread and and their quest to find The Perfect Fit. What is the Perfect Fit? Neither of them know…. yet. Each chapter in the book is accompanied by a puzzle I had to solve in order to get to the next chapter.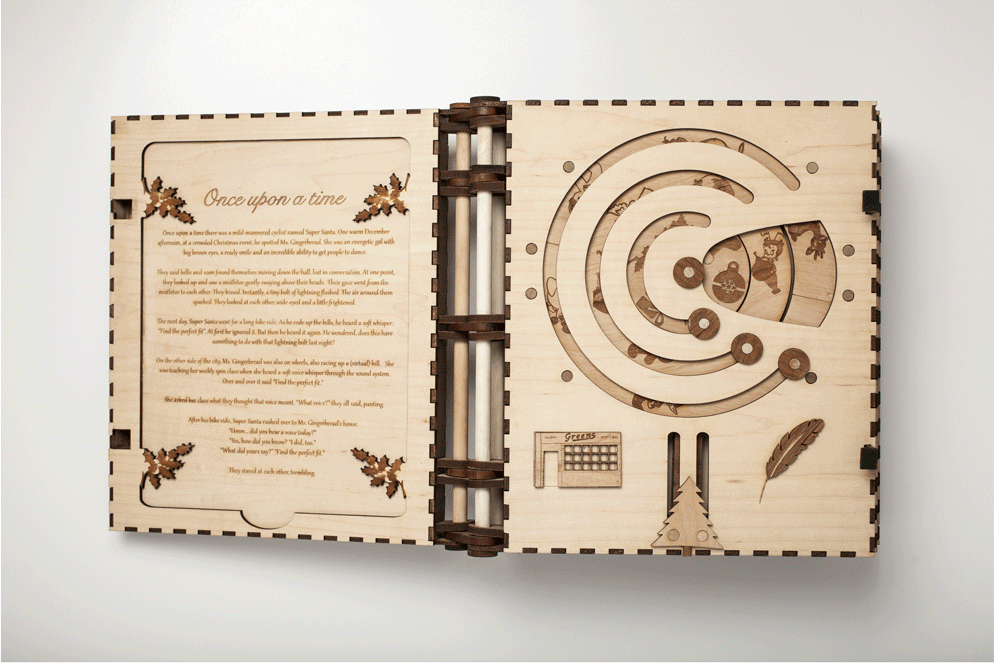 Chapter 1 – Once Upon a Time The first chapter is the story of the day we met at a Christmas Festival called Santacon in San Francisco. He was dressed as Super Santa and I was Ms. Gingerbread. In order to move to the next chapter I had to find Super Santa and Ms. Gingerbread from an array of Christmas characters and line them up with a mistletoe, because our first kiss was under a mistletoe. Its only when each of the 3 elements perfectly fit together that the Christmas tree on the bottom moves up, allowing me to go to the next chapter.
Chapter 2 – A Life of Adventure and Change The second chapter is the story of our adventures on the road with our RV, nicknamed The Slim Roller. As I moved the RV, little wooden icons popped up on the road. These were either fun things we did together or obstacles we had to overcome. Like how he got really sick on our first date but I went out with him again, Burning Man, Zion National Park, sleeping in a Walmart parking lot stranded in Elko, Nevada and escaping a grizzly bear in Alaska.
Chapter 3 – The Trusty Sidekick In the 3rd chapter, Eric brought Pickles, our adorable labradoodle puppy into the story. He fits perfectly with Super Santa and Ms. Gingerbread, teaching them valuable life lessons.
Chapter 4 – The Perfect Fit And the final chapter is when Super Santa finally figures out that Ms. Gingerbread is his "Perfect Fit". And now he needed to know if Ms. Gingerbread felt the same way about him. He gave me one last puzzle to solve… The last puzzle is ancient Persian Artwork with a hidden opening. When I finally figured out how to open it, the ring was inside and he was down on one knee, asking me to marry him. I was in tears and so overwhelmed that I actually forgot to say "Yes", so he had to ask twice. Oh, and the cutest thing – the back cover of the book is the actual road we were traveling on the day he proposed.
The Engagement Ring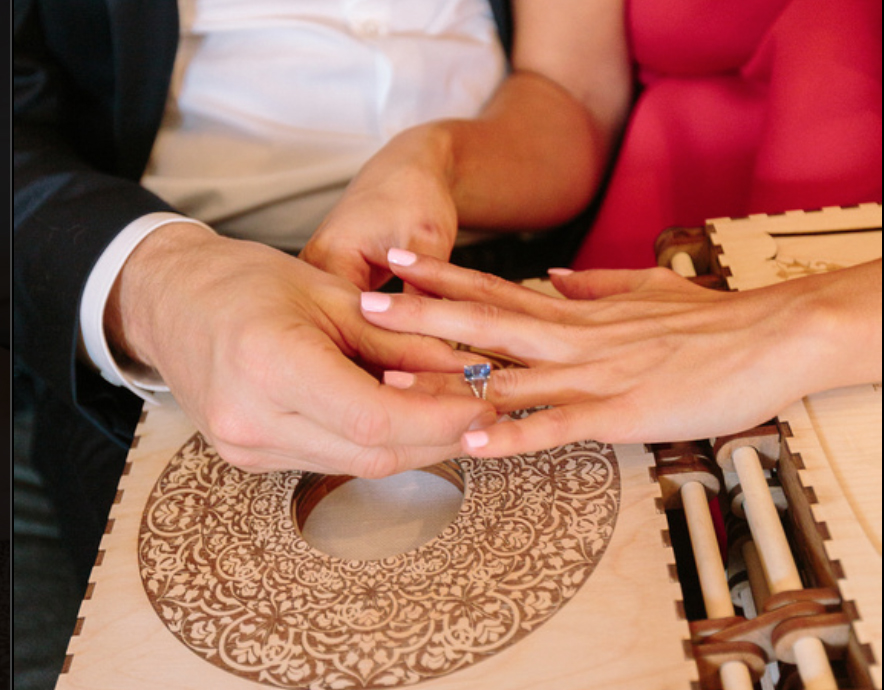 Eric knew I wanted something completely unique so he custom created a ring for me. The middle stone is a beautiful 3 carat blue sapphire (cushion cut) and the setting is split fork with diamonds. It was created by Derco Diamonds in San Francisco, CA
Photos by Anna Wu.