Anna and Mark
How We Met
My friend Sherilyn is married to Mark's cousin and she was on a mission to set us up! Sherilyn and I were having a girls' night out, in downtown Minneapolis.  She decided to text Mark, who was luckily also downtown that night. So multiple drinks in, we met up and we were inseparable the rest of the night.  The next day he texted me asking when he could see me again. Later that week we had our first official real date.
The Proposal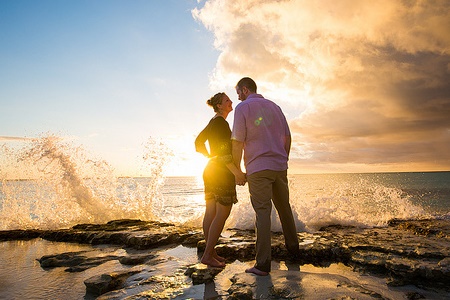 It was our second day in T & C and Mark made dinner reservations. We had rented a car on the island but Mark thought we should use a taxi.  On the way to "dinner" Mark asked the driver for suggestions on nice beaches.  The driver offered to stop at a really nice beach on the way since it would be sunset soon.  We parked at the beach and the driver mentioned he does some photography on the side and asked if we'd like him to take a few photos of us.
When we got to the sand Mark had me take off the sandals I was wearing because he had brought me a pair of pink flip-flops that he had given me for my birthday. The sandals had our initials etched in the soles so they would imprint in the sand.  He then put on a matching blue pair of sandals.
We walked down to the water and Mark was telling me how a week of vacation was not enough time together.  He then got down on one knee and told me how he'd like to spend the rest of our lives together and asked me to marry him.  As we stood up (after a fist pump from Mark of course) he said "meet my buddy James" and he introduced me to the driver/photographer. At that time I was able to read the imprints of his flip-flops which said "marry me."  The special part about those flip flops was he had to work with the company to switch the words so I could read them while he was facing me rather than walking away from me.
After filling some small jars with sand to remember that special beach, we proceeded to have the most amazing photo shoot during sunset.  Sigh… it was perfect.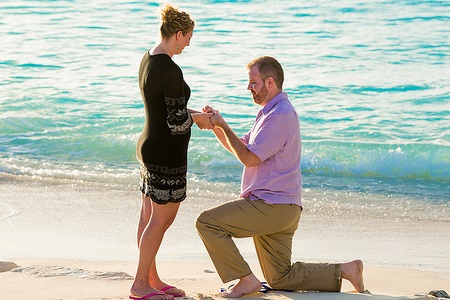 The Ring
The ring is a round solitaire diamond with channel sets on the side. We had looked at rings a few months prior and picked out the setting together but then Mark picked out the diamond. Ryan Knox from Knox Jewelers designed the ring and did an amazing job.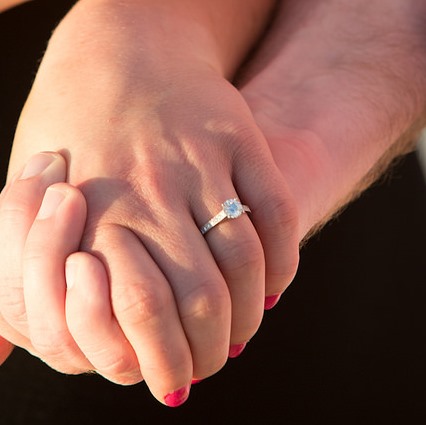 Paradise Photography www.myparadisephoto.com
Brilliant Event Planning  www.brillianteventplanning.com