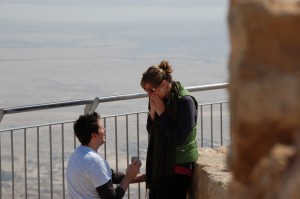 A proposal in the making
Dave, who has been with Rebecca for some time, wanted to propose to her in Israel. He heard about a trip that was specifically tailored toward people who have recently converted to Judaism, which Rebecca was in the process of doing. The downside was that the trip cost thousands of dollars.
Although he had to work in secrecy to keep it all a surprise for Rebecca, Dave found a scholarship to finance her side of the trip. As for his portion, an anonymous wealthy friend of the trip organizer decided to generously pay the entire bill. To this day, Dave has never met him.
The proposal
He gave the trip to Rebecca as a three year anniversary present. He told her he got a scholarship, but he never told her how or why. He got the ring, and it stayed buried in his video camera bag all through Israel. When they got the trip itinerary, he was bummed to see that the mountain he wanted to propose on was the very last day of the trip. It also poured every day and they both got full blown bronchitis. Then, on the last day they finally got to Mount Masada, which overlooked The Dead Sea, Israel and Jordan.
The sun was blazing for the first time in days and they were nearly over their bronchitis. So they rode the cable car up to the top of the mountain, did some quick touring, and then Dave stood on a ledge with her and proposed. So just two weeks after Rebecca's conversion, she was in Israel getting proposed to while on a very important mountain both in Jewish history and the history of their lives.