Move over black diamonds, black onyx is the hot new trend in jewelry design. It's actually more of a something old that is becoming fresh and new again, so I had to ask antique engagement ring expert Morrie Knopp of  Beverley K. what we should know about this intriguing stone.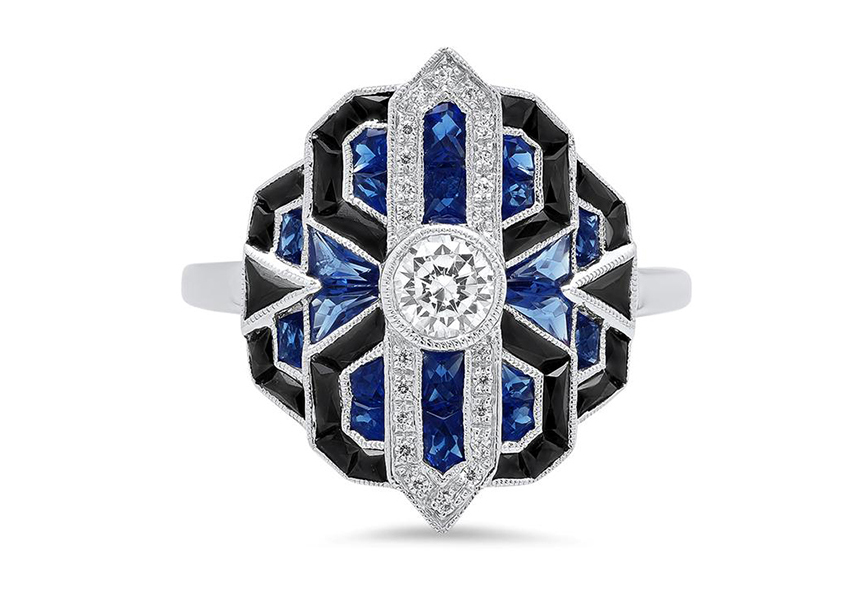 I love the new Beverley K. ring styles featuring black onyx. I believe they would make amazing engagement rings for unconventional brides and should be on anyone's right hand ring wishlist. What is onyx and why is it becoming so popular again?
Onyx is a type of chalcedony, which is a cryptocrystalline quartz. Onyx is a favorite material for cameo makers, and was a favorite in Art Deco pieces. Dyed black, onyx was used liberally during the Art Deco era, when dramatic contrasts and hard edges were all the rage. There has been a recent resurgence in the popularity of onyx, and Beverley K. is at the forefront of including onyx in their popular antique reproduction pieces. Onyx looks especially good, when combined with other colored gems – especially emeralds , sapphires and rubies. (just think of clothing – black goes with almost any other color). Ring pictured above by Beverley K.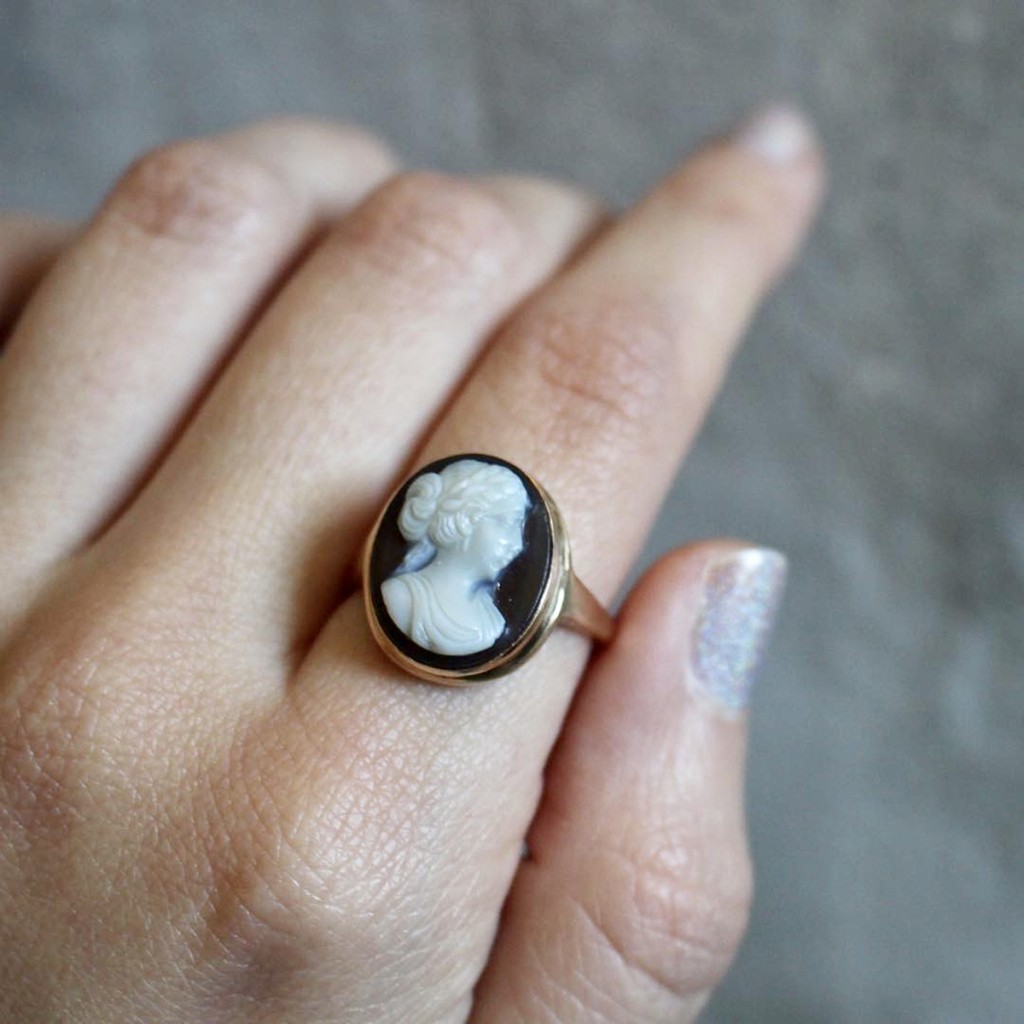 This makes a lot of sense as black does go with everything. I  have always loved cameo art and seeing some onyx and sardonyx  (red and brown onyx) pieces in museums. Some of them were made in Egypt and Rome before Christ which is amazing. I also love "camées" featuring portraits of French nobility through the ages. Here  a very sweet antique cameo ring that I spotted  on   ShopGemGossip. It's a 14K sardonyx yellow gold ring from the 1930s/40s .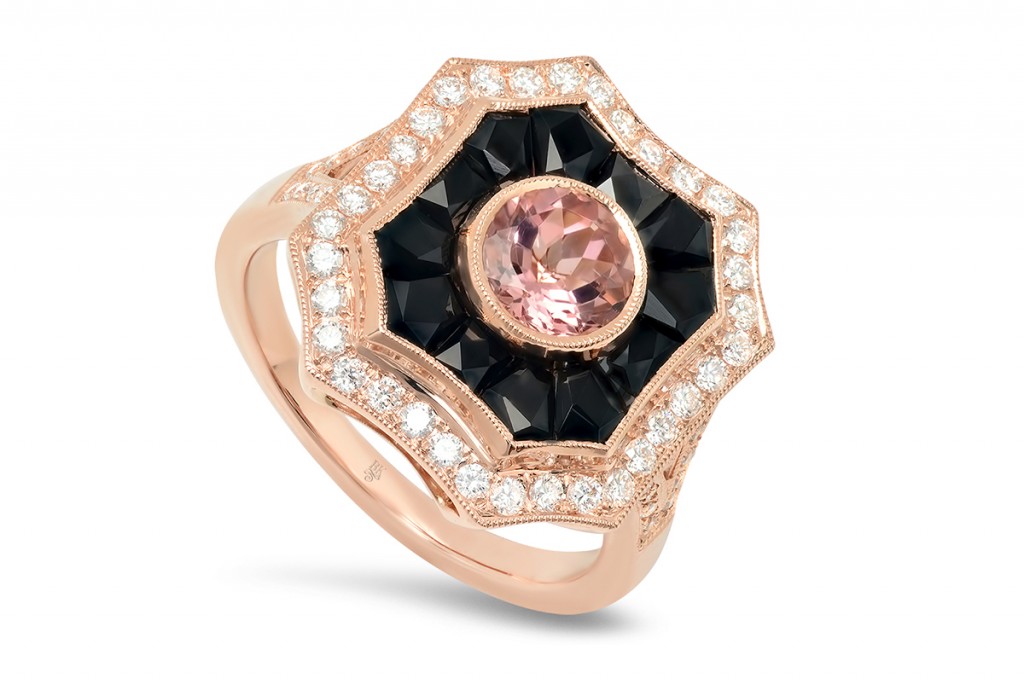 This rose gold ring featuring a morganite, diamonds and onyx is the perfect engagement ring option for an unconventional bride. Onyx is about 7 on the Mohs scale and morganite 7.5 which means these two crystals are not  as hard as diamonds. Just keep it in mind when gardening, cleaning and bungee jumping… Ring by Beverley K. , it can be customized with other gemstones combinations.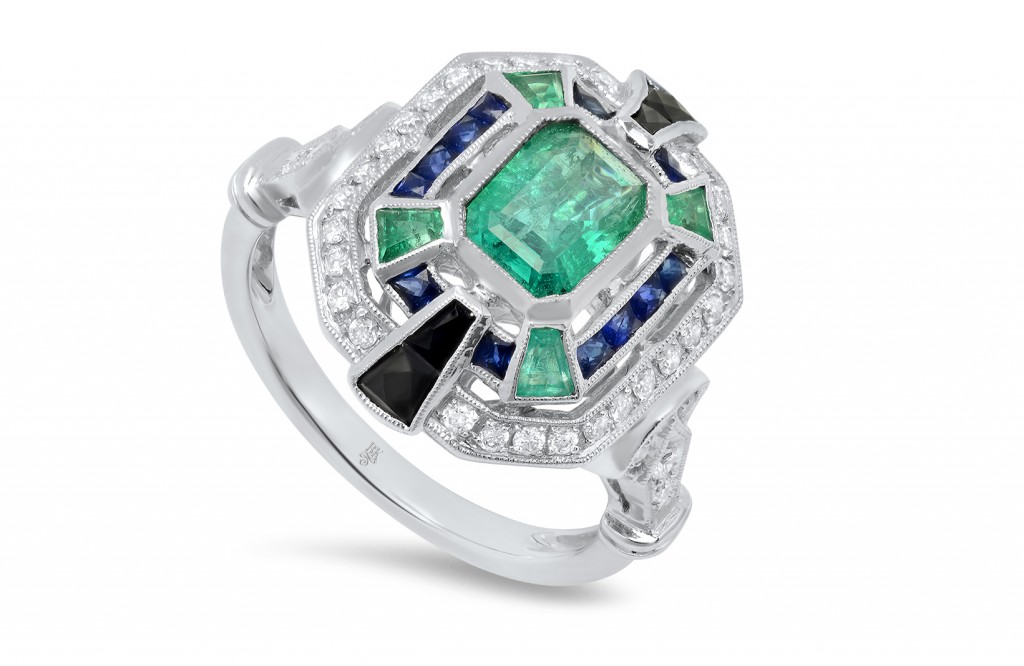 I am ending our Onyx interlude with this stunner. It is keeping things fresh and exciting with a bold Deco inpired setting that combines onyx with 3 precious gemstones, diamonds, sapphires and emeralds. I don't know how this ring manages to combine a vintage and contemporary vibe but it does, it is gorgeous and one of a kind. Ring by  Beverley K. 
Written by Sev
Severine Ferrari AKA Sev is the editor and writer of this blog and the online magazine Engagement 101. Sev was born and raised in Paris and has lived in New York City for over 20 years. Her blogging style still includes elements of her French writing style and humor. We recommend reading it with a glass of champagne and a French accent.