Chicago Bulls cheerleader (also known as a Luvabull), Ariana, thought she was just performing at another game. However, she was caught completely off guard as the music changed from their rehearsed routine to one she didn't know. The look on her face (around 0:57) is priceless and she begins to just walk off the floor, trying to mask possible annoyance that her fellow Luvabulls are still dancing.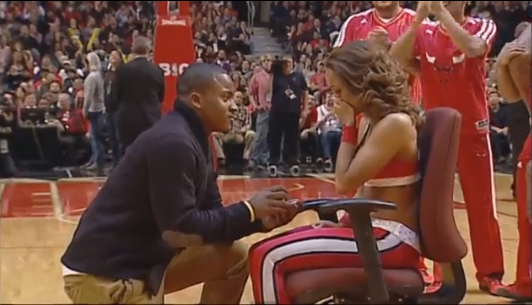 It isn't until the music continues, she's whisked into a chair, and she's looking around that I think she gets a sense of what's going on. Around 2:00, when her boyfriend, Shane, pulls of fan inflatable bull costume and drops to one knee in front of her. She, without hesitation, said yes and pulls him in for a hug.
I love proposals like this where friends and the public get to be a part of it. It's a big risk unless you're 100% on her answer, though, and therefore definitely takes guts. I love that as they are going off the court, people in the audience wanted to shake or high-five Shane's hand and wish the couple some congratulations!
Emily