Max wanted a special way to propose to his girlfriend, Katy. What's more romantic than a trip to Paris (disguised as a work opportunity)? Proposing at 12:12pm on 12/12/2012!
Max planned for his proposal to be videoed. His love for watching proposals on the web inspired him to make sure his was worthy; he wanted to share his and Katy's love with everyone!
After a romantic evening consisting of dinner, champagne, chocolates, and a private terrace with a view of the Eiffel Tower, Max woke Katy up with an "early Christmas present". A Rolex watch? Well, when he took her outside for pictures and showed her the back of the watch, she was in for a surprise.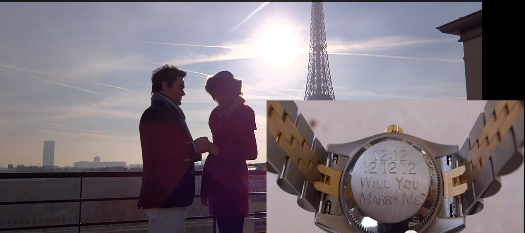 Once Katy saw the back of the watch, Max drops to one knee and seals the deal. This is around 5:30 of the video if you want to skip ahead!
I love that her engagement ring is an infinity ring, not your typical rock. Beautiful!
Emily