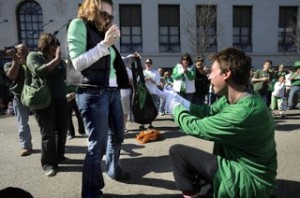 What an Irish month March is! With St. Patty's Day around the corner, it's a great time to start thinking about super fun proposals. If your girl has a fascination with leprechauns, or if you just want a playful way to propose, having a leprechaun proposal could do the trick to getting her the most memorable proposal of all.
1. The Trickster Leprechaun
It's a trend now among parents to mess things up around the house and say a leprechaun did it. Some toss papers everywhere and even leave a trail of little green foot prints and gold chocolate coins. Turn this idea into a playful proposal by making it look like a leprechaun rummaged through your house. During the raid, he must have "accidentally" found the ring and threw it to the side. She'll be shocked, confused and it takes some pressure off of you because the "leprechaun made you propose now."
2. The End of the Rainbow
It's hard to plan a rainbow on command, so why not make your own? Make a rainbow trail for your lady to follow– it could be a literal rainbow painted or drawn with chalk on the sidewalk or it could be a scavenger hunt with clues of different colors leading her down the path. At the end, she'll find a pot of gold— nah. Who wants that when they could have the man of their dreams down on one knee?
3. Dress Up Like a Leprechaun Yourself

Why make the leprechaun a third party when you can be the leprechaun yourself? Check out this video where a guy dresses up in a leprechaun costume and surprises his bride-to-be as she performs Irish step dancing in a parade.
Nikki
Photo Credit: Proposal Girl