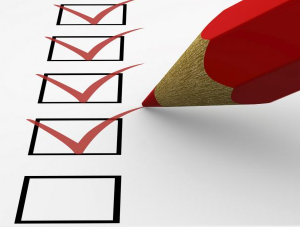 So you're going to propose on Valentine's Day, eh? It is the day of love so what could possibly go wrong? A lot. ESPECIALLY if you're not prepared. So take a moment to read through our checklist to ensure your day goes off without a hitch.
1. Check the weather
Whether your proposal is outdoors or you just need to make sure your transportation is reliable, make sure to double check the weather and come up with a plan B. After all, nothing's worse than a soggy bride-to-be.
2. Call your friends
If you have other people involved in executing your proposal or have given some people certain jobs, you need to call everyone the day before to make extra sure they know when and where they are supposed to be. Nothing is worse than someone thinking Valentine's Day is Friday. Whoops!
3. Double check your reservations/tickets
If you're going to a special restaurant, show or anything else that requires a ticket or reserved time, call ahead to double check. This is the busiest time of year for some places so mistakes can be made. You don't want to be accidentally double booked at the restaurant you made a reservation a montha go.
4. Put the ring in a safe place
Sure, you got the ring the other day, but what if you accidentally put it in a coat pocket and forget which coat? Or you left it with a friend for safe keeping and they accidentally took it out for a joy ride (it happens, unfortunately)? This is the time to double check on the ring and take it to an extra safe spot– even if that means going to a bank and renting a safety deposit box (apparently my husband had to do that at one point when his keeper of the ring was caught showing it off to people at a party).
5. Reconfirm plans with your sweetheart
Whether she knows where to meet you or you plan to surprise her later in the day, it's good to confirm her whereabouts and plans either with her specifically or a close friend/relative.  I mean, if you're planning on surprising her during her 7 a.m. jog but she ends up not going that day, you're going to be super disappointed and thrown off guard. It never hurts to be extra planned.
Nikki