So you're planning to propose on Valentine's Day! Whether you want it to be a huge ordeal or you have a slightly smaller budget to execute the perfect proposal-popping atmosphere, the possibilities are endless.
The Idea: In front of a great sunrise/sunset
Splurge: Get a hot air balloon
Imagine this: You blindfold your lady and drive her to the place where you'll both board a hot air balloon and take a romantic adventure into the sky just as the sun rises or sets (depending on what works best for you). Pop some champaign even. The site may be breath taking, but nothing will take her breath away more than when you ask her to marry her up there in the clouds.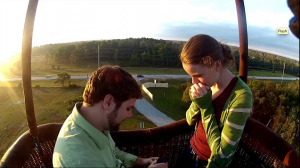 Save: Plan a picnic on the beach or on a mountain top
Who needs a fancy, expensive hot air balloon ride if you have natural beauty around you? Take a hike or walk on the beach and set up a romantic picnic. Depending on whether or not you chose the sunrise or sunset, you can have a charming breakfast with muffins and mimosas or an evening snack of cheese, grapes and wine. The tone is set, the cuddling is expected, and the big question– well, that'll just be the surprise of her life.
The Idea: You want to take her out to a fancy dinner
Splurge: Go all out
You know that fancy-pants restaurant that takes weeks to get a reservation? Make it in advance. Surprise her by delivering a dress to her front door for her to wear for the evening and pick her up in a town car or limo. Don't forget the roses! When she gets to the dinner of her dream, don't wait too long to propose. After all, you'll want to saver the happiness over some dessert and champaign.
Save: Turn your house into a restaurant
Sure, you may not be able to afford all the bells and whistles, but that doesn't mean you can't make her the dinner date of her dreams. Either cook something fancy yourself or get take out ahead of time that you can plate on fancy dishes. Whip out the table cloth and candles. Hit the button on your iPod for a romantic tune and don't forget the candles! Want to kick it up a notch? Cover the room with roses for her. When she comes home, she'll be completely taken by surprise. Plus, you can get the intimate proposal she's always wanted.
The Idea: You want to take her to Disney World
Splurge:  Plan an awesome vacation
Whether you plan a weekend for two or a weeklong family and/or friend affair, a Disney proposal could be just what she's always wanted. Propose in front of Cinderella's castle, or on a gondola ride at Epcot, or even during one of those epic fireworks displays. There is no shortage of great proposals at Disney World.
Save: Bring Disney World to Her
If your lady is a Disney fan, she'll be thrilled when you bring the childhood joy of Disney World to her. Dress up like Mickey Mouse and deliver her roses at work or watch a marathon of her favorite movies before popping the question to her on the couch. Or, if you want to go all out– do what this guy did and get the entire neighborhood involved in making her backyard a real, life Disney World experience. You don't have to be in Florida to be her Prince Charming.
Nikki