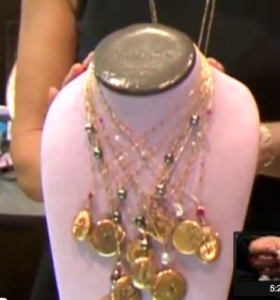 With the holiday season starting in full force, it's time to begin planning your gifts for your loved ones (especially for the ladies!). Episode 6 of Engagement101 TV is just the thing you need to help you navigate the waters of jewelry gift buying.
In this episode, hosted by Michael O'Connor, you will find eco-friendly options such Heather Moore's. She uses recycled metals and even features green gold. They can also document people's own stories in the jewelry pieces themselves, including featuring imprints of someone's handwriting.
Or if you want something a bit more on the classic side, check out Julie for Just Jules. She specializes in very couture lockets that any lady would love (especially if you finish it off with a very special photograph she can cherish forever). There is lots of more in the episode including options for men.
Gifts featured in the episode start at $300 and are sure to make anyone very happy this holiday season. For more suggestions and great jewelry, view the entire episode below.
Nikki