Alissa and Kevin
My birthday is a week after Halloween so each year I host a Halloween themed birthday party that gives back to a different charity. Halloween is my favorite holiday and I'm lucky to be surrounded by such great friends & family who take it as serious as I do along with being generous. Especially my soon-to-be hubs, Kev. He has a heart of gold for wearing the costumes I come up with each year just to make me happy :).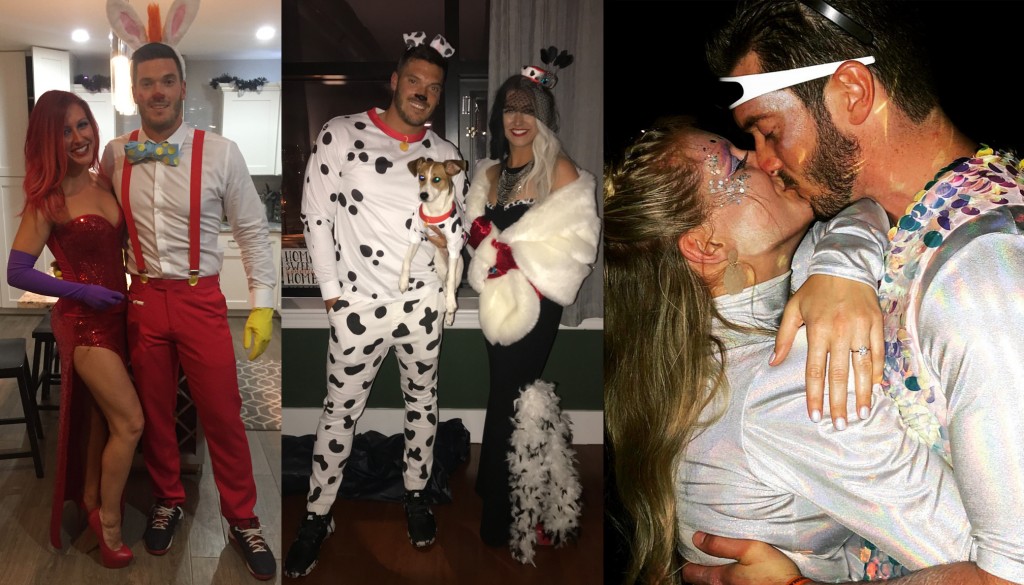 Kev & I met at Santacon in December of 2015. Then just a year later we found ourselves moving in together in Hoboken, New Jersey. The year after, Kevin's employer asked us to relocate to Los Angeles and I agreed to make the move across the country as long as we could fly back to NJ to celebrate & host my 30th Birthday/Halloween party. Kev agreed and come Friday, October 26th 2018, we flew home to my parent's house that had set up a delicious dinner with both our families and a few close friends.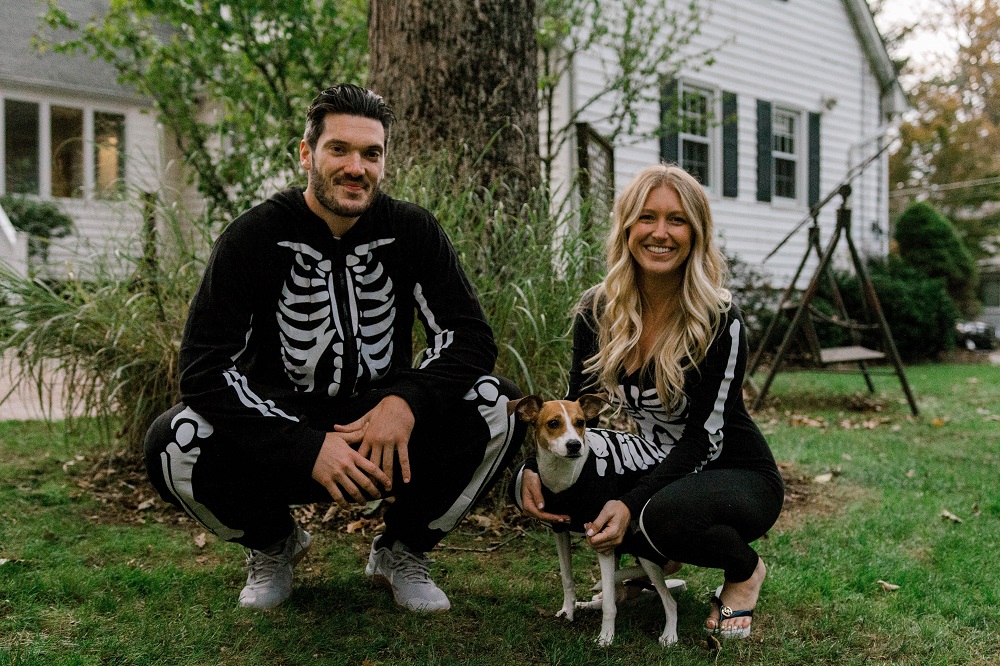 If you want to know just how serious I take Halloween, I purchased 3 Halloween skeleton onesies for Kevin, our dog Brady & I to wear the night before the party the way some people wear Christmas Eve pajamas. The 3 of us took our family photo and a few hours later it was time to cut my birthday cake! Kevin & Brady changed out of their onesies but I stayed in mine. Everyone started to sing happy birthday and when I went to blow out the candles, Kevin surprisingly asked me to wait, then got down on one knee and asked me to be his "Halloween queen forever." The only words I could find were WHY NOW? Haha! I was SO shocked I couldn't even believe what just happened. I of course said yes and we spent the entire night practicing for the wedding. (Ex: drinking & dancing until the wee hours of the night!)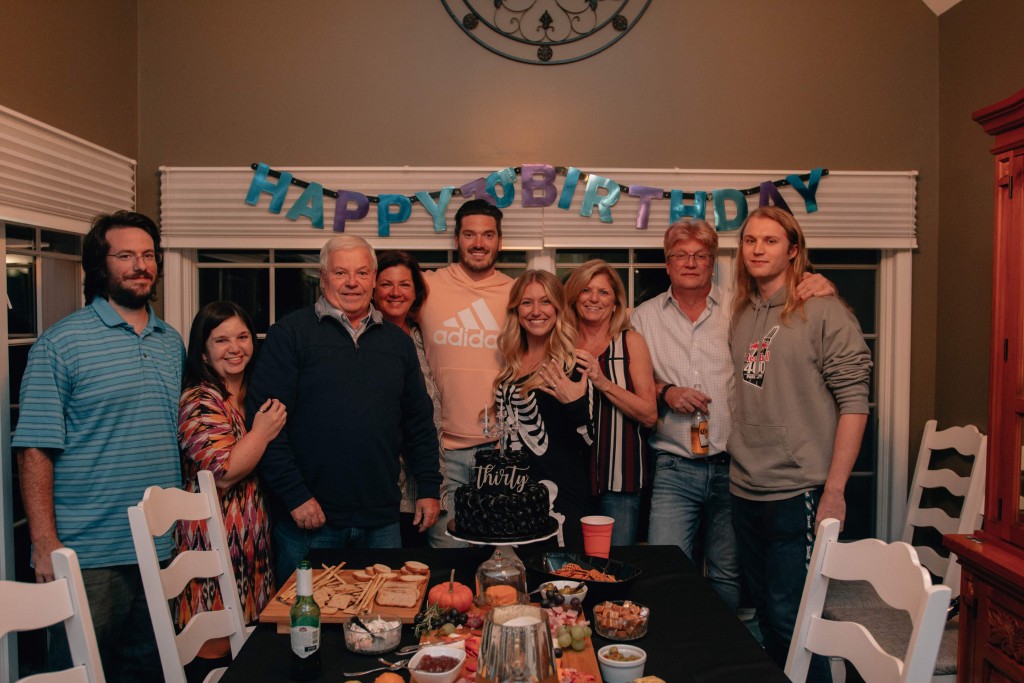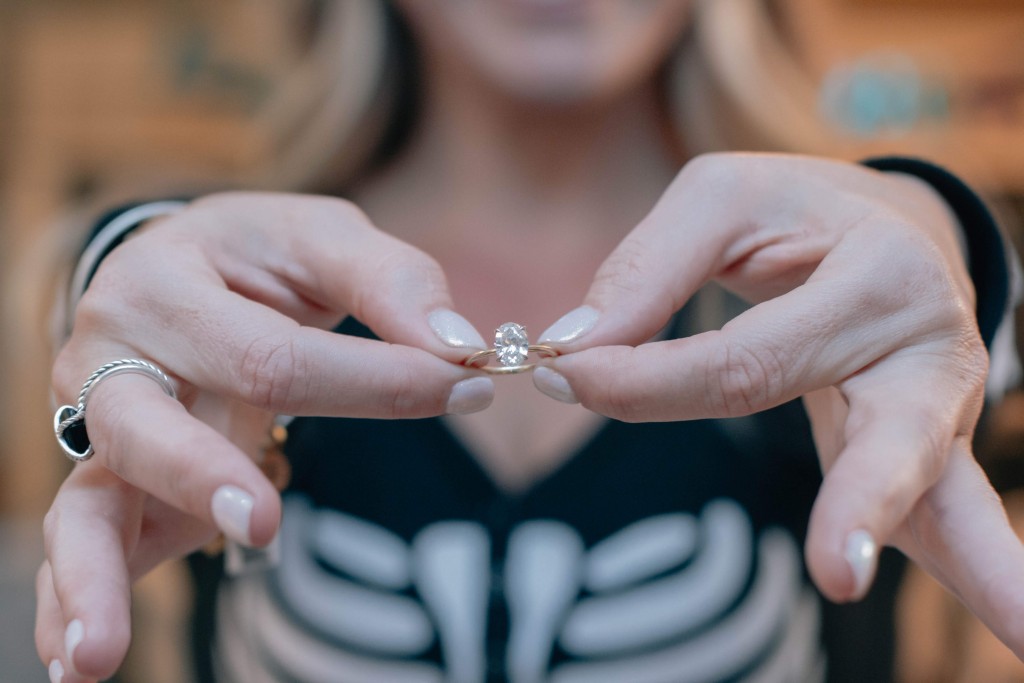 Kevin had designed the ring with a jeweler in Santa Monica, California and it is PERFECT. It's an oval diamond set on an 18K gold band with a platinum crown!
We decided we were going to surprise our friends the next day by announcing our engagement during the party. THIS was the hardest part for me. I wanted to scream from the rooftops that I was getting to marry the puppy daddy of my dreams but knew that surprising everyone would be so amazing and I wanted to be able to hug everyone! I kept the ring in my clutch until everyone had arrived and held onto it for dear life. When everyone showed up, I walked over to the DJ and said we were going to announce our big news! I placed the ring on my finger, put my sleeve over it, and Kev & I dragged a chair to the middle of the bar so I could stand high enough for everyone to see and tell them the exciting news. I never said anything so fast before in my life. We thanked everyone for coming & that we had raised over $1,000 for the Layups 4 Life Foundation towards cancer research. I then told them the night before our families had celebrated my birthday a little early and that Kev had proposed! With that, I flashed around my ring as everyone cheered. The bar handed us champagne and then I was swarmed by the biggest hugs & congratulations. I was so happy that we decided to wait and surprise everyone.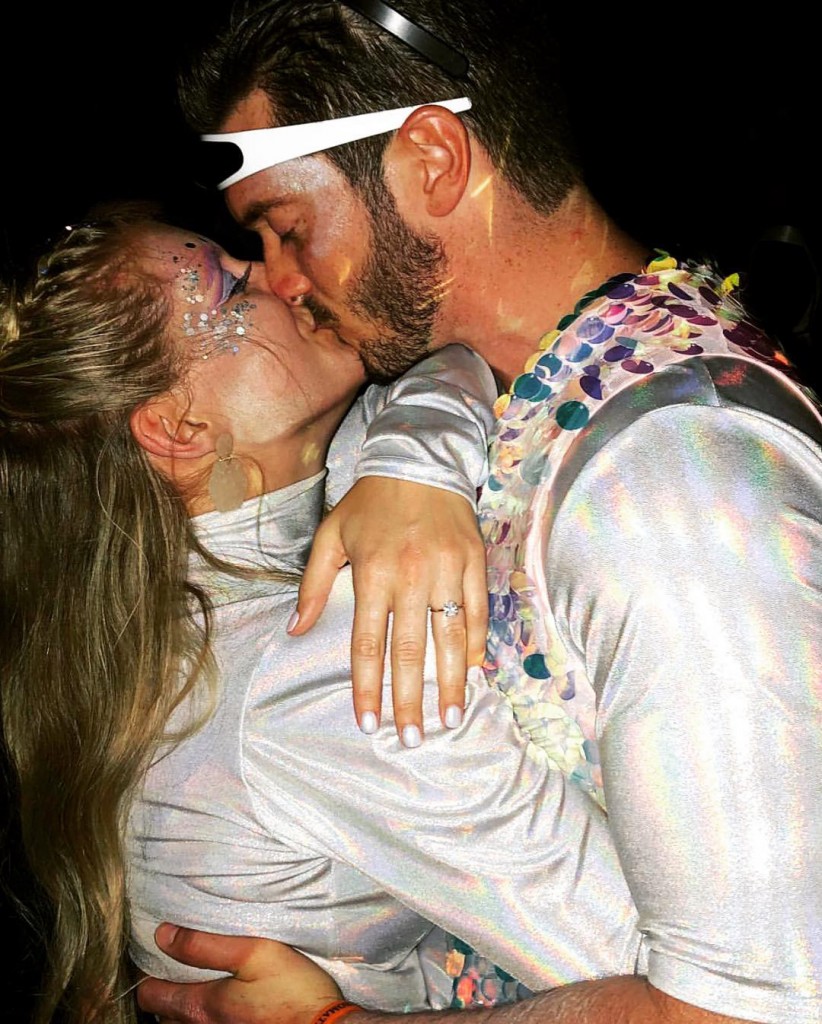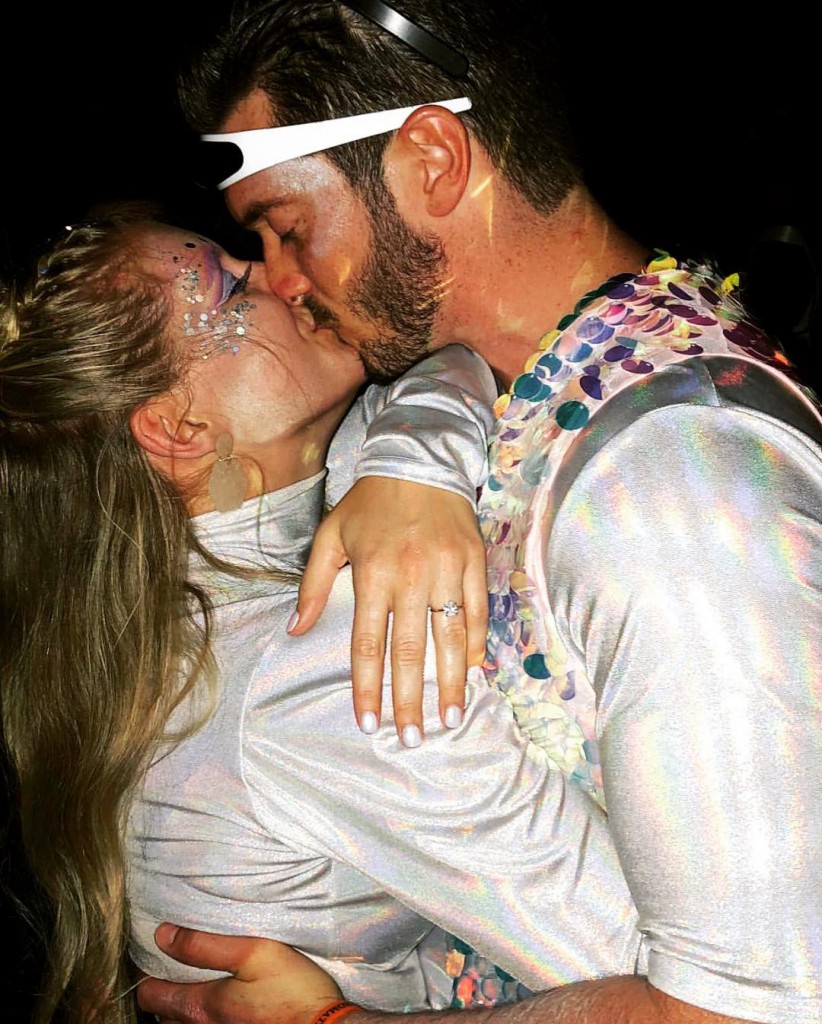 I can't even wrap my head around that Halloween, my 30th birthday, a fundraiser AND a proposal all happened in one weekend. I felt like royalty flying home to Los Angeles the next day. It took me 30 years to have the best weekend of my life and I owe it all to my FIANCÉ Kevin.