Amanda & Trenton
How They Met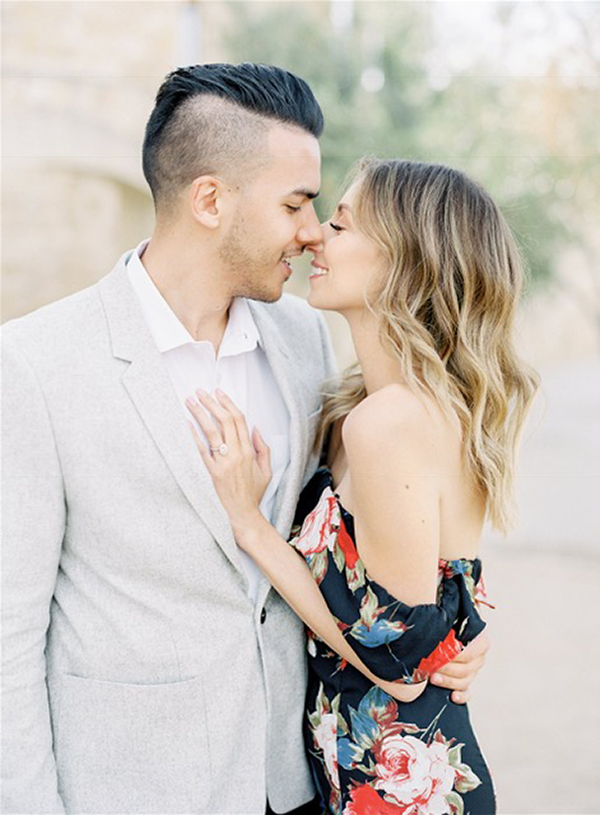 Trenton and I met in 2010 at Olive Garden where we both worked at the time. We first started hanging out with each other in groups with our coworkers where we would get together to sing and play music. We then began to start talking on Facebook, but I got tired of messaging through Facebook so I finally just gave him my number. We had our first date at Disneyland, and every year since we go back on that date and eat at the Blue Bayou (the restaurant in the Pirates of the Caribbean ride). January 1st 2011 is when he officially made me his girlfriend and we have been inseparable since. The past seven years have been filled with amazing travel, many nights of watching The Office and Grey's Anatomy, and those terrible all-nighters of studying for our exams (we both graduated with MATH degrees). If these past seven years are any indicator of what the rest of our life will look like, I can't wait!
The Proposal
A few weeks before the proposal Trenton asked me if I had anything planned for that upcoming date. I didn't, and I began to get suspicious. We had been dating for almost seven years at that point so I knew something was up (especially since he told me to bring something nice/dressy).
The day before the actual proposal, we drove up to Santa Ynez after work and stayed at the Santa Ynez Inn, the most gorgeous hotel, and had a quiet dinner at a cute little Italian place. The next day came and Trenton told me we had to leave at this time and be here at this time, I was nervous and excited all at the same time. So we check out of the hotel, all dressed up at 11 am, and I have no idea where we are going. We take a short drive down the road and end up at Sunstone Winery, the most beautiful place I have ever seen!! We get driven up to the private villa where we have a personal wine tasting set up and waiting for us.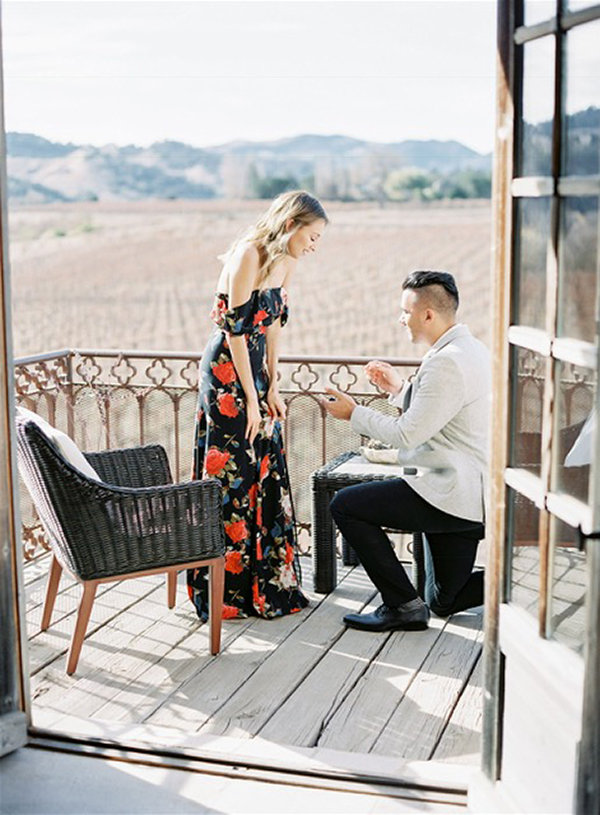 After the tasting, we begin our tour of the property. We get to the last room and begin to go out on the balcony that over looks the vineyard and then two photographers come out of hiding in the shower…I knew this was it, the moment I had been waiting for for years. He got down on one knee on the balcony and I immediately started bawling. We honestly can't remember what he said or anything from that moment because it just went by so fast. I could have never dreamed of a proposal like that. BEST DAY EVER!!!!
The Engagement Ring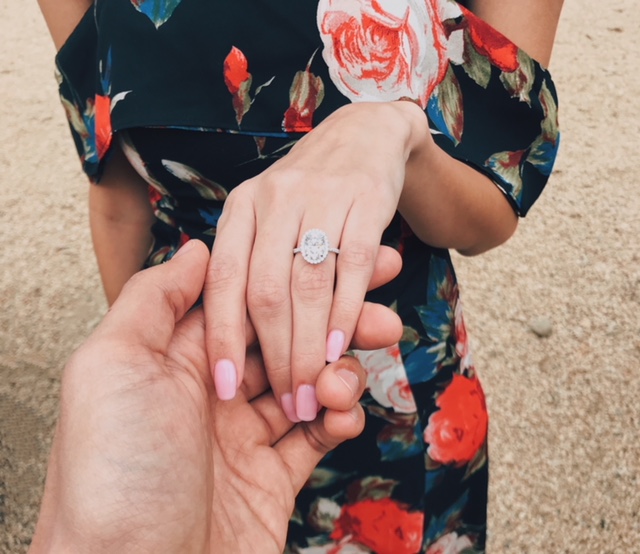 Trenton purchased the engagement ring from Lauren B Jewelry. It is a 2.5 carat oval set in a seamless platinum pave halo setting.
Photo Credit: Dear Lovers Photography @dearloversphoto