Everyone dreams of the most perfect proposal (and let's not forget about that sparkly engagement ring!) While the fantasy is different for each relationship, when it comes time to share that once-in-a-lifetime moment, there are the things you imagine… and the things you hope never happen. For these unfortunate guys, their love stories didn't quite end up how they would have hoped. (Just cross your fingers it doesn't happen to you!) Here are some of the 5 worst proposal fails, ever: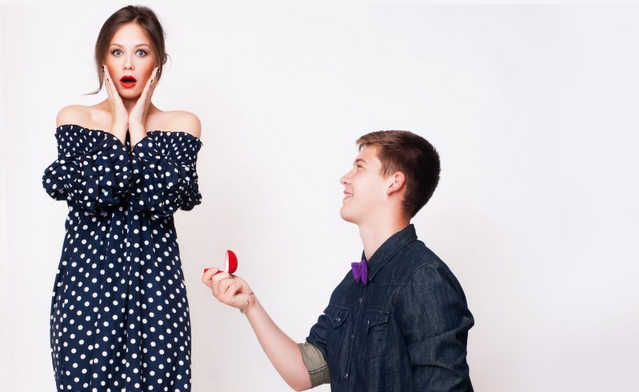 Courtside Rejection
Everyone at this basketball game wanted her to say 'yes' after the half-time show was dedicated to the proposal. But for whatever reason – she just wasn't up for saying 'I do' to this basketball fan. We hope he found a sports-loving girl! Find some amazing engagement rings for your sporty girl!

A Family Affair
Talk about awkward: at the annual holiday gift exchange, one boyfriend makes the ultimate declaration of love in front of his girlfriend's family… only to have her get up and leave the room. Maybe don't do it in front of grandma next time? And get her the most romantic engagement ring ever?

Mall Madness
This guy set up his girlfriend – who was shopping with a friend at the mall – to run into him at the food court. He even got strangers to help out with the proposal, but at the end, she turns him down. We think she might have wanted a place a bit more romantic than McDonald's? And a classy engagement ring to go with that?

A Love Song Gone Wrong
This musician hops on stage to talk about how much he cares for his girlfriend – with the crowd cheering him on – but as he drops to bended knee, his leading lady exits the stage, without her engagement ring!

The Game of Love
This guy thinks proposing to his girlfriend on a game show would be one of those unforgettable moments for both of them. But as he stutters through his sentiment, his partner decides her head's just not in the game. We guess she wasn't ready for that perfect engagement ring.
But don't worry, most proposals have a happy ending! Find the perfect ring for your magical proposal: is your girl a city girl, a romantic, or is she more of a practical type or totally glamour?
Have you figured out your engagement ring budget yet? Browse engagement rings under $2,000, and engagement rings under $1,000.
By Lindsay Tigar
Photo Credit: Dreamwedding