Jennifer & Christopher
The Proposal
My sister, Danielle, and I work together. She asked me at the beginning of the week if I would like to take an extended lunch hour on Thursday (March 21, 2013) to go to a wedding event being held at Audubon Park in New Orleans; she said she had free passes, we could get discounts, free stuff and gather ideas for my wedding!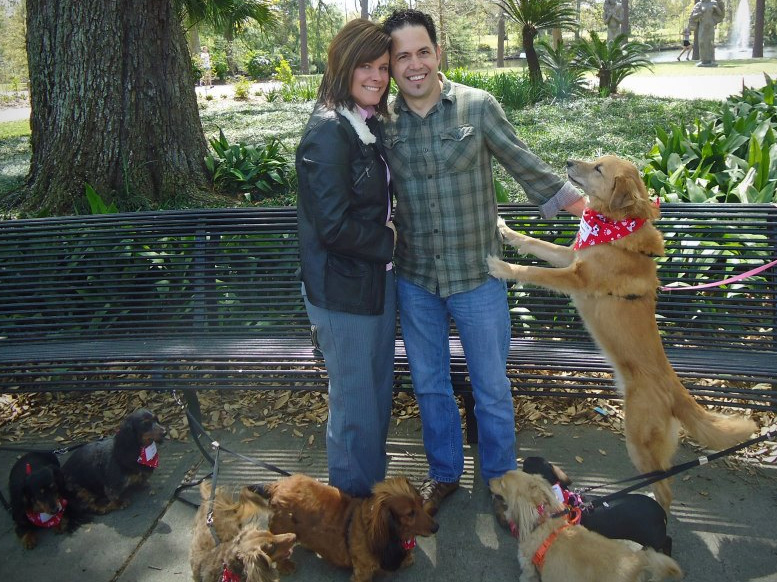 As we were walking into the park, from a distance, I noticed a guy looking our way, smiling, and I could hear a dog barking. I told my sister the barking dog sounded just like one of my dogs, Remi. As we got closer to the park benches and water fountain I finally realized it was Chris sitting on the park bench and he had all 7 of our dogs with him! I realized he was there to propose to me with all of our babies (that I love more than life itself) who were wearing kerchiefs that said "Will You Marry Me".
Of course I said yes and happily accepted his proposal. As soon as I put my ring on, my parents, my other sister, Kristine, and her boyfriend and Chris' parents pop out from behind some trees and bushes for yet another beautiful surprise.
The Engagement Ring
Chris bought my engagement ring from Jared. It's a round cut diamond ring setting, white gold, with a Tolkowsky diamond as the center diamond.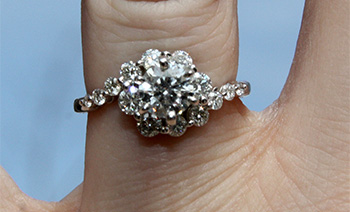 Meet the Doggies!