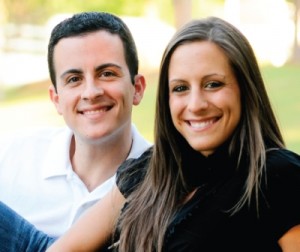 How they met
Simone and Jose met in college and like to think of themselves as college sweethearts.
The proposal
Jose decided to pop the question at Fleming's Prime Steakhouse & Wine Bar, a very elegant restaurant in Winter Park,Fla., that they always had wanted to visit. It ultimately was the best choice. When he called to make reservations for that night, he told the head maitre d' that he had something very special planned for Simone, and he needed her assistance in pulling it off. After arriving at the restaurant and being seated, he told Simone that he needed to use the restroom and went to the front of the restaurant to find the maitre d' instead. Jose gave the maitre d' the ring and told her when he wanted it brought to their table.
After their entrées, Jose ordered the restaurant's famous chocolate lava cake for him and Simone to split. Because the dessert takes approximately 20 minutes to prepare, Jose had more than enough time to lead up to the marriage proposal itself. He spoke about their history together, how much he loved her and how Jason & Brandie he wanted her to be his wife one day. After about 20 minutes, the dessert and ring were simultaneously brought to the table.
At first, Simone was so absorbed in their conversation that she didn't even notice that a diamond engagement ring had been set on the table right in front of her. After a few moments, though, she caught a glimpse of it and was shocked. Jose asked Simone to marry him, and she said yes. Through her tears of joy, she told Jose that he hadn't gotten down on one knee to propose, so she made him do it again properly. He obliged while laughing a little bit, but the comedy of that moment only further assured Jose that he had made the right decision that night. The entire restaurant caught on and gave them a round of applause.