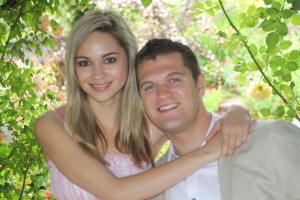 How they met
They met seven years ago at church. Jonathan had grown up in the church while Marie was a new believer. He stood out to her because of his passionate beliefs, and she decided to approach him. They exchanged emails (both are self-confessed Internet geeks) and made an instant connection! The two dated for seven years and were high school sweethearts.
Marie and Jonathan already had in mind that they would get married. They are both each others' best friend, they love each other more than anything, and they've known since an early age that they were each others' soul mates. They began planning their wedding before getting engaged because they knew they wanted to wed soon, but they wanted to wait until after Marie graduated to make it official. Because of this, there was little question as to if the question would be popped but when!
The proposal
Jonathan had asked her previously to take some photos with him on her birthday weekend. He treated her to a new dress and a hair appointment for the occasion. They had been doing some pre-engagement wedding planning and wanted to get some pictures done for their save-the-dates.
On Saturday morning, it was a drizzly and overcast. Jonathan considered rescheduling, but decided that they could make the most of it using an umbrella. They arrived at Heather Park Farms at around 11 AM. Their photographer, Kanoa, was there the entire time taking candid photos of them. They took photos under the covering of a large gazebo surrounded by a rose garden. The rain subsided and they were able to take some photos out in the rose garden.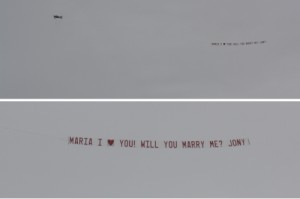 Suddenly, a small two-propeller plane flew overhead. Jonathan told Maria to look up, and attached to the plane was a banner that read: "Maria, I <3 You. Will You Marry Me? Jony." He got down on one knee and said: "You're my best friend, my love, and I would be honored if you would consider spending the rest of your life with me. Will you marry me?" Marie shouted, "Yes!" and started hopping around, waving her arms in the air. They took some more pictures of the plane and their ecstatic reactions.
Jonathan then went on to explain that he had another surprise. In the trunk of his car he had prepared a picnic of Panera Bread for lunch! Unfortunately, because of the rain, they ended up going back to Maria's house and eating the picnic there. It was still romantic and turned out perfectly.
Afterward, they announced their engagement to both sets of parents. Although they were already expecting their news for some time, they were extremely proud and excited for the couple.