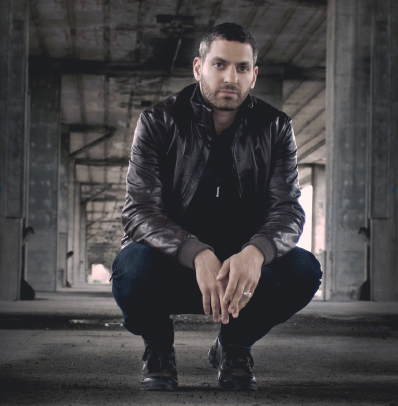 Noam Carver designs beautiful classic engagement rings with a modern twist, perfect for the traditional bride-to-be in search of a timeless yet unique engagement ring. We asked him a few questions about his inspiration and his stunning collection.
Tell us about your background, why did you become a jeweler?
I was always interested in Art and design and when I was 18 years old an opportunity presented itself to apprentice with an Italian Master Jeweler and I was intrigued by the prospect. I had once read the book Brunelleschi's Dome, The story of how a goldsmith reinvented the field of architecture by creating Florence's Santa Maria del Fiore. I find that the practice of Jewelry making is a microcosm of many forms of engineering. It requires one to think outside the box, problem solve and create mechanisms that interwork with one another. I knew that this was a "golden" opportunity to learn the art of building things.
You decided to focus on bridal jewelry. Why is that?
Throughout my jewelry career I have been designing engagement rings for my local community of friends and acquaintances.  Montreal has always been a fashion forward city and my clientele has empowered me to experiment with design and seek out originality. It is through these experiences that I have developed a flair for designing bridal.
Who is the woman you design for?
I design for the modern bride who has a strong sense of style and aspires to stand out from the crowd.
What is your best selling engagement ring?  Why do you think it is so popular?
Right now I would have to say that solitaires are number 1, Thin and dainty is the most popular choice. However, we do have some more intricate floral and vintage designs that are doing very well for us.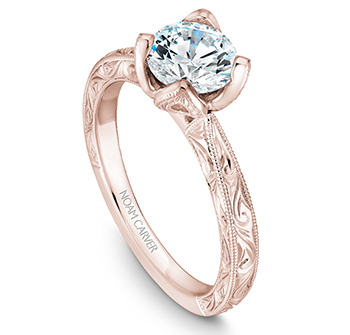 What is your favorite ring in the collection?
We get a lot of requests from our clients to modify an existing design or alter a style to suit a different cut of diamond.  One of our strengths is creating these types of unique pieces.  I would have to say that while these experiences are the most challenging they are also the most rewarding.  I am a true designer at heart my favorite piece is the latest piece.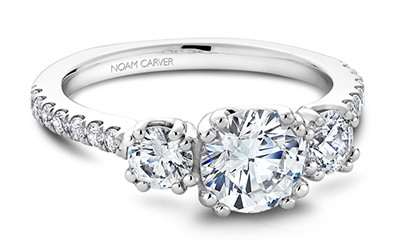 How long does it take to make one of your rings?
Anywhere from 24 hours to 3 weeks. We jump through rings of fire to get rush request on time but unique pieces often take a little more time to create.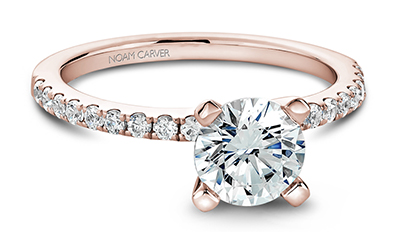 See more Noam Carver engagement rings >>