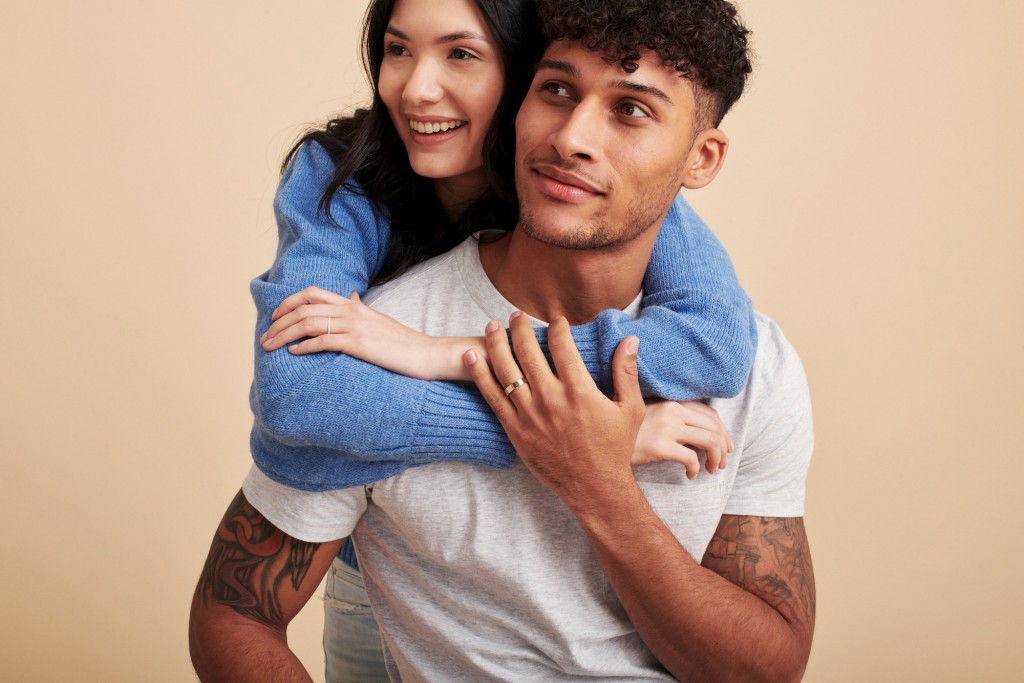 After shopping for an engagement ring, most of you might feel like you've become jewelers yourselves. You both put in the work and researched everything you needed to know about fine metals and diamonds. As you start shopping for grooms' rings, surprise! There are dozens of material and metal options for your consideration.
Which one should you pick? How much should you spend? Most grooms end up owning more than one band for practicality and comfort. However, when it comes to the main one, the one ring, the one you exchange on your wedding day, which metal is truly the best, gold or platinum?
READ THE WHOLE MAGAZINE HERE (it's free!)
---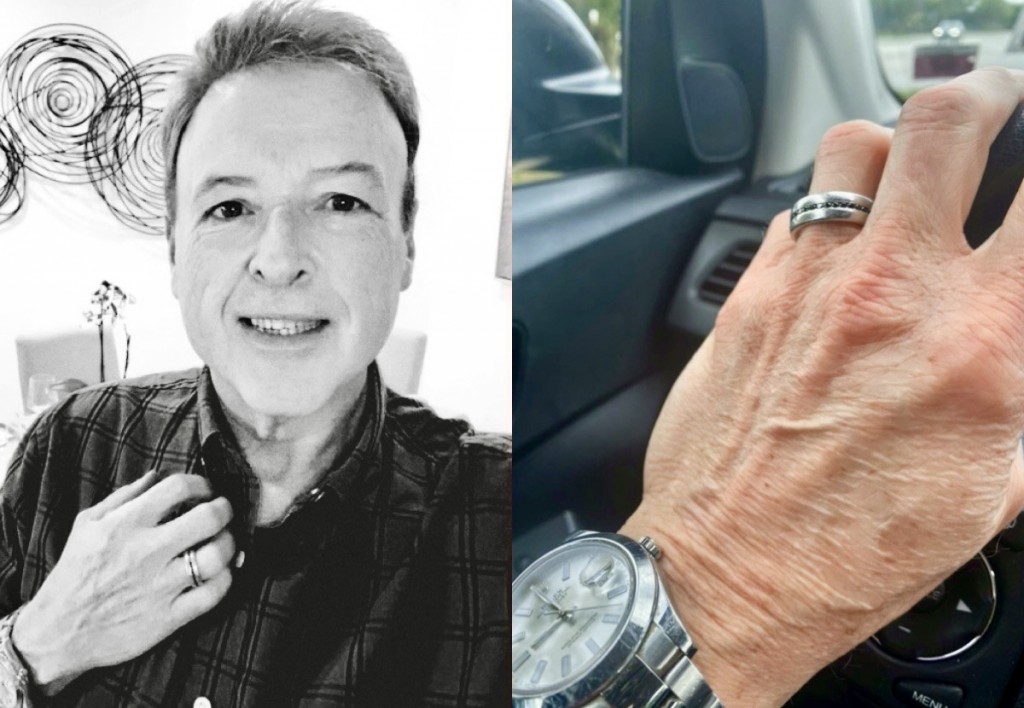 Kevin Reilly, SVP of Platinum Guild International USA, is an industry expert and jewelry collector himself. We turned to him to highlight the most important DOs and DONTs when shopping for a groom's wedding band. Kevin is happily married and wears a beautiful platinum wedding band set with black diamonds.
 "I love my ring. It reminds me how fortunate I am to have found the love of my life. It's a part of me and I hardly ever take it off – and when I do, I immediately know that something is missing. I love knowing that my beautiful platinum ring with black diamonds is made from the rarest and most precious materials on earth. I believe that the satiny surface of my ring reflects the timelessness of love and a life spent sharing it with my one and only. Platinum is a gift from the stars that came to the earth in a meteor shower billions of years ago, and it will still be around billions of years from now. Just like love, it's eternal. I can't imagine choosing anything else." 
KEVIN'S TIPS
DON'T wait until the last minute and run the risk of not getting your ring in time – especially if you select a custom design. Select your ring at least 2-3 months before your special event.
DO acknowledge that his band is just as important as yours. If you have platinum, he should have platinum too. In all the world, only the two of you are perfect for each other and platinum is 30 times more rare than gold!
DON'T let him settle for just a "sport" band (non-precious metal) – buy him the sport band to wear when he's playing sports and the platinum band as a symbol of your special bond. It's key to select a metal that will stand the test of time – platinum will not lose any metal as a result of normal wear.
Does he have sensitive skin? If so, DO consider platinum. It's naturally hypo-allergenic. – so much so that it's used in many surgical applications. White gold is yellow gold mixed with other white metals, in many cases nickel, which can cause severe allergic reactions in people with sensitive skin.
DO choose platinum. All precious metals scratch, but when gold scratches, microscopic bits of your ring will wear away with each abrasion. Platinum, on the other hand, will not wear away when scratched – the metal just displaces meaning it just moves around on the surface of the ring, but doesn't wear away. If you choose gold, you may eventually have to replace your bands as they wear down. Platinum bands can be passed down to the next generation.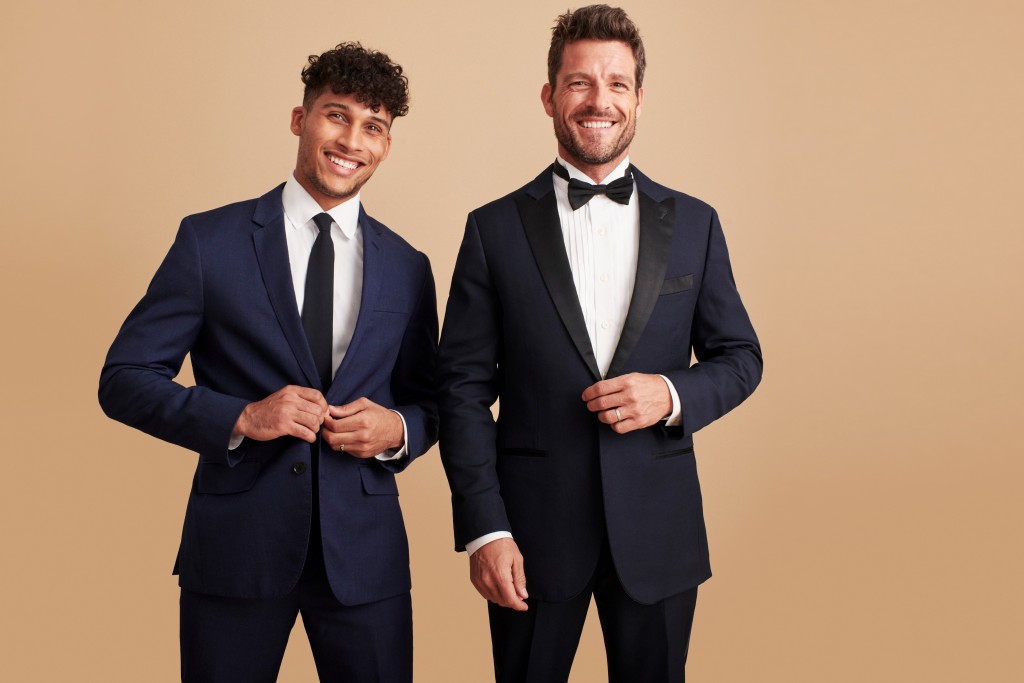 Platinum rings on all the models from Marke. All these rings are made in NYC and you can try some replicas of their best selling styles at home before ordering. In 2023, The Black Tux—the formal wear brand that modernized tux online rentals — officially acquired Marke. It's a match made in heaven as you can now try bands in their showrooms.
---
We love all textures and width of platinum bands, add a little sparkle and we are in heaven! Here are 3 elevated platinum bands for your consideration.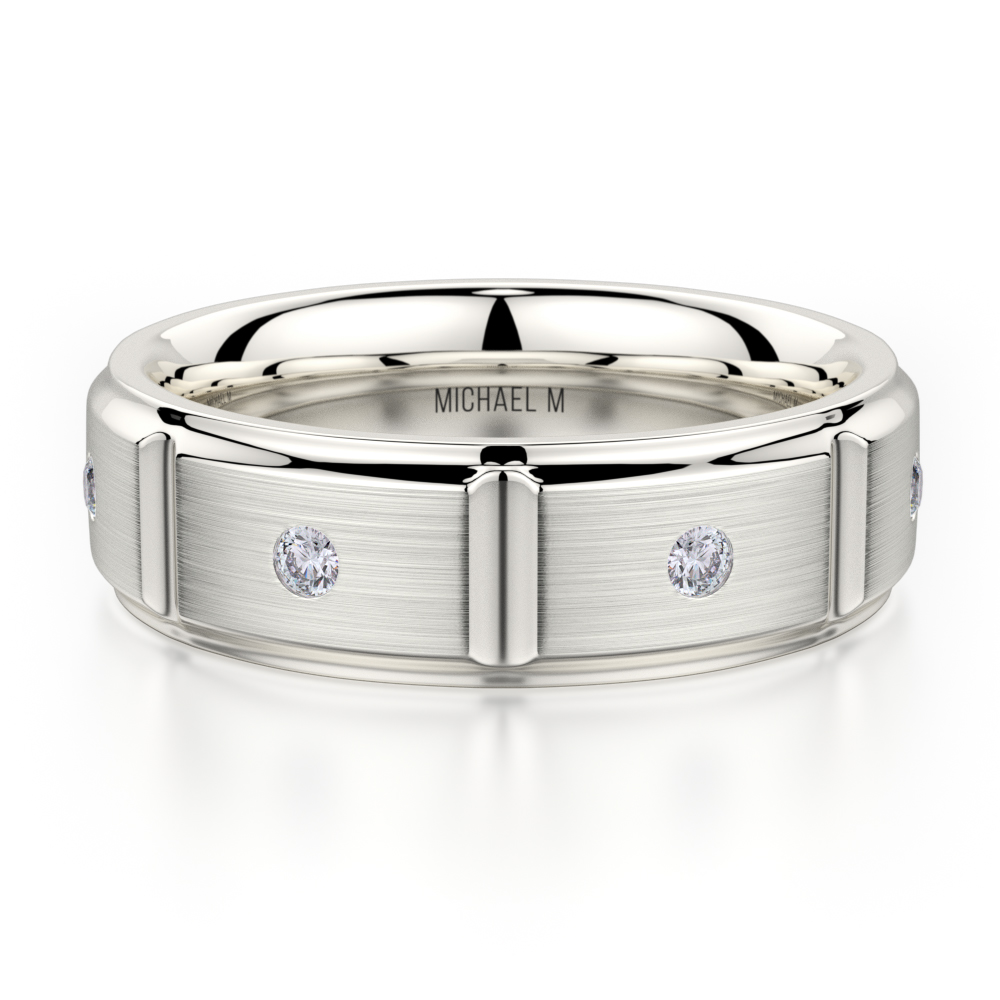 Beautiful design with platinum satin finish and white diamond accents by Michael M.
It is a statement piece, perfect for someone who is passionate about jewelry or a gentleman with a high stakes career.
---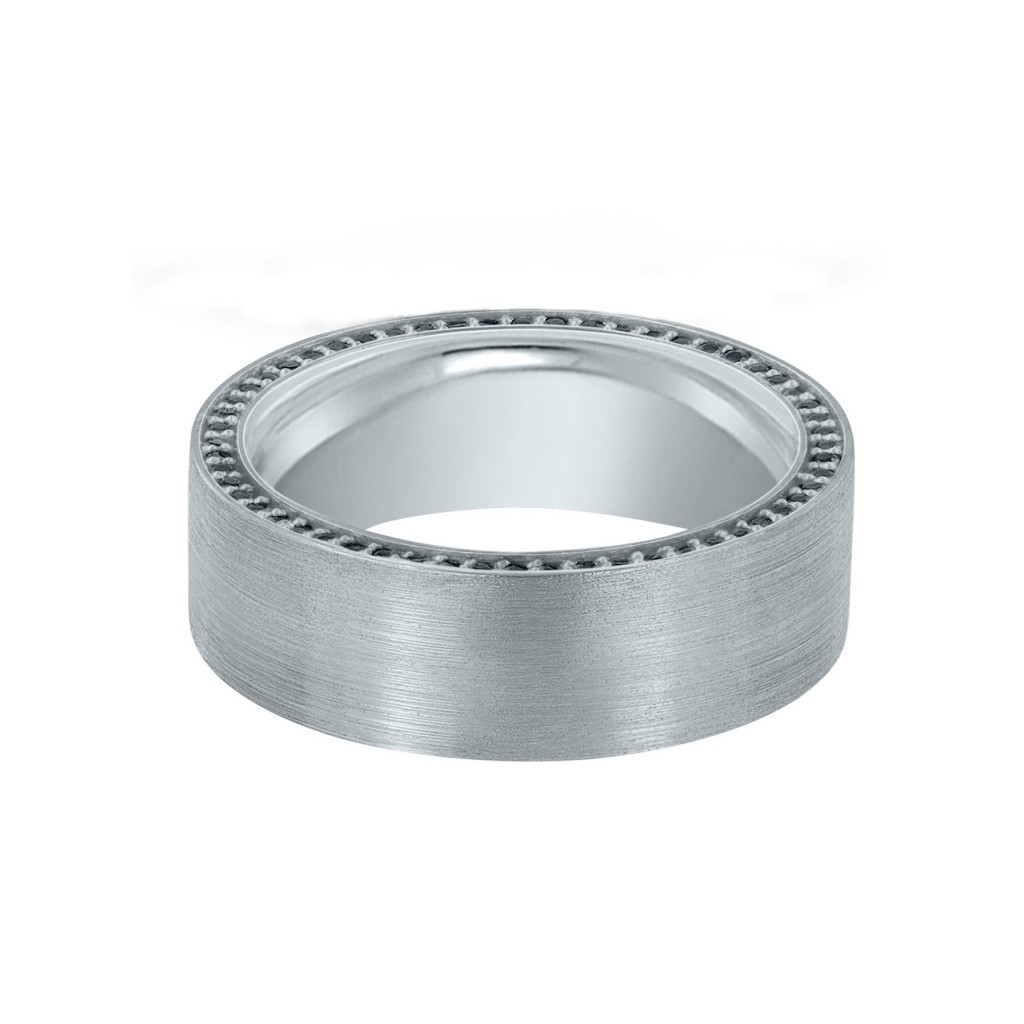 Beautiful brushed finish band (great to avoid visible scratches) with black diamonds on the side, mostly visible by the wearer by Catherine Angiel.
It's a perfect pick for someone who doesn't wear a lot of jewelry and wants a simple yet comfortable design, with a little bit of an edge.
---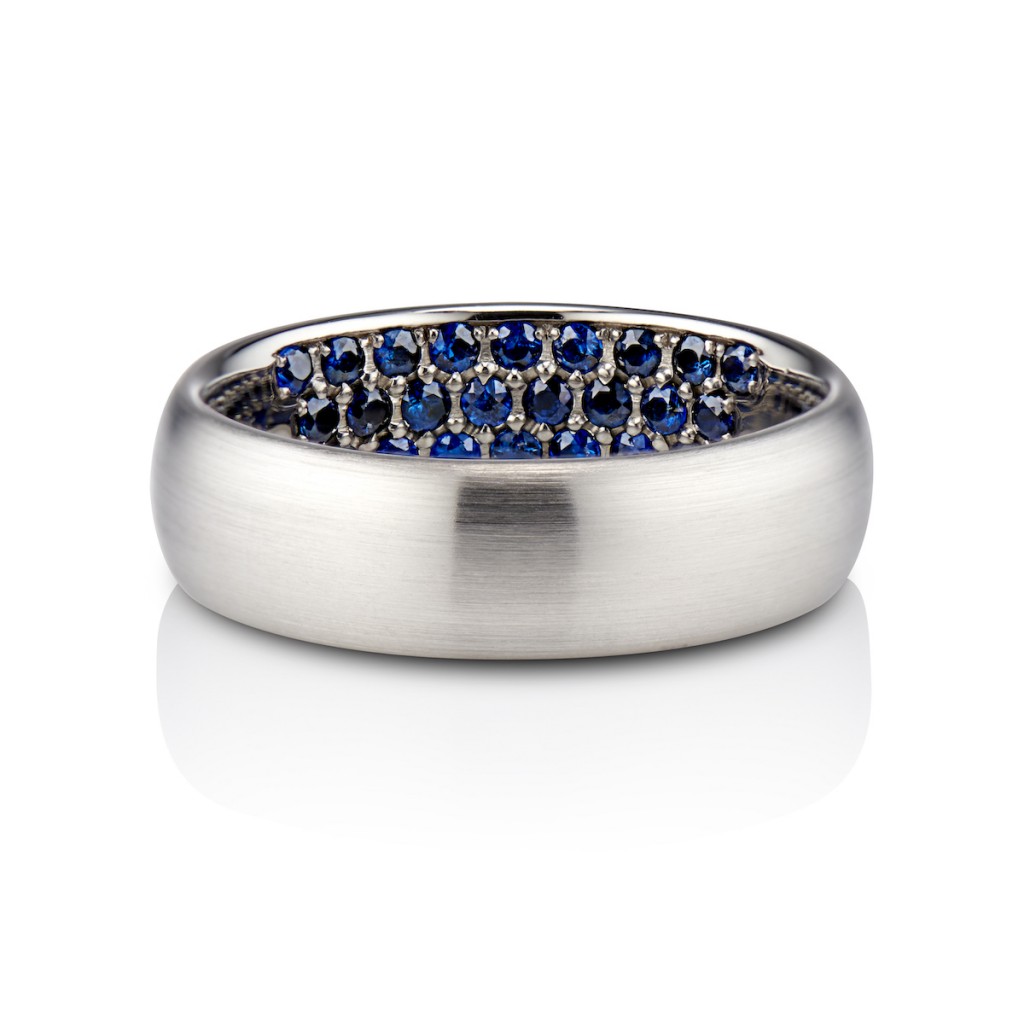 Hidden sapphires! How cool is this platinum band design by David Alan? It looks great with cognac diamonds too.
This ring is for a groom who loves bespoke fashion and to own unique pieces, well made, with elegant yet exciting details.
Read our latest issue dedicated to men's and unisex wedding rings