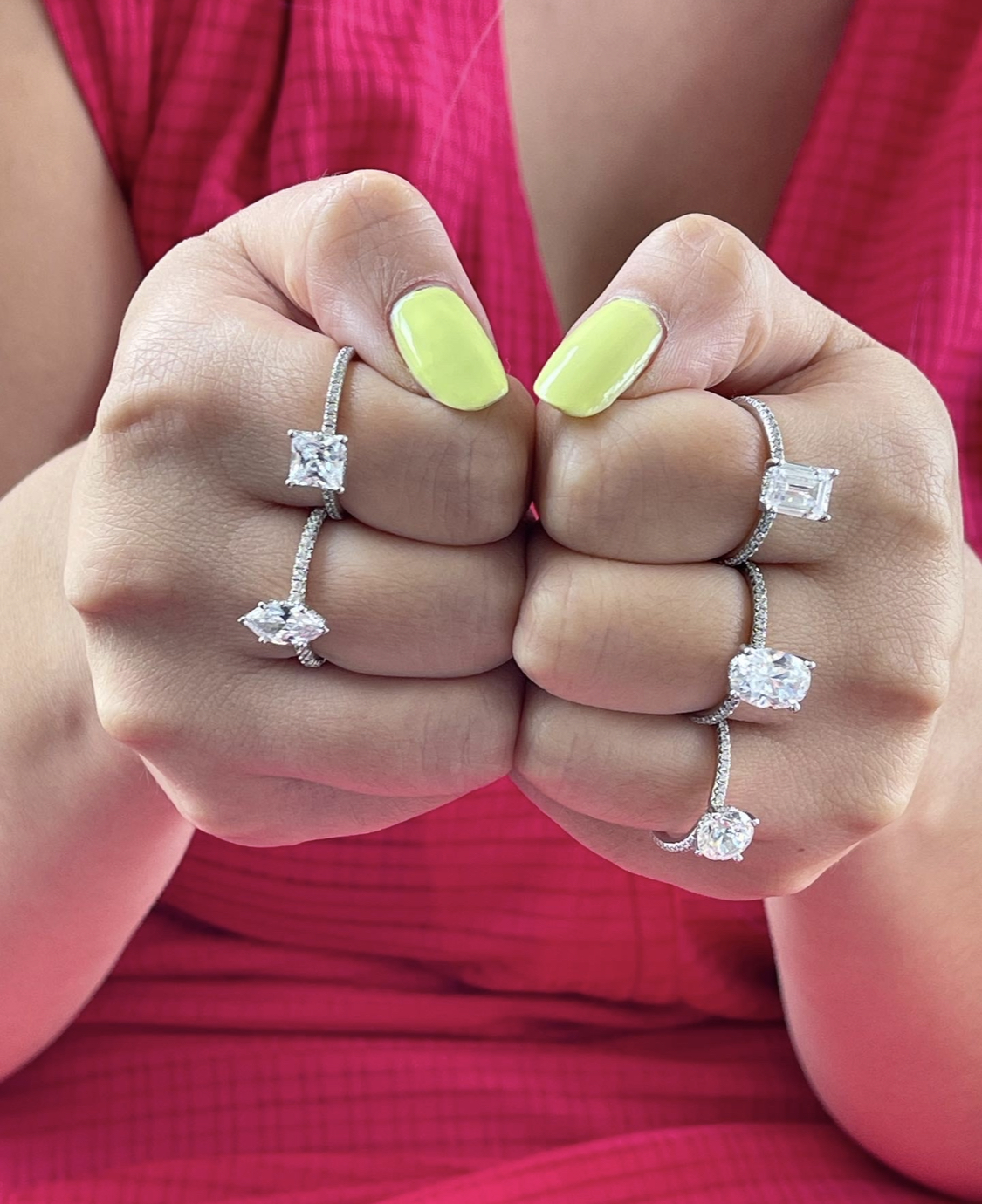 As the 2020s kicked in last year, oval-cut diamond rings were trending as the most popular fancy diamond shape option for engagement rings. It is still very popular however, other diamond cuts that we had not seen in a while on brides' fingers are coming back in style. The princess cut was the darling of the 80s and 90s and you would have had to be a bride in the 60s or 70s to receive a marquise diamond engagement ring. But, in fashion as in jewelry, everything old is new again…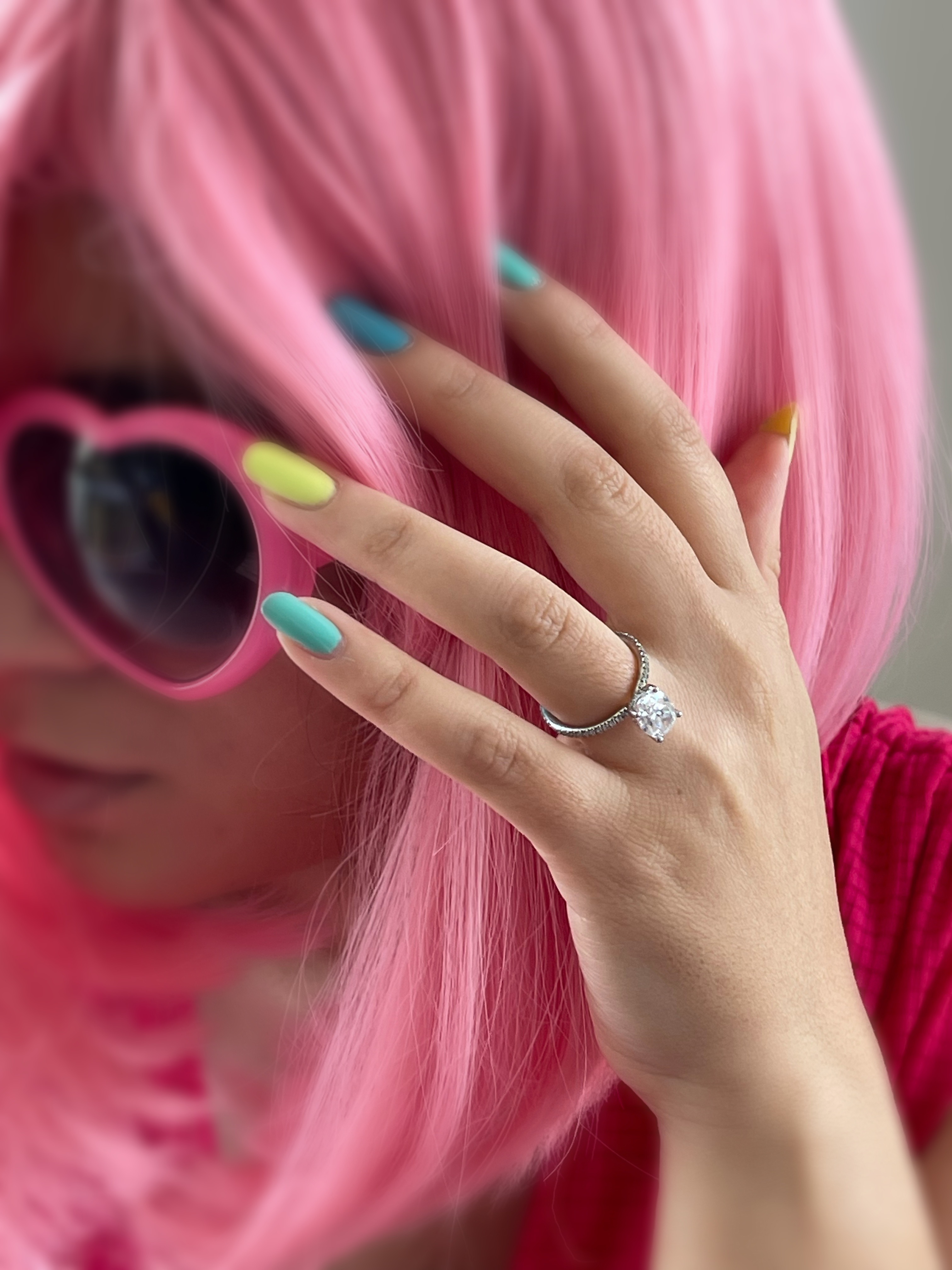 Style S2093 with a 2 carat oval cut diamond center by Sylvie featuring a hidden diamond halo below the center stone, and a shank with prong-set diamonds. This Sylvie ring style also goes by the name Maryam.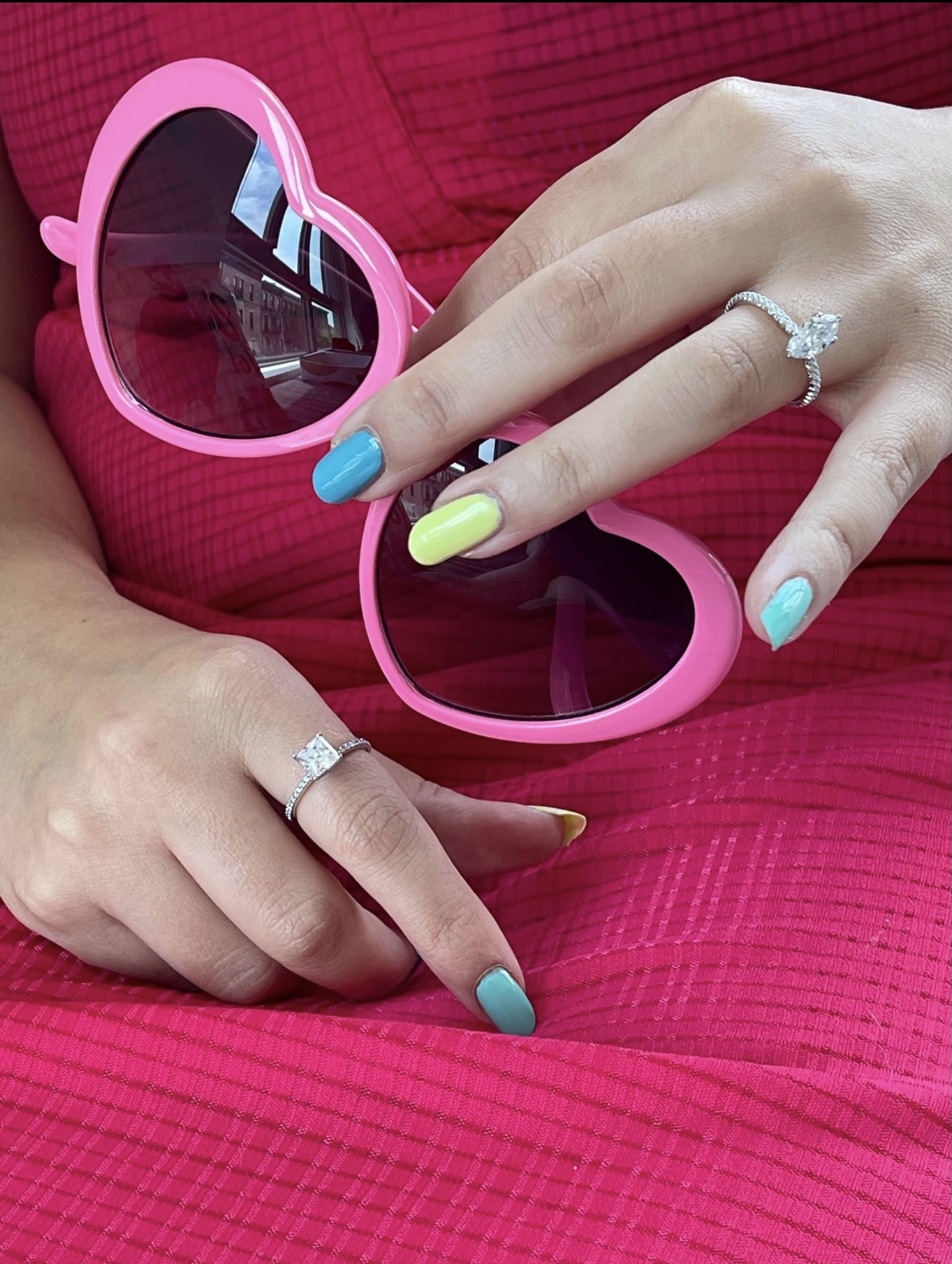 Top ring is the same setting S2093 with a 1 carat marquise cut diamond and the bottom ring is also style S2093 with 1 carat princess cut
---
It was so exciting to organize this first photo-shoot in over a year to show how picking a different diamond shape changes the look of your engagement ring setting. We also channeled a colorful Summery world inspired by an article we just wrote about Miami proposals. All the rings in the article are by Sylvie. They were photographed by Severine with the famous Juliette as our hand model. We also caught up with Sylvie as we had some questions and were looking for new engagement ring tips to share.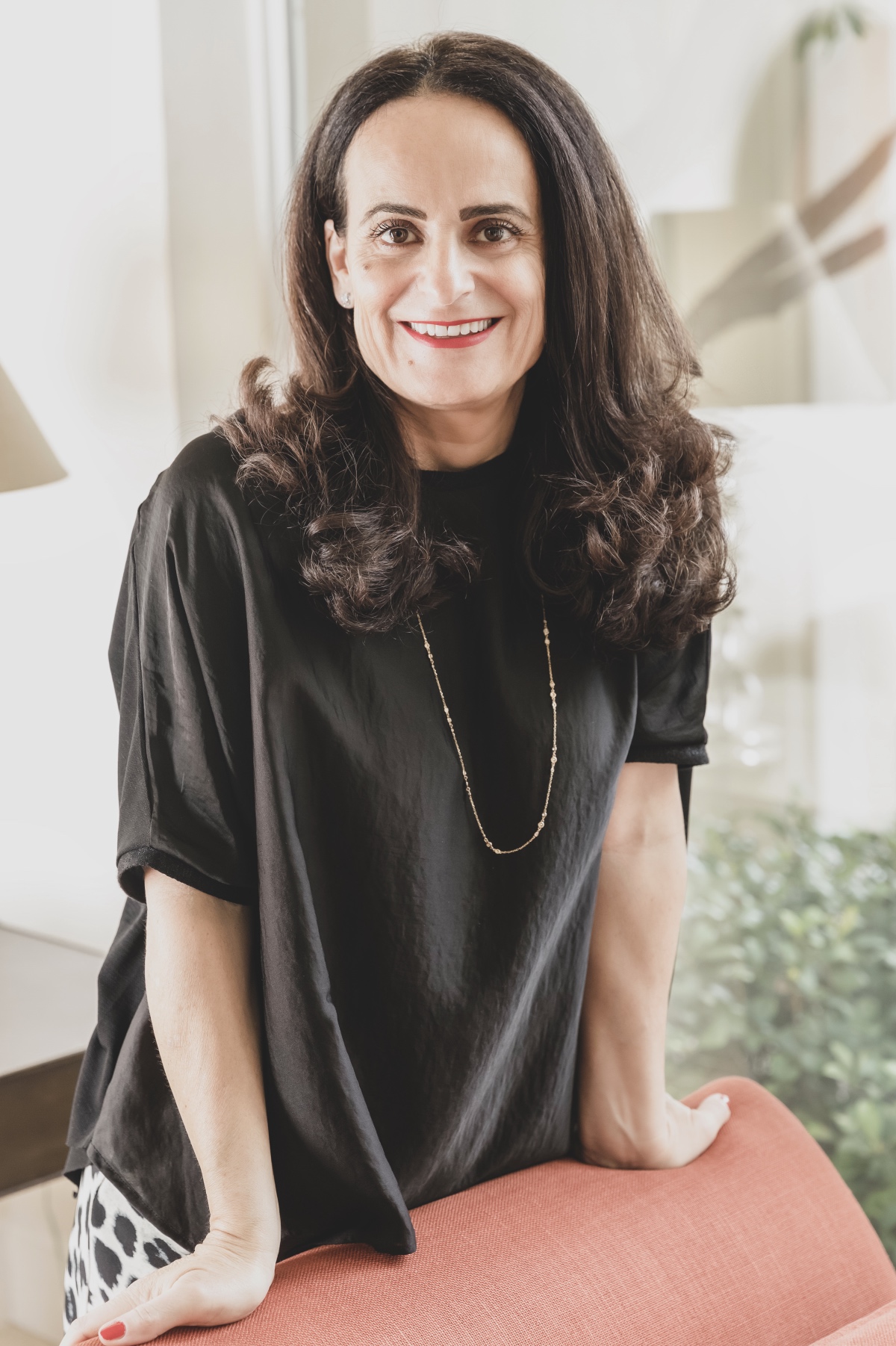 ---
Bonjour Sylvie! My engagement ring is a marquise so I am so excited to see that this diamond shape is embraced by 2021 brides to be. Do you have any tips on picking and setting a marquise diamond?
For me I prefer a longer shaped marquis cut rather than a wider shape. I find the length more feminine and elegant regardless of the shape of finger and hand. The longer it is the larger it looks. Regarding the setting, East to West is something that I introduced into my line years ago as the approach is very different and more unique. But in today's times with the trend being "less is more" I have to say that I love the look of a marquise center in a 3 stone plain mounting with pear-shape sides.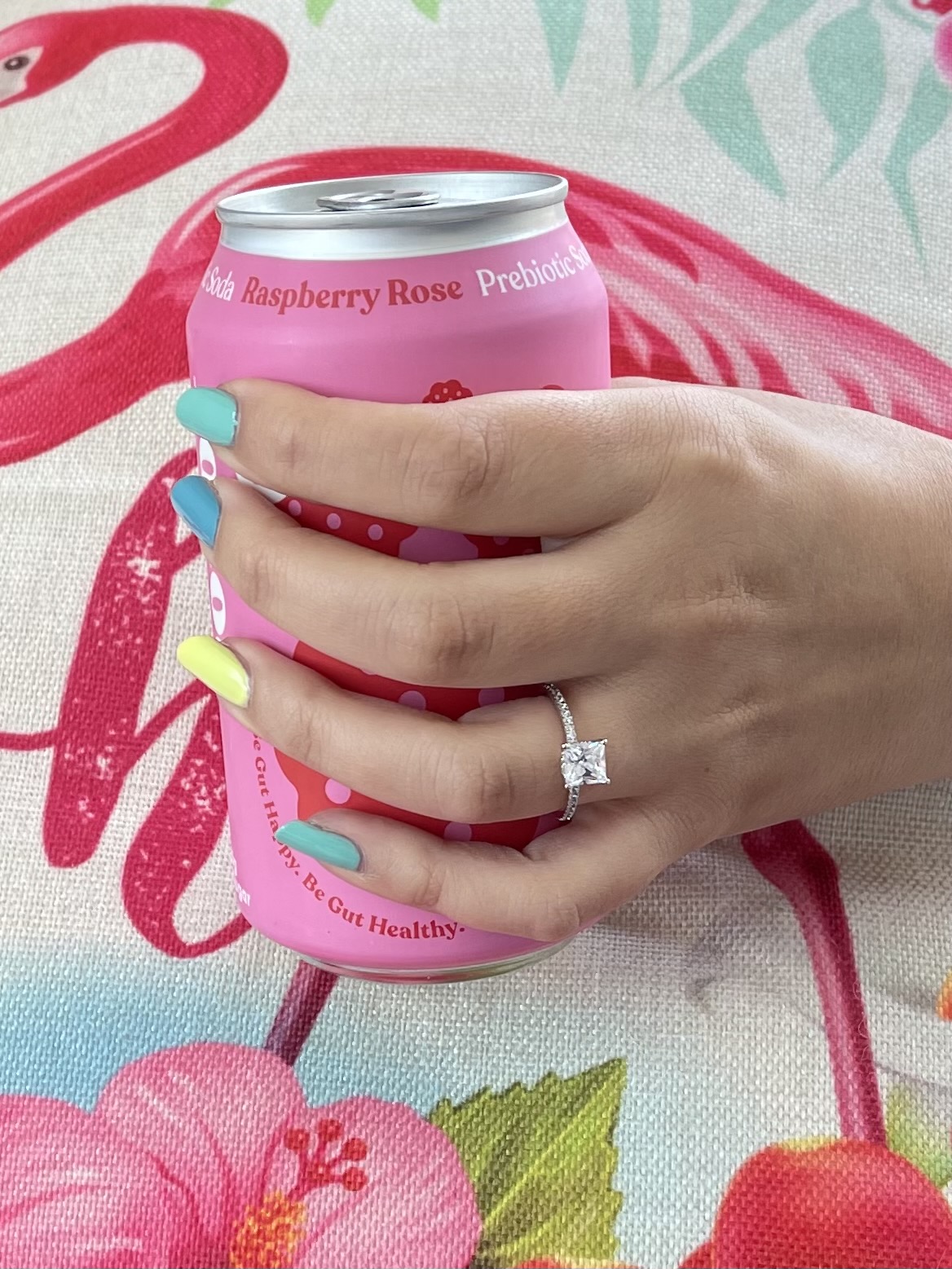 This S093 ring features a 1 carat princess cut diamond in a prong setting, atop a shank of more prong-set shimmering diamonds, coming to a total weight of 0.37 carats
Princess cut diamonds are becoming popular again. What can you tell us about the specificities and properties of this cut compared to step cuts and cushion cuts?
A princess cut is predominantly a pointed corner stone, and mostly square. This diamond can be less expensive because it is cut from octahedron rough and there is less loss of yield, therefore the stones can be cheaper.
Currently, the princess cut (square cut) is the least requested center stone shape we are approached to make. Usually, a step cut is an emerald cut but could be a square asscher cut, and it has a more interesting look as it does not have the faceting of a princess cut and the shine, but rather a more elegant and modern look. I personally prefer the asscher cut to the square princess cut. With regards to cushion cuts, they can be square but because the corners are rounded it does not have the strong square shape. I call it a soft square. For any of those shapes I prefer the elongated versus the square, which they all come in both.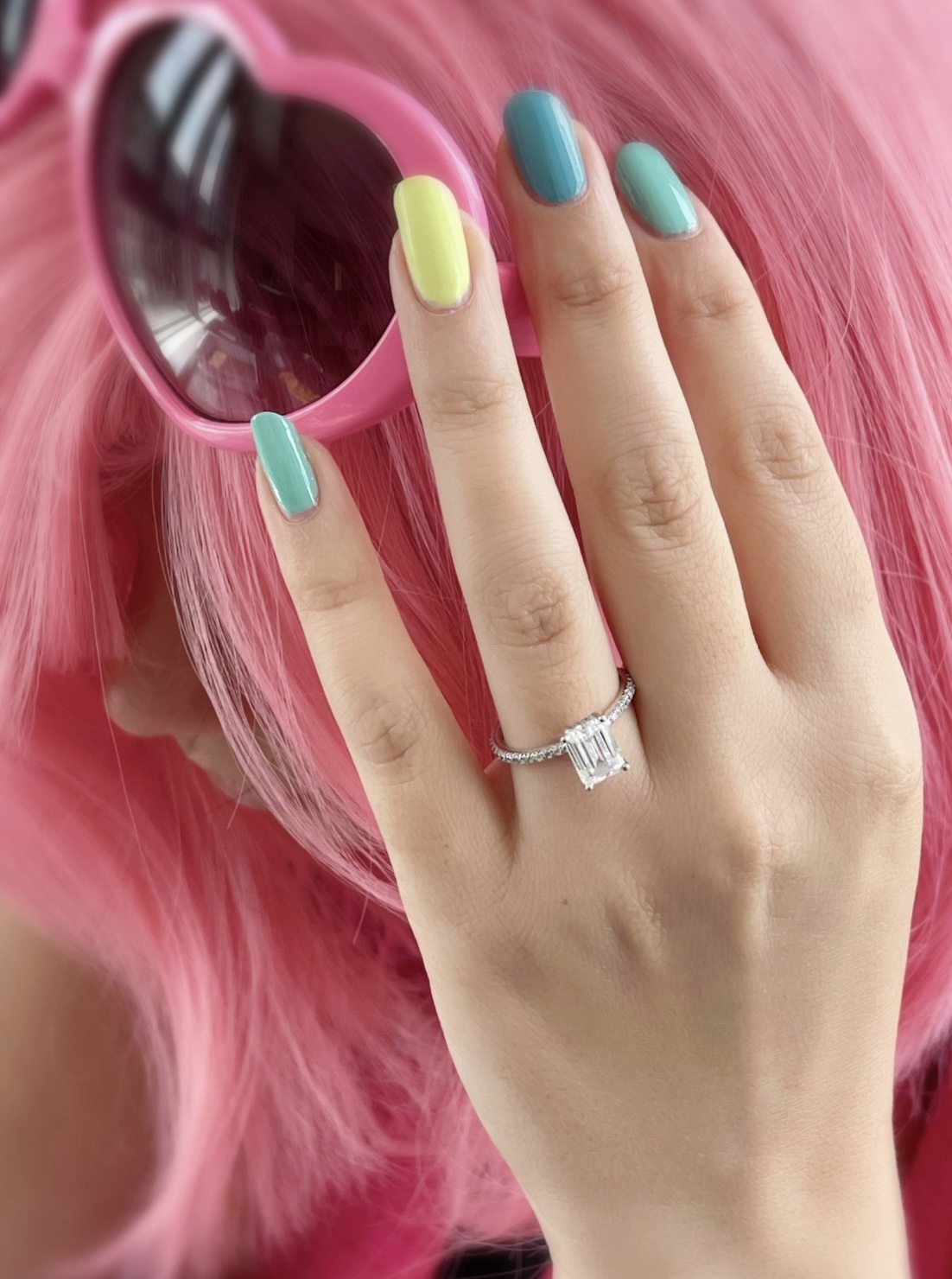 This version of the S2093 ring feature a 1.5 carat emerald cut diamond center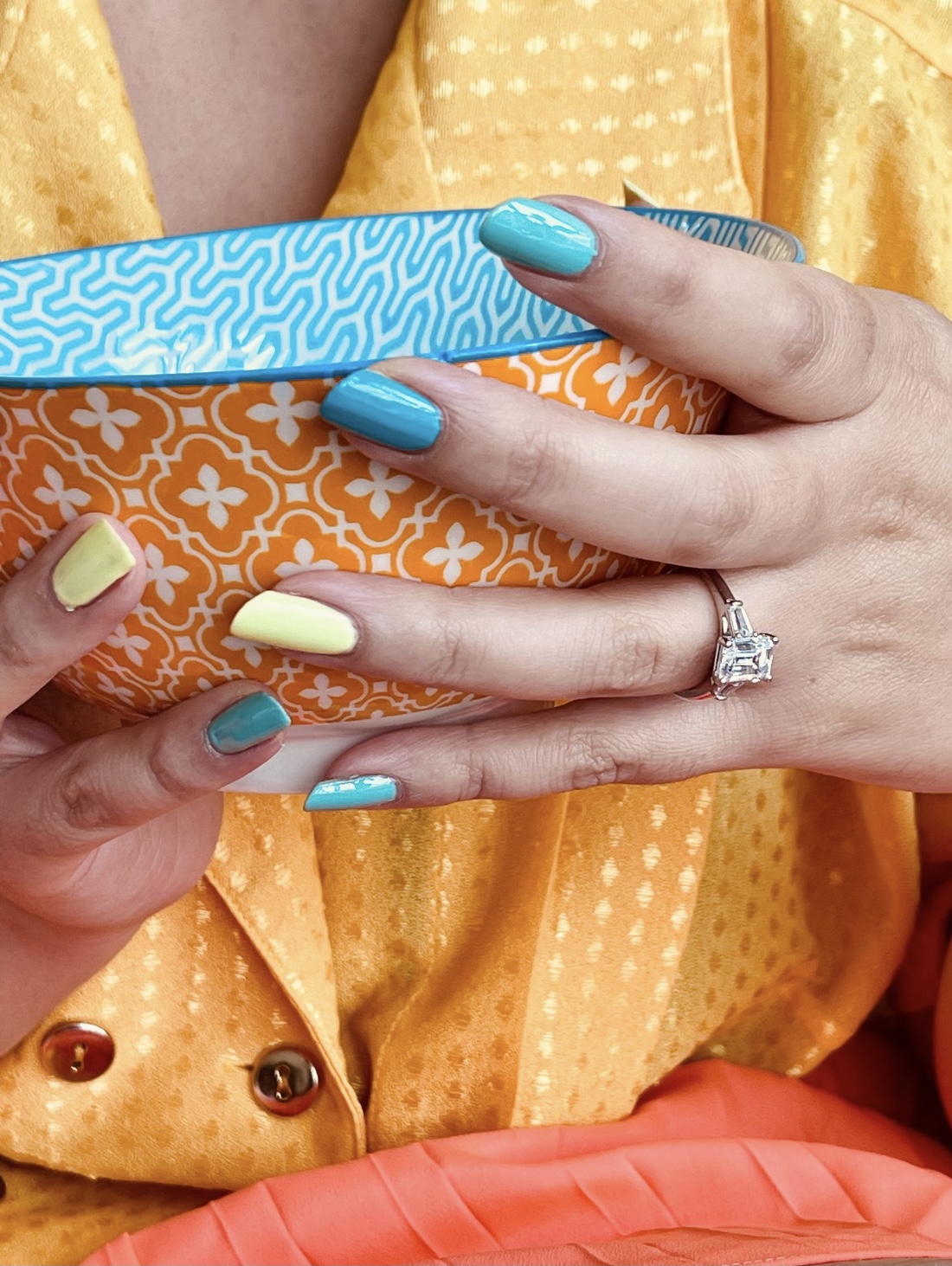 This stunning three stone engagement ring (style S3012 also called Nicolette)  features a 1.5 carat emerald center surrounded by two shimmering baguette diamonds on each side for a total carat weight of 0.30 carat. 
3-stone rings are a trend on the rise. Many couples chose to repurpose some family diamonds in the process. Does that present any design challenges for you?
You are 100% correct, we seem to see a lot of that this year. Couples want to repurpose some of their family diamonds mainly as side stones. All our rings are customized to fit their center stone's shape and size, and the wearer's finger size as well. With 3-stone settings, the additional challenge is to make three stones fit seamlessly. It is not an issue for us as all our special orders are made to the exact specifications needed to achieve a customer's vision, while making sure the ring withstands the test of time.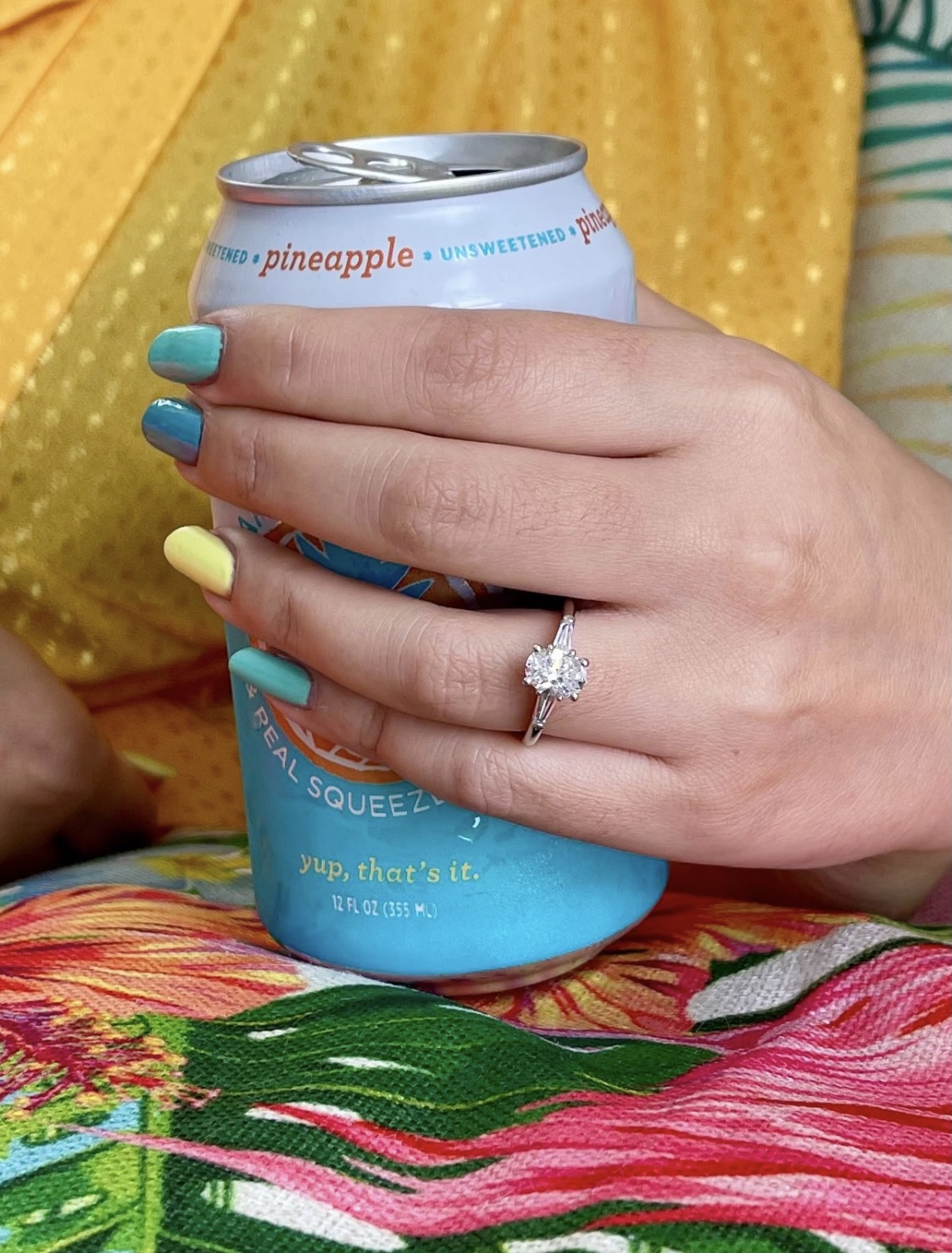 Same style S3012 with a 1.5 carat oval-cut center diamond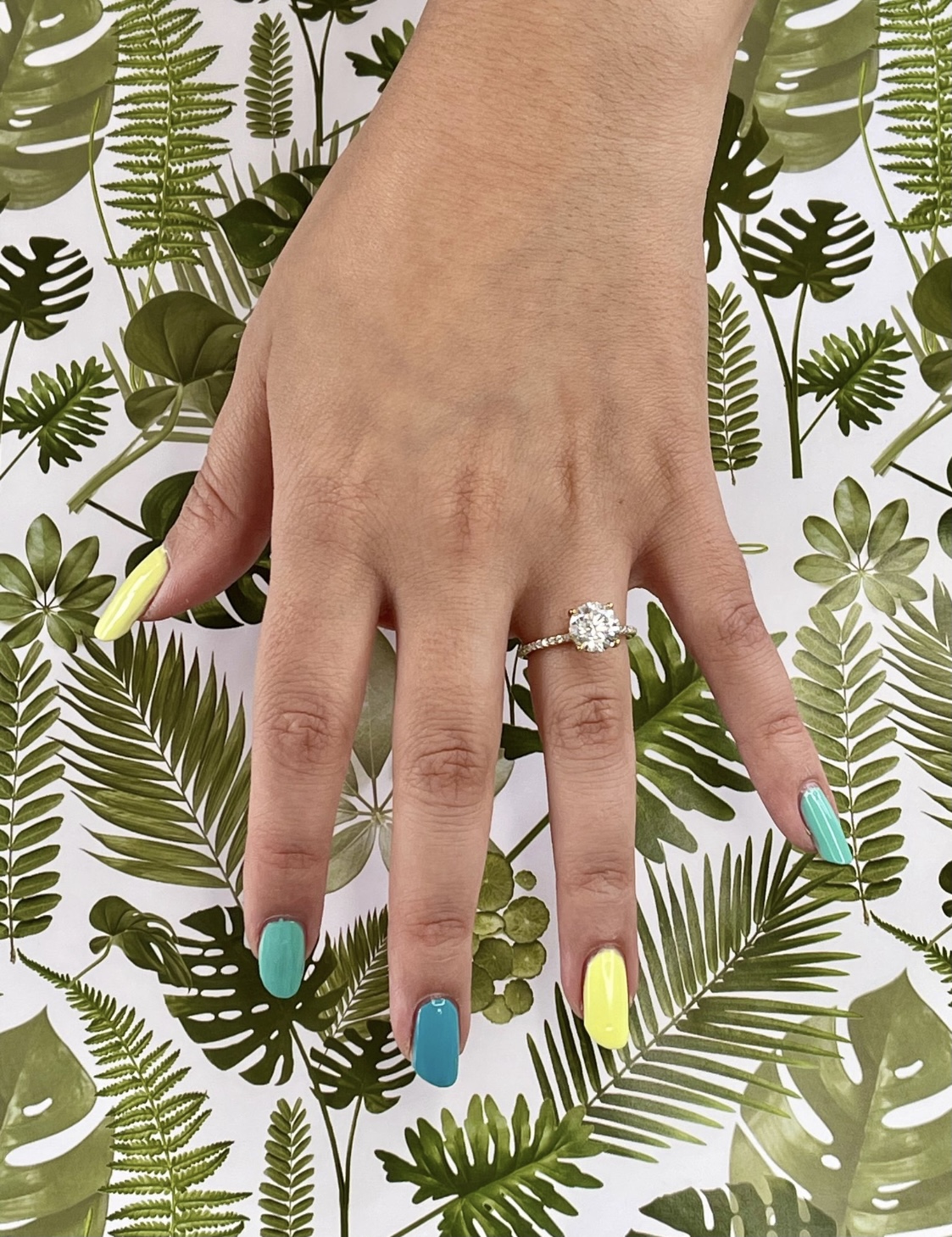 Hidden halo solitaire S2093 in yellow gold with a 2 carat brilliant cut diamond center. All Sylvie rings can be made in all gold colors and platinum. 
Yellow gold settings are all the rage. Can you explain to us the difference between all the Ks and which one do you advise to pick for an engagement ring?
Yes yellow gold is certainly becoming more popular, as well as two tone rings (rings that are both yellow and white gold). But yellow gold is still not quite as popular as white gold and platinum. The difference between 14K and 18K is the pure gold percentage. 18K is made up of 75% gold and 25% alloyed metals, alloys could be silver, copper, palladium, nickel, etc.… whereas 14K is made of 58% gold and 42% of these alloys. I personally I would choose platinum being the purest metal of all and the most durable.
It's Summertime, last time we interviewed you, you told us you love spending time at a lake nearby. Do you keep your jewelry and rings on?
Haha, as I am typing this I just got back from my happy place where I recharge. I never keep my rings on when I am at home OR swim or work out. The only piece of jewelry I keep on are my diamond studs. Not sure why but the first thing I do when I get home is take my shoes off and then my jewelry.
Sylvie has a great tool online that you can use to play around engagement ring designs and try different center stone shapes.
Check it out here.
This article is sponsored by Sylvie