It's been a weird year… Some of us have even taken on new hobbies. Baking sourdough bread is fun, but how about becoming an amateur jewelry designer?  Designing and making jewelry is of course very hard and takes a lot of knowledge, talent and craft. However, after browsing engagement rings, you often reach a moment when you know what you want but can't find exactly the ring of your dreams. Help is on the way!
Our partner Sylvie just launched a tool to help you build your dream engagement ring in a few steps: a custom style bar. You can chose your center stone shape, your favorite setting and your metal color. You can play with different ideas on any device then, connect with a Sylvie jeweler in your city or state to get your ring made. The Sylvie brand is one of the top engagement ring brands sold in the US so, it's a miracle that I was able to interview her for Engagement 101 at the cusp of engagement season!
Sev: How often do brides customize their Sylvie engagement rings and why do you think they want to?
Sylvie: Nearly 60% of all our Sylvie brides customize their engagement rings in some shape or form! Women today are very involved in the ring purchase and the design of the ring, while the men are generally more involved in choosing and purchasing the center stone. A bride-to-be  likes to add  her own personal twist to have a ring that's entirely unique. It's often expressed in the smallest details. My customers create all kinds of alternative designs and the elements of customizations are not always necessarily obvious. But, they are obvious in their eyes because it's something they chose and created to make the ring special to them. It is honestly the favorite part of what I do! I love seeing what they request and come up with, and many times it has inspired me to create new designs and trends for my collections. It's a very important part of what I do every day, beauty should have no boundaries and you should never have to sacrifice when choosing your diamond engagement ring.
Sev: Your new ring bar is such a fun tool! What were your goals when designing this new feature?
Sylvie: I have learned over the years that the visual part of buying and choosing an engagement ring is really the most important. It doesn't matter how often we tell people what types of combinations or customizations they can create, if they don't see it, they can't really visualize it and make a proper purchasing decision. The Style Bar is the perfect solution for that and will allow our customers to really visualize how something will look without having to see it in a store. The Style Bar is all about mixing and matching styles.  I have also learned while hosting trunk-shows that our customers do not always know what they want when they start shopping for an engagement ring. So, by visualizing all the different combos and bringing them to life, they can really get a better visual idea of what they truly want. Sometimes the same setting with two different center shapes gives you a completely different look…  I personally can relate to this as I am very visual in all that I do. Additionally, with the rise of Covid19 I found that it was a great way for brides to design their own ring and get the full customization experience from the safety of their home.
"Beauty should have no boundaries and you should never have to sacrifice when choosing your diamond engagement ring." 
Sev: Your rings are semi-mounts, which means that the center diamond is not included. Couples need to provide the center diamond or buy it separately. What carat weight can your ring bar settings accommodate?
Sylvie: All of the Sylvie settings featured on the Style Bar, as well as on our website, can be customized with any shape or size center stone. The Style Bar is really focused on the shape and style/design rather than the size.  However, any design a bride-to-be creates with the style bar can be made with with a wide range of center stone sizes and ratios. Our rings can also be made in any metal such as rose gold or platinum.
Sev: Once a bride has narrowed down the ring she likes in the ring bar, will she work with you directly or with a local jewelry store?
Sylvie:  I do not sell directly to consumers  so couples won't be working directly with me but rather with the Sylvie retailer of their choice, depending on where they live. They can find a list of jewelry stores carrying Sylvie in their area by visiting the store locator on our website. While I don't work with customers directly, I am very involved behind the scenes and I work closely on all our custom requests, together with my incredible team which I am so very fortunate to have. Any time a retailer wants my personal input, they never hesitate to reach out. 
Sev: How fast will the ring be made? What is the turnaround?
Sylvie: Our turnaround is generally 3 weeks, however there are many factors involved in the timeline depending on the level of customization. Every ring is unique, sometimes we can complete the ring more quickly or it might take longer depending on how extensive the customization is. My goal is and will always be to under promise and over deliver.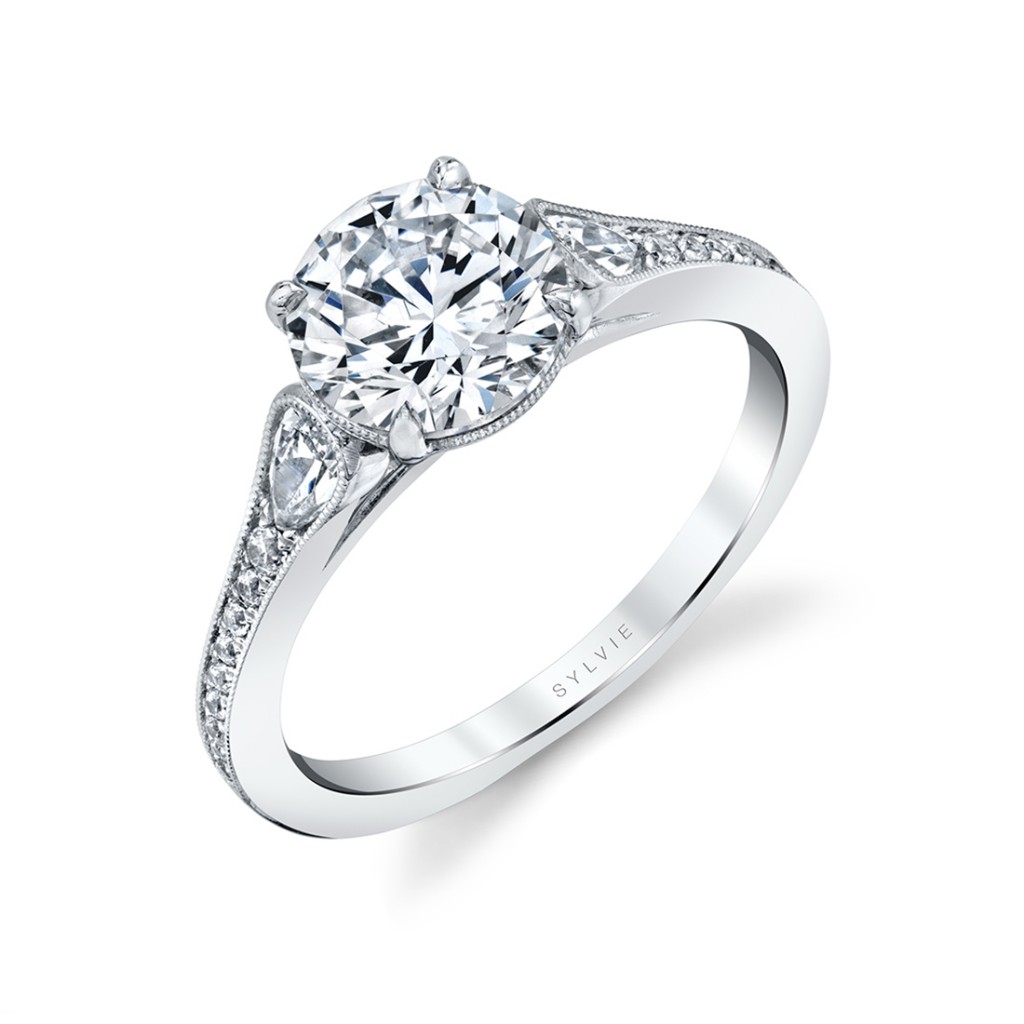 Sev: What's your favorite 2020 Sylvie style and what is your best seller this year?
Sylvie: My favorite 2020 ring right now is our Esmeralda ring (S2504) (pictured above). I love the simplicity of the design yet how unique it is. This ring features fancy shapes in a very subtle way and I'm a huge fan of fancy shapes. Our best seller this year is the Maryam Ring (S2093) (pictured below), which is a unique and feminine classic solitaire with a hidden halo. It is a very classic ring; it is very feminine and has the Sylvie "twist". Thin shanks are very popular! These rings can also be customized with any shape or center the customer wants.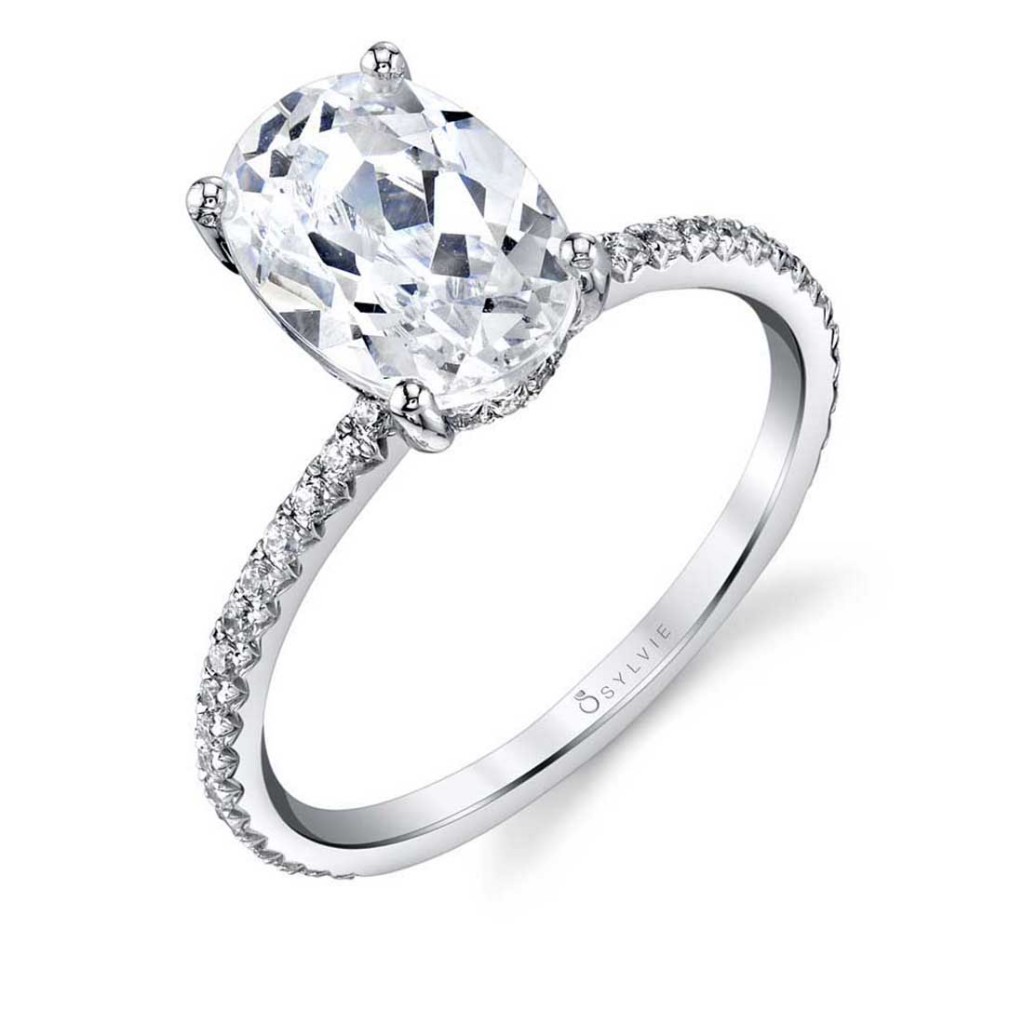 Sev: Are ovals still popular?
Sylvie: Absolutely! Ovals are very popular; they are our next bestselling shape after round. A lot of my designs on the website are now able to be viewed in oval as well. If you looking to stand out from the crowd I always like the East-West setting!
Sev: You also offer marquise ring settings (my favorite). Why do you think this shape is gaining popularity? Any tips to set a marquise shaped center stone?
Sylvie: Marquise is such a romantic and unique shape. The most important thing to keep in mind when using a marquise shape as your center stone is to have it set with "V" tips which will secure the extremities of the stone. I am a big fan of  East to West settings for marquise, sometimes it's a good option for someone with a smaller hand and shorter fingers and will give it a more modern flare! You can see here on our Eleanora ring (S1841), the marquise is set horizontally rather than vertically between he double halo. This way you can have the unique beauty of the marquise while also keeping it secure.
Thanks for all these tips and ideas Sylvie! Start designing your Sylvie ring now here!
---
Sponsored by Sylvie