We have shared a lot of real-couple engagement stories featuring emerald engagement rings in the past year or so. As we are getting closer to the Holidays, bright greens are inspiring me. For this article, I curated 6 bold one-of-a-kind emerald engagement rings and one green tourmaline ring. The latter is for women who live an active lifestyle and are looking for a green stone with less inclusions. I also asked each designer for their opinion on the rising popularity of emerald engagement rings.
The Timeless Classic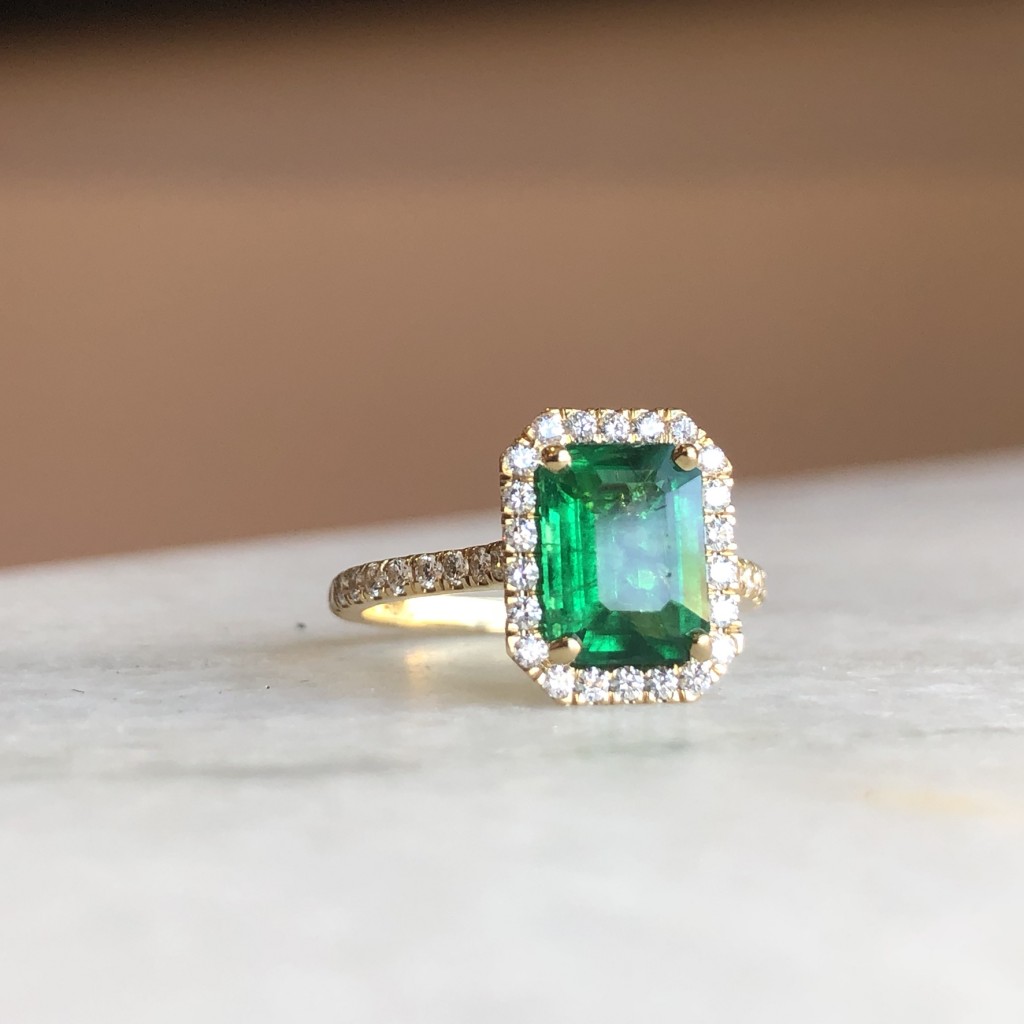 Lindsey Scoggins is a Texas born New York based engagement ring designer and this is one of her custom rings. You can never go wrong with a gold halo setting  to show off the beauty and green of an emerald. It is also a great way to protect the stone.
"I think emeralds have gained popularity because they allow a woman to further distinguish her ring from a traditional diamond while still being a precious stone, and customization is so important now. I always suggest to my clients who want an emerald as a center stone that they should set it in a halo or bezel to ensure the stone is protected more than a classic prong setting. Emeralds are soft and fragile so protecting them is key to the longevity of your ring, especially if you plan to wear it everyday." – Lindsey Scoggins.
---
The Trend Setter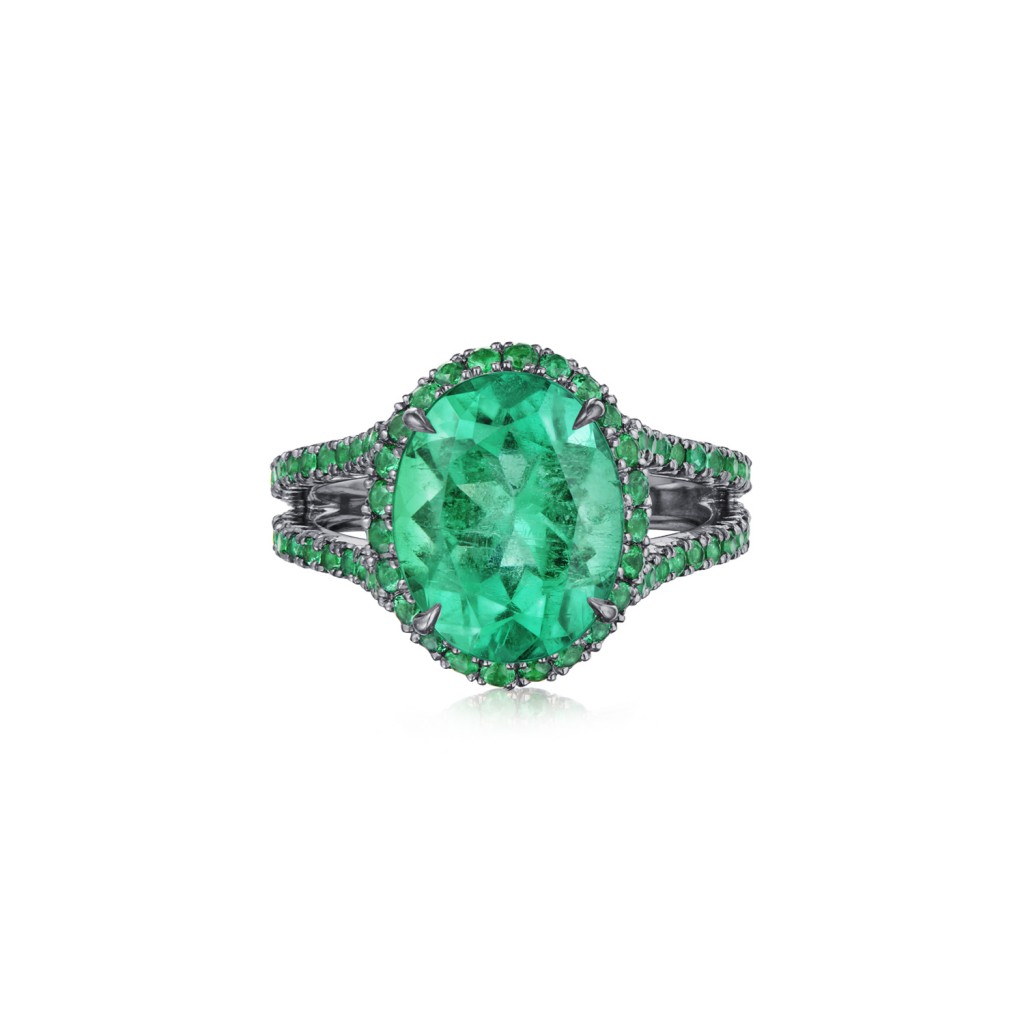 I fell in love with this Kwiat ring because it is not shy about being green and reminds me of a luscious  equatorial forest. The platinum setting includes 3 hot 2020 engagement ring trends. It's a split shank with claw prongs and an oval-shaped center stone.
"It's no surprise that many contemporary brides looking for something different are drawn to the emerald as an engagement stone. The vibrant green of the emerald has long been one of the most alluring colors in the world of gemstones. Fine emeralds from Colombia are truly rare, almost as rare as fine diamonds. When we set emeralds in rings, we often surround them with halos to give the center stone additional protection. Emeralds are a softer gemstone than diamonds, so you need to take care of them if you are going to wear your ring every day." – Greg Kwiat, CEO of Kwiat.
---
The Unconventional Choice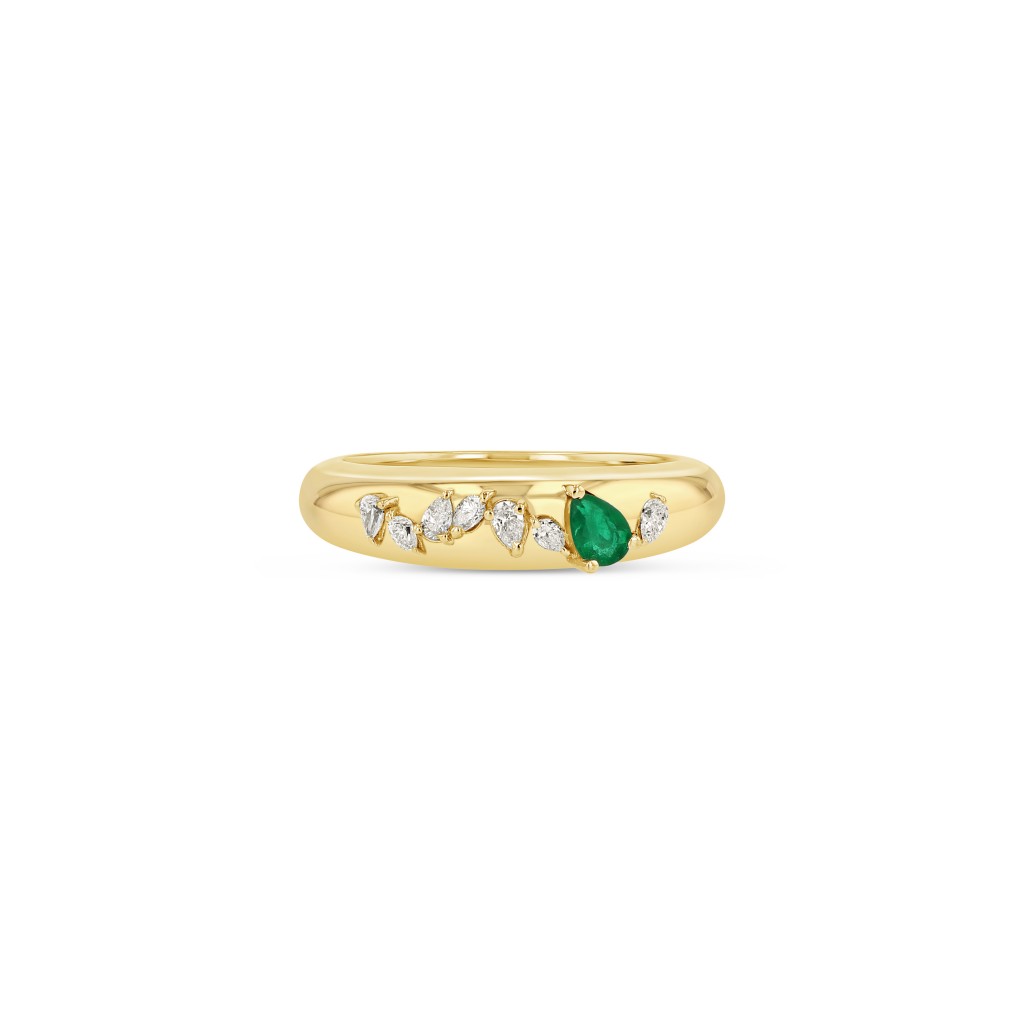 I just wrote an article about the new
dome and cigar engagement ring trend
. So when I spotted this ring on 
Grace Lee
 's website, I thought it needed to be part of this feature. I love the way all the pear-shaped gemstones are set.
"Emeralds are regal and classic and they add a pop of color next to gold and diamonds. Our DemiDemi +8 Emerald has been used as an engagement ring for brides who prefer a unique band style engagement ring. As one of the precious gems the Green Emerald is a classic option that will hold its value. Often brides will pair the DemiDemi +8 with another DemiDemi as the wedding band for a bold, seamless stack." – Grace Lee
---
The Red Carpet Engagement Ring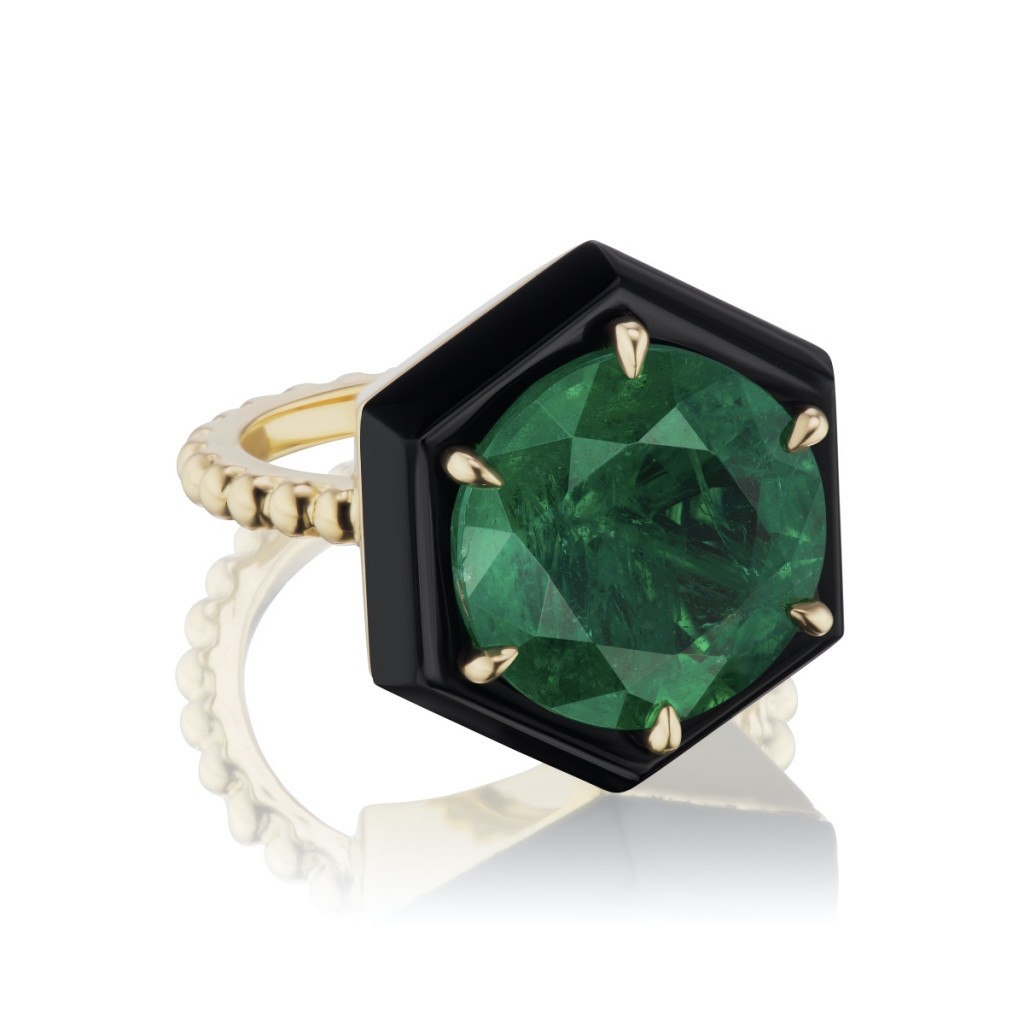 Scarlett Johansson picked a very unconventional engagement ring. It is an 11 carats fancy-shaped brown diamond set in gold and black ceramic designed by James Claude Taffin. It is most certainly a ring she can't wear when exercising and performing household tasks. So I call this trend, "the Red Carpet engagement ring" and think this unique engagement ring by  Harwell Godfrey fits it perfectly. I love the surprise  of a round emerald with  a textured gold band and an onyx hex halo.
"I love the idea of an emerald engagement ring because it's such a special stone. Emeralds are very precious and good care needs to be taken of them, kind of like a marriage. There's something about that rich green that is so romantic and enchanting – such a great symbol of deep love."– Lauren Harwell Godfrey, designer of Harwell Godfrey
---
The Rainbow Keeper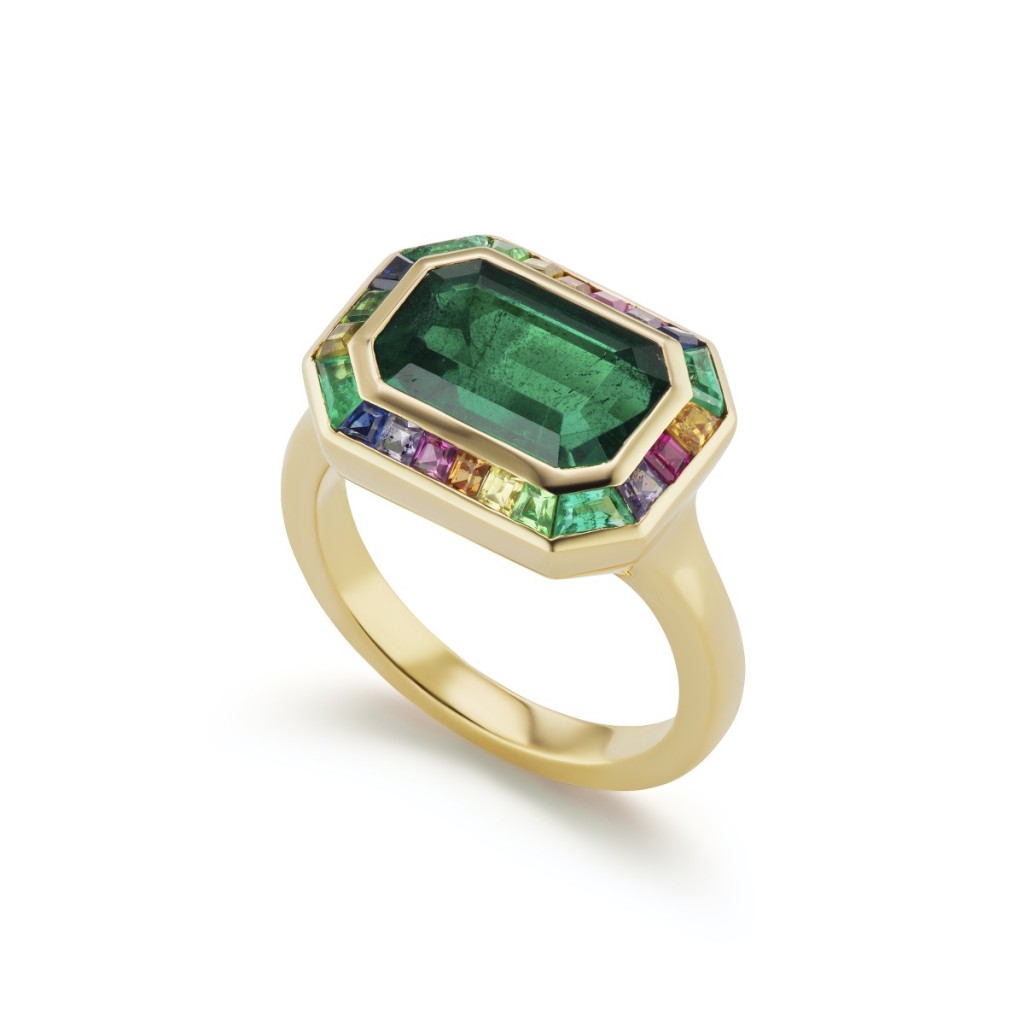 Rainbow jewelry is a popular mainstream trend and also a way to celebrate all loves. I just discovered Brent Neale's custom engagement rings. The setting featured above looks amazing with all white diamonds. However, this version with a green emerald and rainbow sapphires is so special. I am so glad someone owns it and wears it now.
"I actually wear an emerald ring every day stacked with my engagement ring — the emerald is in honor of my son, a May baby, and it's flanked with sapphire side stones for my twin daughters. I love the vibrance and saturation of an emerald as a pick-me-up; it's an attention-getter and more of a surprise than a diamond, which always leads to a conversation about gems, a subject I can't get enough of!"– Brent Neale Winston, designer of Brent Neale
---
The Unisex Emerald Solitaire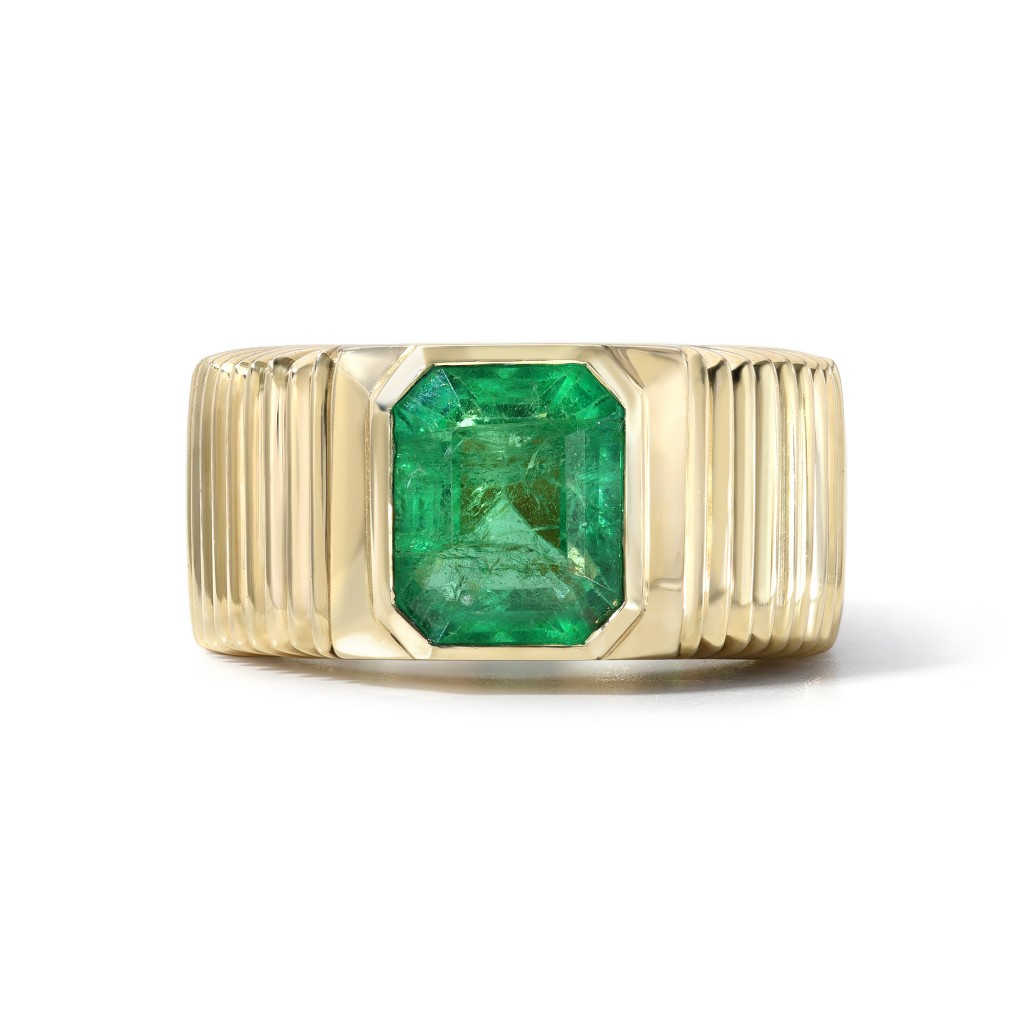 I mentioned in my intro that we are sharing a growing number of proposal stories featuring emerald engagement rings. This past year, we featured no less than  3 couples with matching emerald engagement rings!  That's what inspired me to show you this beautiful piece by Retrouvai. I would wear it and lots of people of all genders would too.
"I love the idea of an androgynous heavier ring with a big emerald. I have done an emerald pleated band before as an engagement ring which I found to be so cool and off the beaten path. Diamonds are diamonds but nothing is quite like the glow of an emerald!"– Kirsty Stone, designer of Retrouvaí
---
The Other Green Gemstone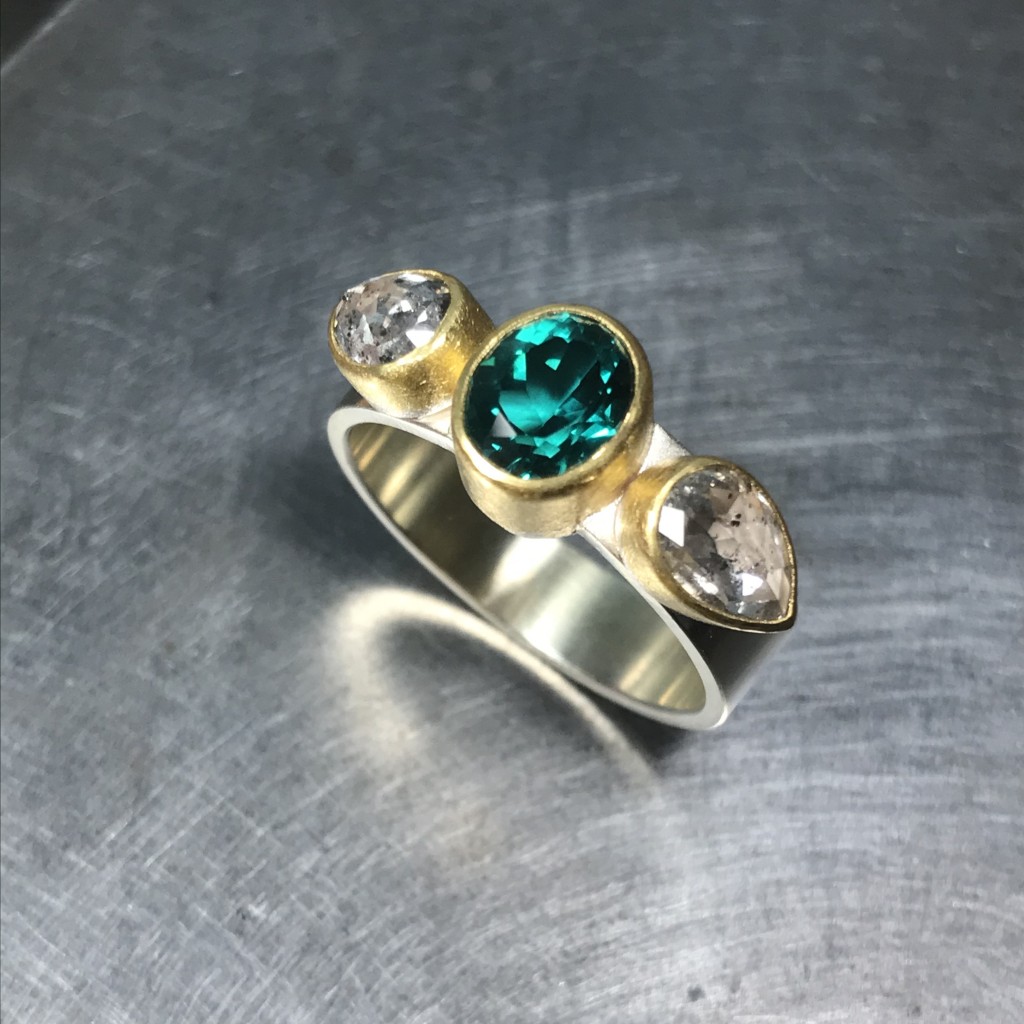 Emeralds are beautiful but they are fragile because of their inclusions, They also can be somewhat expensive. There are other more durable options such as  green sapphires.  I wanted to feature a lesser known engagement ring gemstone in this article. This 3-stone ring design by Sam Woehrmann is modern, low set and beautiful, the center stone is a green tourmaline.
"I think tourmaline is great choice for a colored stone engagement ring. Although the greens don't usually come in that sought after emerald green glow, there are many lovely shades of green and a wide variety of colors. The blue greens is a color that is hard to beat. They can also be great for the budget conscious customer compared to emerald. Not as hard as diamond or sapphire, but still a durable everyday stone. To me they don't seem as fragile as emeralds in general and often have less internal inclusions which helps tourmalines handle your day to day stresses." – Sam Woehrmann