I wanted to present to you, our lovely audience, my current favorite e-ring upgrade trend. As a French person, it reminds me of the American Quilt tradition. Generally, when it's time to upgrade an engagement ring, the go-to setting styles are either 3-stone rings or a new solitaire, often trading in the center diamond for a larger stone.
Enter a fresh new trend inspired by women wanting something different, something more fashionable than typically bridal looking. These women are choosing to wear cigar style and dome rings featuring their starter engagement ring stones, or recycling family stones . A growing number of unconventional brides-to-be are also going in a similar direction for their starter engagement ring.  Some might call these rings Gypsy rings but to respect the wishes  of the Roma people, I have stopped using this term.
As you will see in this article, these rings are gorgeous and eco-conscious. As we are all focusing on living a more sustainable life, re-purposing stones and recycling metal is a great way to contribute to the process. Making something old, new again!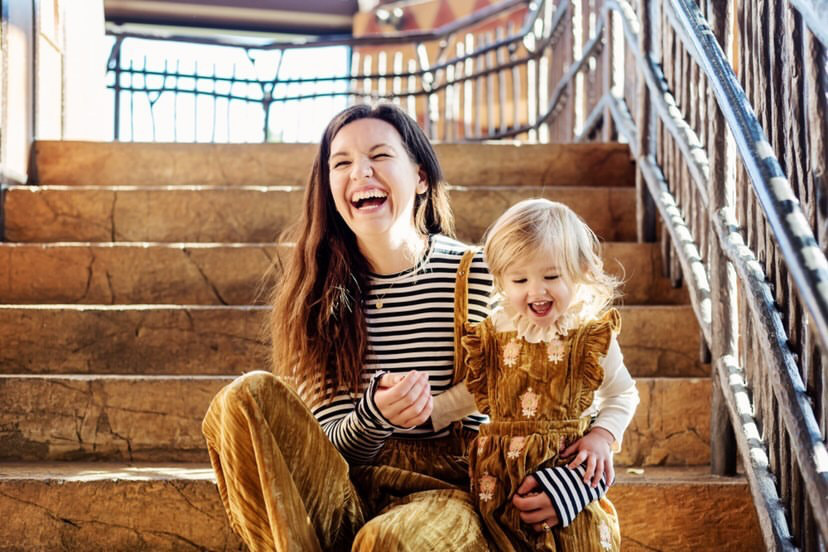 Britt Siminitz and her lovely daughter Eloise
When JCK Magazine contributing editor Britt Siminitz was planning to upgrade her engagement ring, she asked Corina and Ari of Single Stone for help. They were able to understand what her dream restyling was. They ended up using all her first engagement ring stones reset in a  beautiful and bold new gold setting.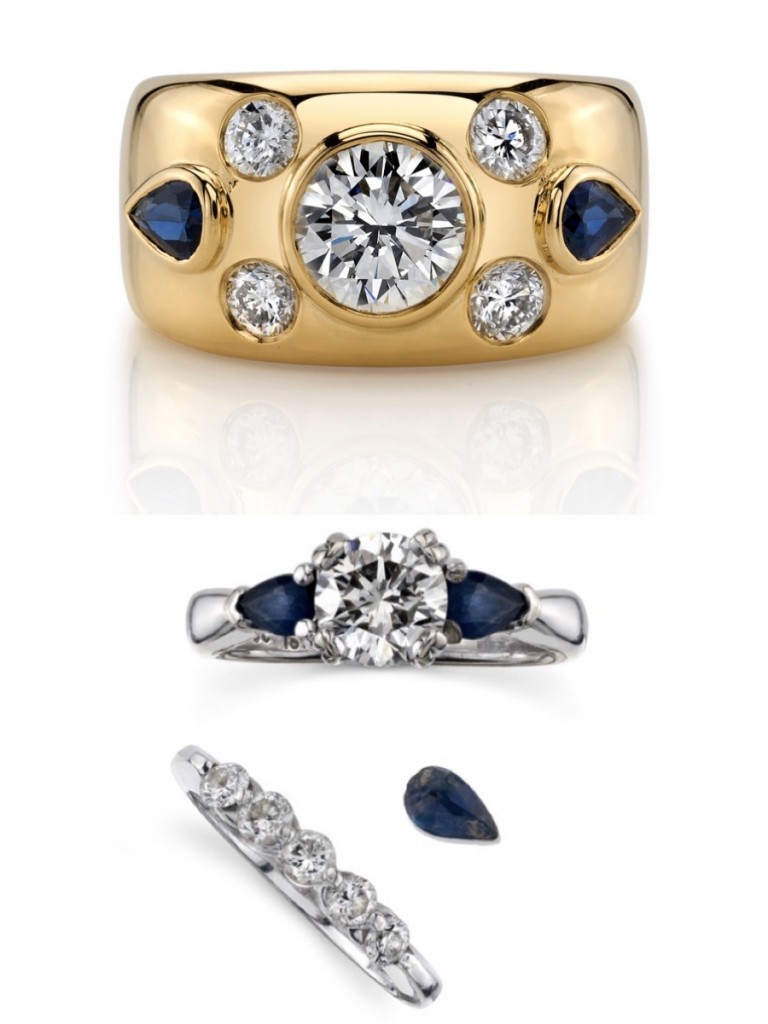 The result was so cool that her colleague Emili Vesilind went the same route. On top you can see a before and after of Britt's ring  and below the before and after of Emili's. A similar concept but 2 very different results, one gold and reminiscent of the 60s and the other in platinum, more contemporary.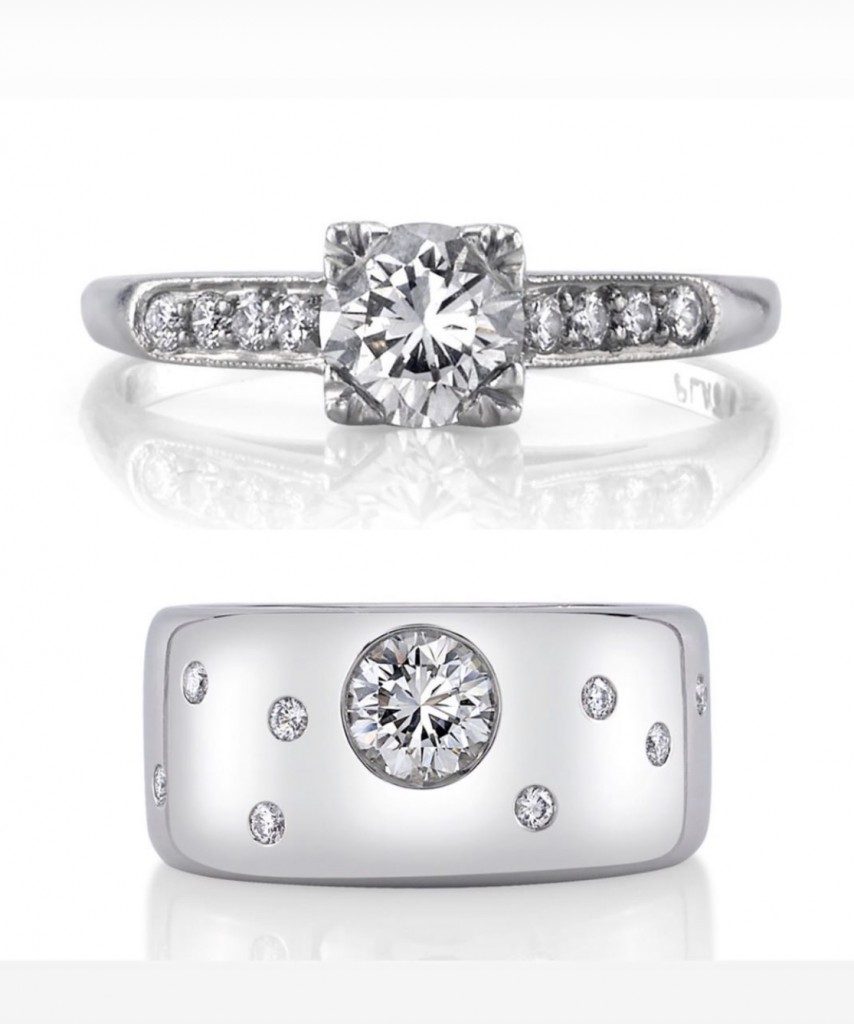 I asked Corina and Ari of Single Stone to share with us how they approached these 2 projects.
"When working with a client to design a custom piece, we sit back and listen to what they are asking for.  What stage of life are they in – young kids, no kids, active lifestyle, fashion forward or classic styling, artistic, professional, etc…  All of these touch points are considered to best inform us about the client and help them create a piece of jewelry that they will not only love, but will also be wearable and functional for her. Setting stones in a bezel or using burnish setting techniques is a safe and secure manner to set stones. We have always incorporated vintage styling in our jewelry and have worked with gypsy-style rings for before.  While our collection did include these, each of the pieces we made for the ladies from JCK was a custom piece made exclusively for their stones.  In our exploration of wants, we referred to items in our collection that they were drawn to and then incorporated their own wish list of details."
---
Emmie Holmes recently got engaged with a ring designed by Jane Pope featuring stones passed on by her mother and her fiancé's mother. That's how I discovered Jane's work. She is a fashion jewelry designer but works on a lot of bespoke engagement ring projects for her clients.
I asked Jane and her team why they thought this new fashion forward engagement ring trend was becoming popular.
"We try to think of our jewelry as forever pieces rather than trendy pieces. We have found many brides opt to use sentimental stones or simply stones they have sitting in their jewelry box and want to give a new life. The Cigar Band is a great low profile option that can incorporate multiple stones. It is a bold, yet wearable take on the engagement ring. Jane develops the scattered design by simply playing around with the stones. Just like a piece of art, it evolves during the process." 
---
21C designs is a women-owned jewelry business based in Connecticut. Their focus is restyling and updating jewelry. Check out one of their recent ring restyling below.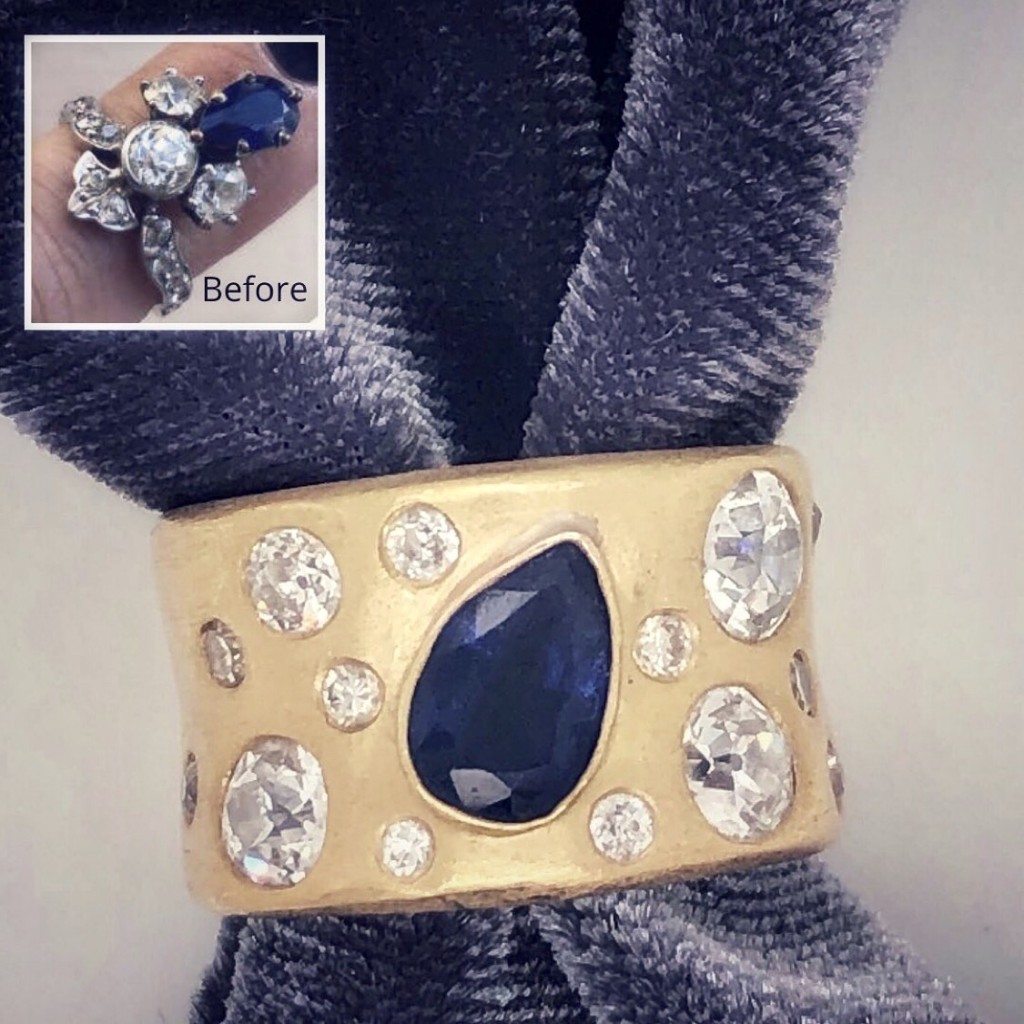 How did 21c Designs owners Jaime Polk and Katherine Rosenberg-Pineau know that  focusing their business on  "re-imagining" their customers jewelry would become so successful?
" We are living in tumultuous times, and at the same time we are reevaluating what is important to us. Recognizing the  value of what we have, within our family and friends as well as material wise. Jewelry that has sentimental value has become important to people. As for setting styles, Women today want……. comfort, low set, bold, strong, stand alone, wearable, artistic, statement…"
---
This new trend has not only been spotted  in the US. GMG jewelers are based in Saskatchewan, Canada and they just worked on this beautiful engagement ring for a couple.
The design was a collaboration between bride-to-be Michele,  her fiancé Kirk and veteran diamond specialist Sandy. The ring is undeniably stunning but it is also made to be comfortable! The interior of the ring is curved so that it feels like silk –  beauty and comfort all in one! The decision on who suggested the marquise gems set into the Double Infinity is still debated between Michele and Sandy but there is no denying it was perfect addition to make it complete. Kirk was, however, the one who suggested the mirror finish which totally brought it to perfection.
What do you think about this new trend?