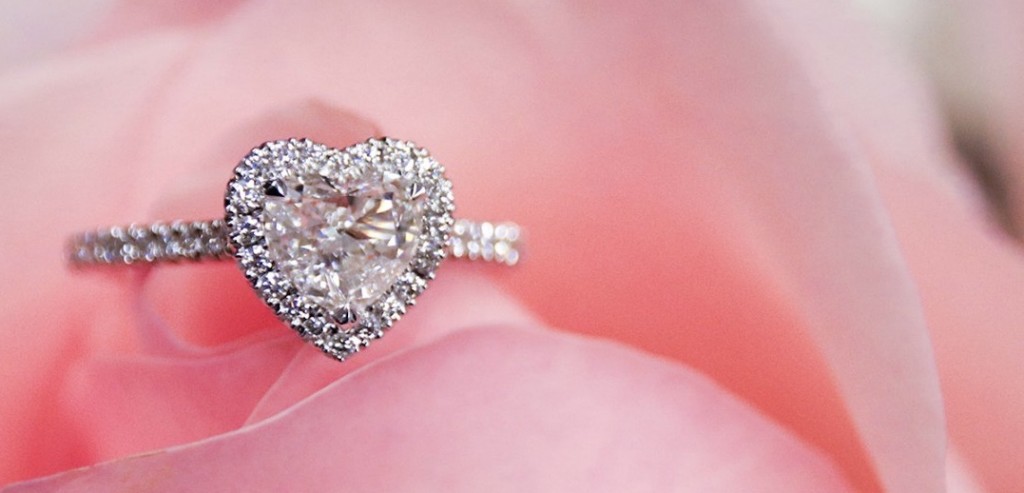 Ring by Henri Daussi
Here is a trend that's picking up steam in 2020 and that we need to celebrate: heart-shaped diamond engagement rings. In 2015, trendsetter Lady Gaga got engaged to Christian Carino with a heart-shaped diamond ring. She probably got to keep the ring even though she had to move on from the relationship. Which other celebrity wears  a custom heart-shaped diamond ring? None other than Drake. The jeweler who designed his 22 carat heart-shaped diamond ring is Ori Wechler of Gemma Fine Jewelry. We chatted with Ori to try to understand why this fancy diamond shape is having a moment and what brides-to-be should know before picking it as their center stone.
"Heart-shaped diamonds have recently  been trending more than the other fancy shapes because the heart shape has several unique and rare characteristics. It is created from an extremely rare rough diamond. The rough must be a specific type of diamond to create a heart shape. Therefore not only does this shape symbolize the true meaning of love, but is extremely outstanding and infrequent." Vechler said.
Ori Vechler and Gemma Fine Jewelry just delivered another exquisite piece to Drake, a magnificent  100 carat "King Of Hearts" diamond necklace  (click the link to see it). Drake loved his heart ring so much that it progressed into creating a whole collection for him.  "We truly love how special and eccentric this necklace is, making it exceptionally exclusive and we can't wait to see what's next." So do we Ori!
Like many other fancy diamond shapes such as oval, marquise, emerald and pear, heart-shaped diamonds come in different silhouettes depending on the length to width ratio. Stephanie Gottlieb offers a wide selection of heart jewelry. We highly recommend watching  this episode on her IGTV dedicated to heart-shaped diamond rings. She gives a lot of amazing tips. Here are are our 3 favorite ones.
– You should draw the heart-shaped diamond of your dreams before starting your search, so you know which ratio and shape you are looking for.
– Shape is the priority so don't worry too much about the clarity (the heart shape hides inclusions well) and the color.
– Be aware that heart diamonds of less than a carat will lose their shape from further away.
The latter is really good to know. To honor the shape, you need to go bigger or pick a setting that will duplicate the size, such as halos or side stones. Check out the gorgeous Melt Your Heart 3-stone ring below by Dana Arish and how the side stones and halos honor the heart shape.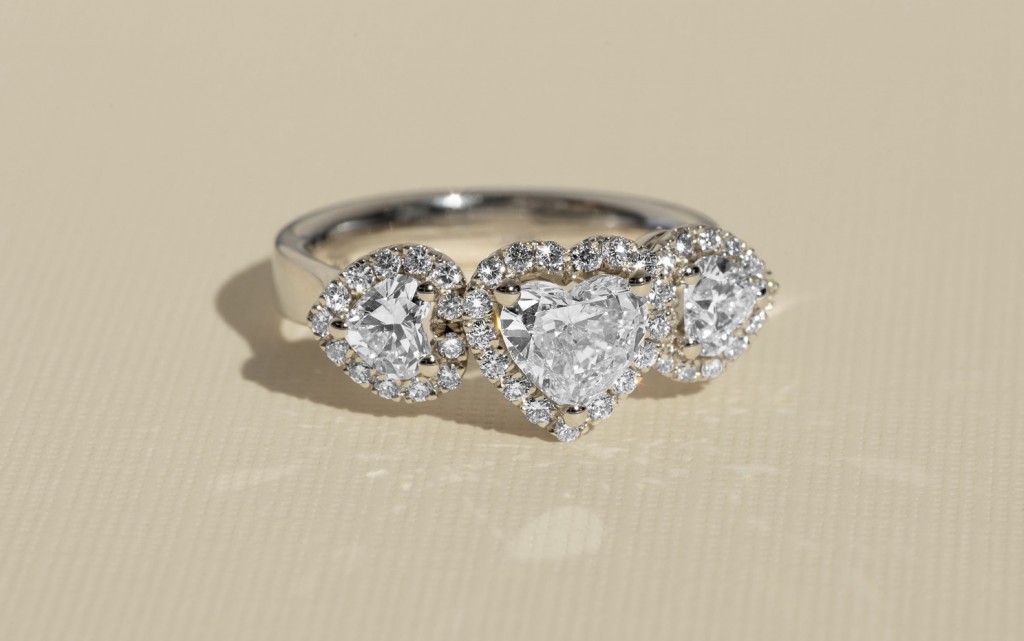 Ori Vechler gave us 2 other valuable tips to pick the perfect heart-shaped diamond. "The ratio between the length and width should be from .85 to .95, to create the perfect balance in the stone. If the ratio is higher or lower than these measurements, the shape can either appear too long in length or too large in width. My second tip is to be observant of the groove on the top of the stone, which creates the V shape. Be cautious that the groove is not too deep or too shallow." Says Vechler.
Love the shape but not a diamond girl? Consider a colored gemstone as your center. Check out this Coast sapphire beauty reminiscent of the Heart of the Oceans.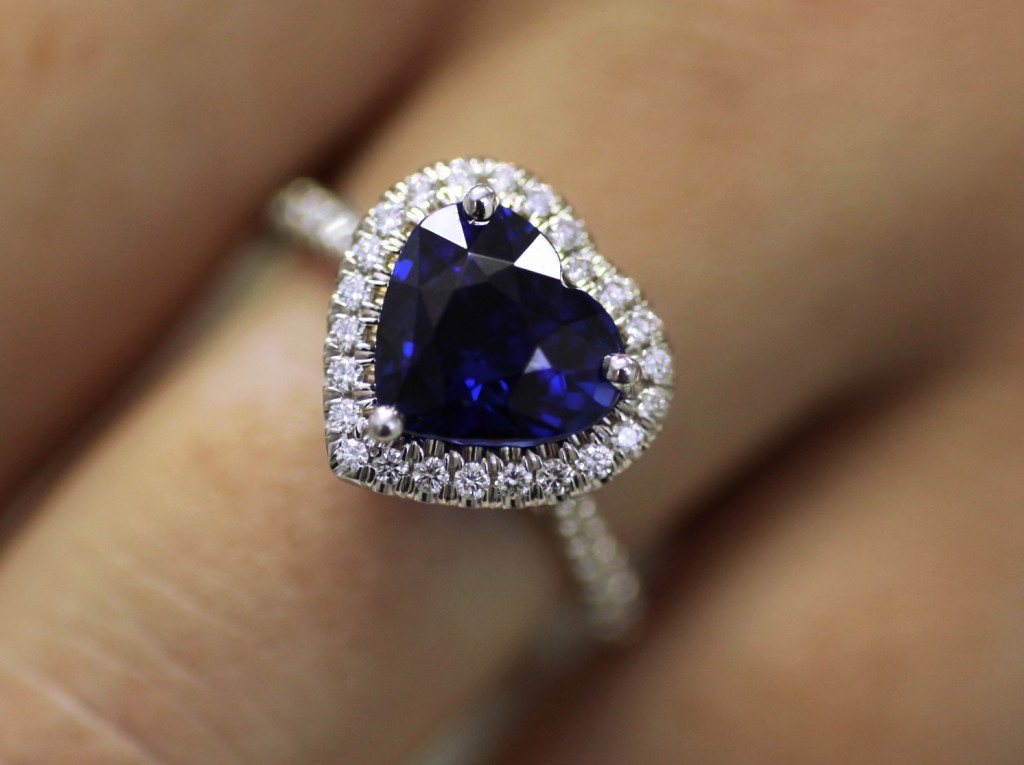 Or… something really different and romantic such as  the US ring by Solange Azaguri.  Two heart-shaped rubies are surrounded by pave set rubies with lacquer and ceramic plate set in 18k rose gold.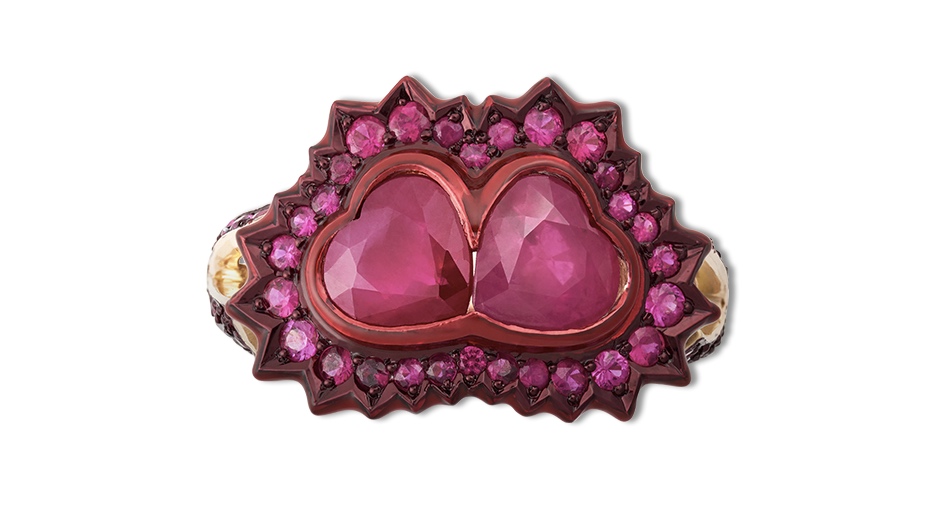 If heart-shaped engagement rings are not your preference, you could also consider non-traditional heart-shaped stackers that can be worn as wedding or promise rings.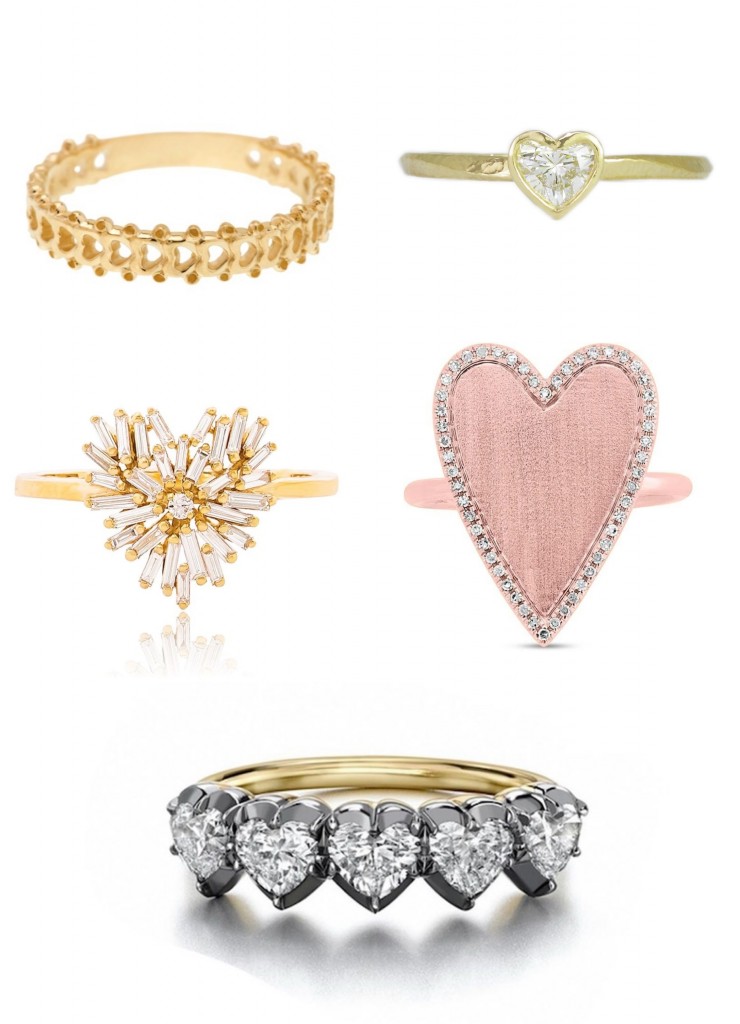 (Left to right, top to bottom) A sweet gold  band made by Ruta Reifen . Petite bezel solitaire by Patrick Mohs. Diamond baguettes set in the shape of a heart by Suzanne Kalan. Large elongated rose gold heart available on StephanieGottlieb.com. Blackened gold diamond band created by Jessica McCormack.
Happy Valentine's Day month!