We love these 5 jewelry collections and can't wait to find out what is new and exciting during the upcoming Vegas Jewelry Week. For this story, we decided to change a little bit our perspective and uncover how they approach a bespoke project challenge, what jewelry they themselves wear and take a peek at their work station.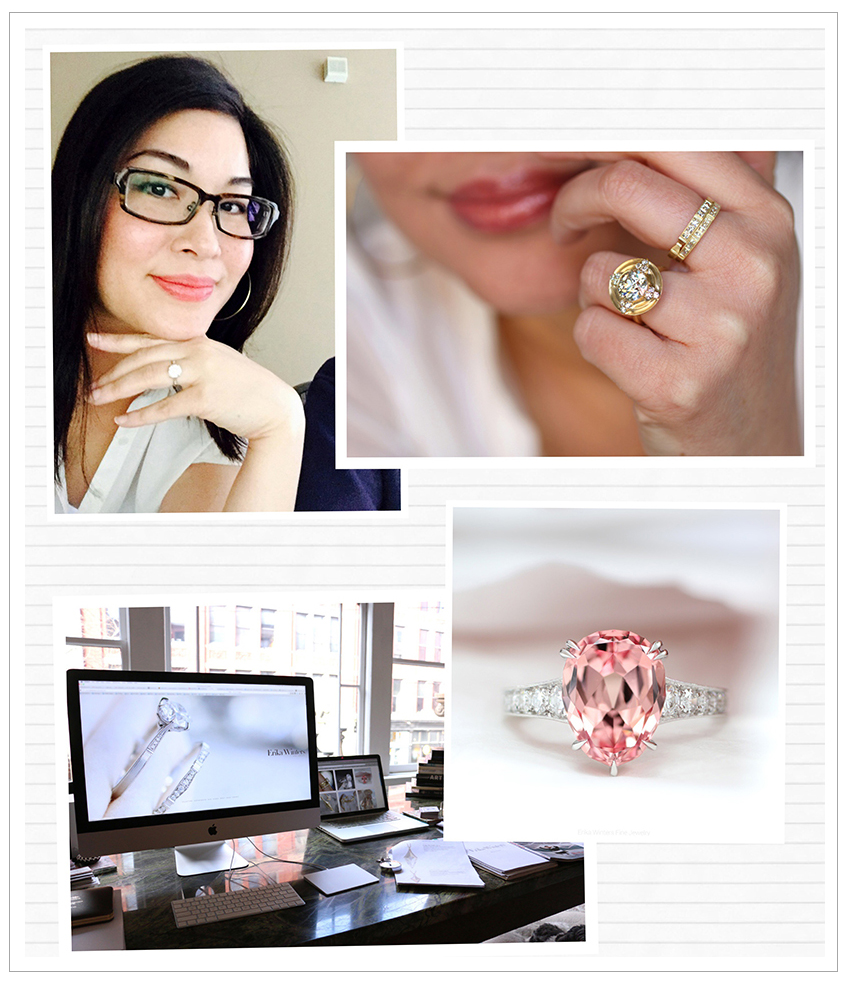 Erika Winters is a very talented designer who manages to combine vintage elements with a fresh perspective in each of her pieces. Her craftmanship is amazing as is her overall vision for her brand, her attention  to details and her stunning photography. Which is why we were not surprised to see how predominant her iMac is in her studio…
What are your favorite pieces of jewelry that you wear often?
My favorite piece that I wear is my Thea halo ring design, the first prototype of the Thea style we created. This ring is very special to me, and I wear it as my engagement ring. I had designed this ring to honor my late mother, while she was still with us. My mother was Korean, and her name included a syllable spelled like the English word "Sun." She also had an incredible green thumb and so loved the sun and the life it gave her gorgeous flower gardens. (Her favorite flower was the sunflower.) So playing on the sun motif, I designed the Thea to have concentric circles radiating from a stunning 3-carat old European cut diamond, which has a lovely floral pattern in its faceting, another play on her love of flowers. On four points surrounding the diamond are diamond trios, which nod to the points of a compass. That compass reminds me of my own direction and focus in design and in life. I named the design "Thea" after the Titan goddess who gave birth to the sun. This ring is my constant reminder of the heart and soul of why I create jewelry, and of course, my dear late mother, who lives on in my heart.
Two of my other favorite pieces are my large shield necklace and my petite bar bracelet with diamonds from my Estella collection. The large shield is 18k yellow gold and has a glorious weight to it. The necklace is a very substantial piece, and I wear it on a 30-inch chain, so I can hold it and enjoy the feel of the gold, done in my signature brushed finish. I love charms and talismans, and the shield is symbolic of self-protection and also protecting those you love. My petite bar bracelet is the perfect everyday piece. The chain is adjustable, so I can wear it looser or close to my wrist. I tend to wear it so that it hugs my wrist perfectly with the diamond side always on top of my wrist. It is very dainty with clean lines. I love the look of a single delicate bracelet, minimal and chic!
Tell us about a recent bespoke project.
My client approached me to make a custom version of my Minna engagement ring design for a rare pyrope-spessartite garnet cut by Jean Noel Soni of Top Notch Faceting. I was immediately drawn to the gem, which was mined in Tanzania's Mahenge region, because it is my all time favorite color and gem type, as I adore garnets. This color is very hard to find in certain gem species and especially in garnet. This gem has that stunning and vibrant sunset hue of orangey pink–a sunset captured in gem form. The hue paired with Jean Noel's incredible cutting makes this one of the most beautiful colored stones I've ever worked with, and I gasped when I first held it in my hand. The Minna is designed for symmetrical rounds and cushion cuts, so this unique gem shape presented a creative challenge. To work the Minna's signature elements into the design, I created a delicate 5-prong version to keep the stone secure and to bring out the gem's beauty on my client's hand. The face-up view of the ring is very classic while the profile and side views have Minna's signature shield motifs and graceful curves. For the ring's band I chose single-cut diamonds to work proportionately with the center garnet. My client wanted the ring handcrafted in platinum, which is always so lovely for an engagement ring. The pure color of platinum provided the perfect canvas for this gem to shine. The result was magical.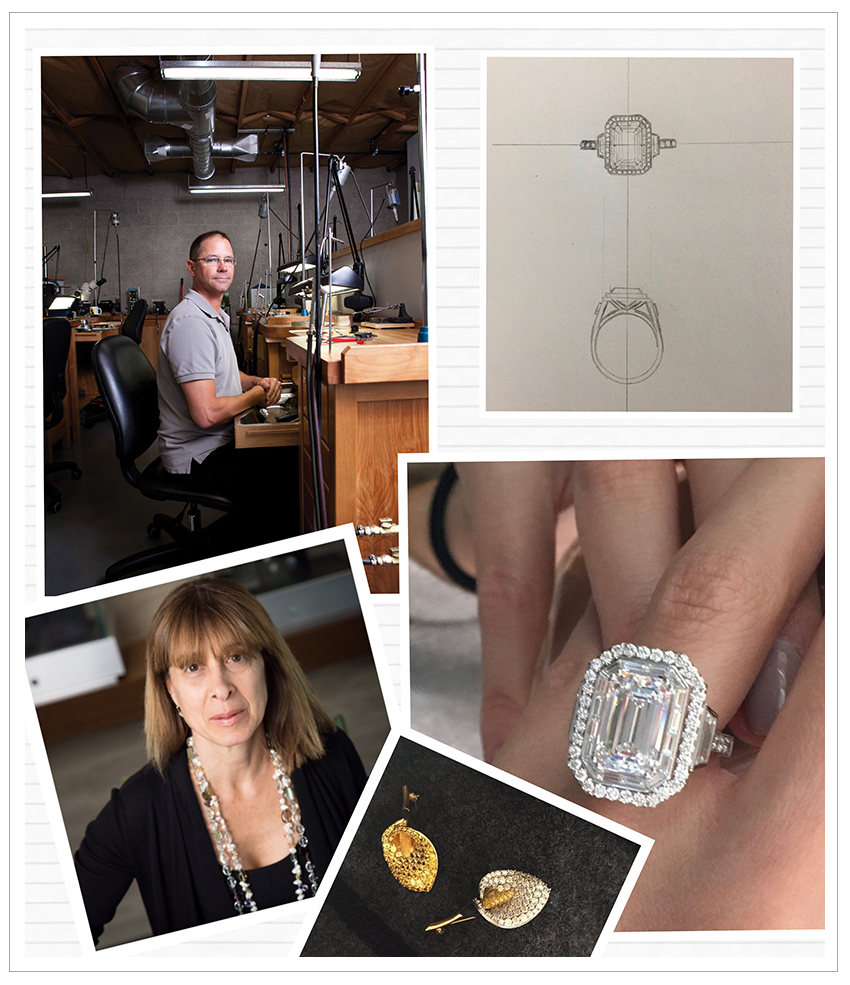 Mark Patterson is a fine jewelry brand founded  by husband and wife Mark and Josette Patterson. Their flagship store and studio is in Newport Beach and you can find their bridal and fashion jewelry in stores all across the US. Mark spends a lot of time at the bench, you can even take a virtual tour of his workshop here.
Josette, what are your favorite pieces of jewelry that you wear often?
I love brooches I think they are a conversation piece. Mark likes to wear the Calla lily and I love to wear fruit shaped brooches. The penguin is one of my favorite pieces that we made, I wish I owned one! I will always have one bracelet on my arm.
Tell us about a recent bespoke project.
We made a ring for a client who broke her finger and ended up having a large knuckle. She originally had a 3 stone ring with a 4.04cts emerald cut diamond and wanted to have a beautiful diamond ring with a halo. Her knuckle was much bigger than her finger size because of the break that occurred, so we had to make for her a hinged shank that could open and close. We opted for a baguette halo around the emerald cut and a micro pave halo around the baguettes. We added her trapezoid diamonds underneath the halo and added a few more diamonds to the shank. Those diamonds had to stop where the hinge mechanism would be. In the end the customer was thrilled, she cried when she picked up her ring and gave Mark big hugs!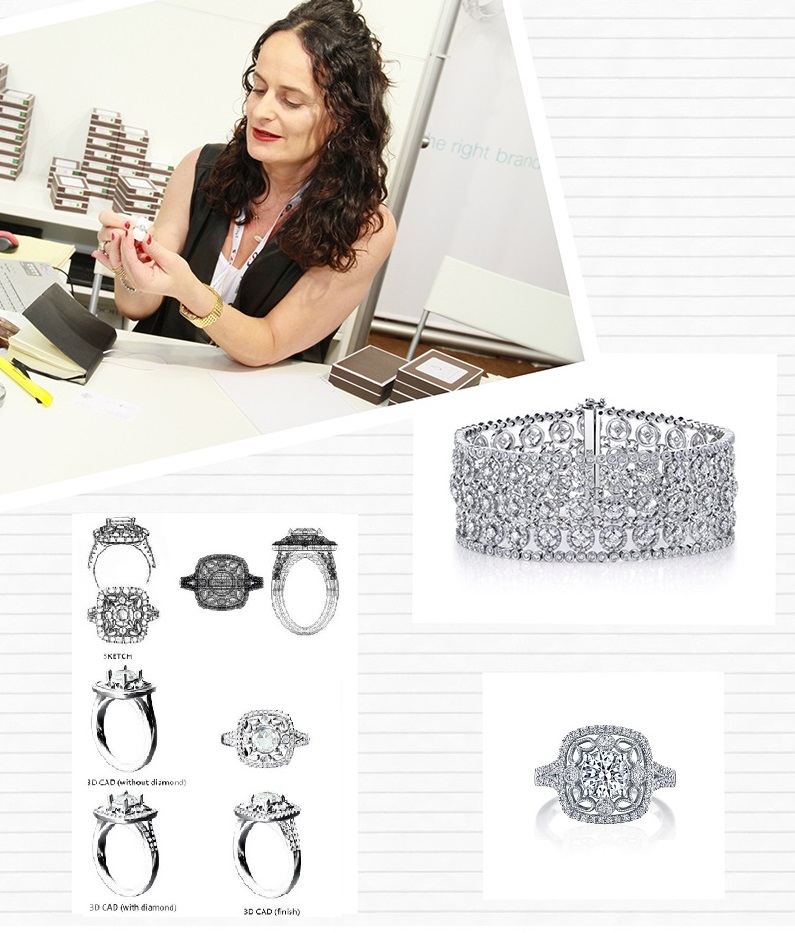 Sylvie was born and raised in Antwerp, Belgium, the center of the world's diamond trade, into a diamond family where she learned all facets of the business. She met her husband at a diamond conference and they partnered to create the Sylvie Collection, thus continuing the family tradition started by his company, Spectrum Diamonds. The collection is sold all across the US and for couples looking to upgrade, Sylvie has made re-styling her specialty and she ensures that every re-style request goes through her hands where every customer benefits from her expert opinion and exquisite craftsmanship. She's been hard at work this year to add A LOT of new styles to her collection in celebration of the company 10th Anniversary.
What are your favorite pieces of jewelry that you wear often?
My diamond bracelet that my husband gifted me for my sons' Barmitsvah.  I love how each of the larger stones seem to float inside a round halo of shimmering pave diamonds. It's a stunning piece.
Tell us about a recent bespoke project.
This ring was a one of a kind project and it turned out so amazing that we named it Elita and it became our 10th Anniversary special edition. It features a 1 carat round brilliant center diamond surrounded by four lustrous diamonds and heart shaped filigree to celebrate love. The diamond encrusted split shank adds an even more exciting display to this stunning and one-of-a-kind ring.This ring embodies everything my collection represents and is a great way to celebrate my 10 year anniversary – it is classic with detailed scroll work that showcases our unique workmanship and signature look. The ring is now available in white gold as well as a two-tone version with rose gold.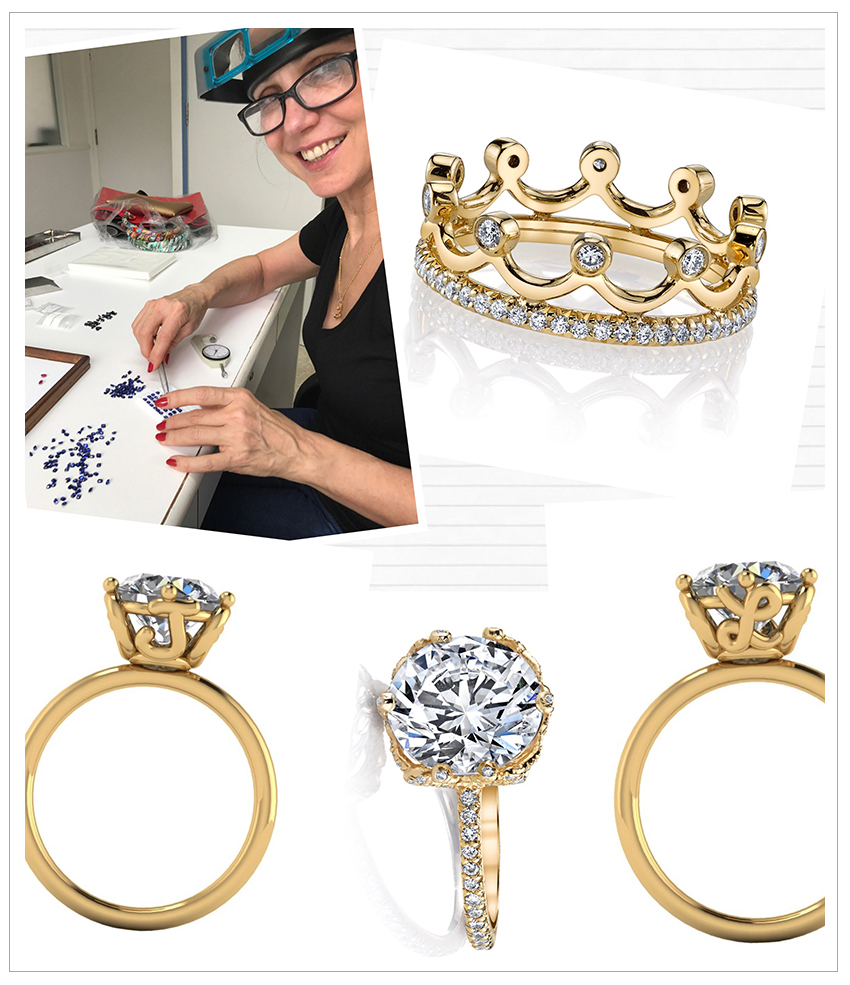 We love Erica Courtney's  Gorgeous and Engaged bridal collection, it's always beautiful, whimsical and super feminine. Though diamonds are the plat de resistance of the bridal collection, the sapphires are always to die for with such subtle hues and amazing cuts.  Erica loves to travel to thrilling and exotic destinations in search for the rarest and most extraordinary gemstones.
What are Erica's favorite pieces of jewelry that she wears often?
Erica's Favorite pieces of jewelry are her Crown ring, which she wears on her thumb; her Initial ring for her middle finger and her Easter Egg ring for her first finger. She always wears these pieces, even when she is looking for stones in the jungle!
Tell us about a recent bespoke project.
Like most of Erica's jewelry, her designs are inspired by everything and everyone around her, and sometimes a piece of jewelry is inspired by her clients. The story of the "Ellen" ring holds true to that sentiment. Before the Ellen ring came into fruition, Erica's client, Ellen, challenged her to design an engagement ring whose top view only highlights her 5ct stunner…but she wanted the Erica touch. If you know Erica's work, you know she is known for her intricate design and detail, so simplifying detail was not easy. Then one day it came to her. She wanted to the ring to exude love, intimacy and infinity, and slowly the idea of the initials of both partners on each side of the ring was born, and it has become her  most popular engagement ring. It also features hearts which is so romantic.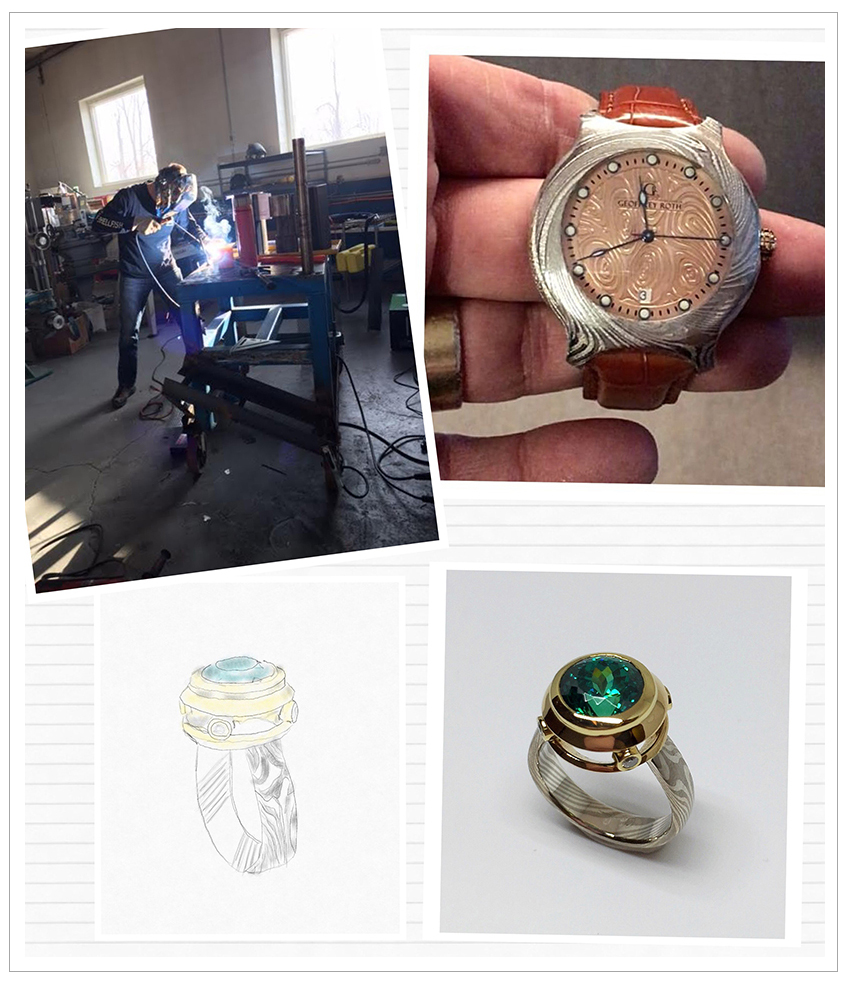 Chris Ploof loves to challenge himself when it comes to making jewelry. From binding different metals using ancient techniques or trying to create new ways to wield, assemble and design. He is always experimenting and researching. He will never say no to even the craziest requests from a client. He'll try everything to make it happen.
What are your favorite pieces of jewelry that you wear often?
That's easy! My wedding band, of course, and also my Geoffrey Roth Watch Engineering & Chris Ploof Designs wristwatch. After six years of discussion, we finally were able to collaborate and get a project making watches together off the ground. And I couldn't be happier with the results!
Tell us about a recent bespoke project.
The ring was part "just because" and part special gift. I had a blue zircon – I'd been holding onto it for a while, and decided to make a ring around it. I had it out on my bench, and a good friend stopped by for a visit… saw it, asked after it, and fell in love. He asked If I'd create something special for his girlfriend, and the rest was history! I had a lot of latitude with the design – he just wanted something "unusual" that featured mokume gane and yellow gold.