Lulu & Kevin
How They Met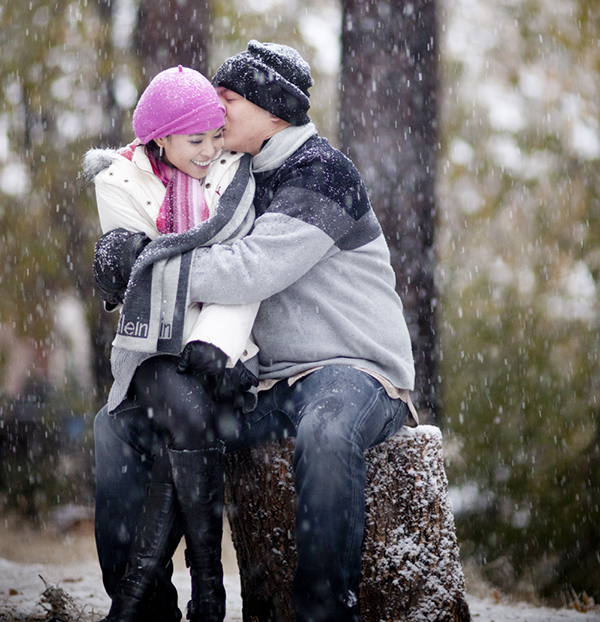 We are a success story from eHarmony!  It took us about a month before we met in person.  We both went through the whole process from automated questionnaires to short answer section to open communication before we got each other's numbers.  Even with our numbers, we texted for about a week before we set a date to meet.  Unfortunately, Lulu was off to Europe for 3 weeks, but we kept in touch through email and set up "date chats".
The Proposal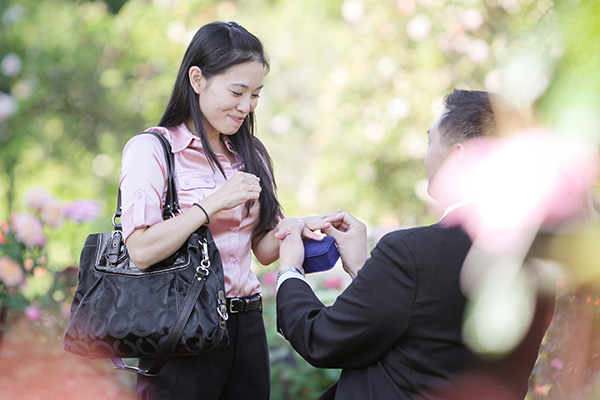 I obviously wanted it to be a big surprise so I figured I'd engage the help of my fiance's boss. Lulu's a school teacher and her principal was key in getting the whole plan down.  I told him to arrange for her to go to the Huntington Library Gardens to obtain a school grant. This way she would be at work on the clock and not have any clue as to the surprise proposal.  So in the evening before, Lulu was freaking out on what to wear and what to say to the programs director at the Huntington. I also had scope out the gardens with a photographer who would be hiding and documenting the whole proposal.  We decided the best location was in the rose garden and we picked a perfect open grassy area where the proposal would take place. I then contacted the Huntington library and asked them if they'd be willing to assist in the surprise and fortunately I was able to get a director to meet Lulu and bring her to the exact location we had spotted earlier. As the morning approached, I engaged the help of my best friend to tail her and give me updates as to where her position was. She met with the director and headed towards the garden. I could see her round the corner and ducked behind a bunch of hedges and trees trying my best to stay hidden. I think she saw some figure, but didn't think at all it would be me. As she approached the grassy knoll, the director asked her to walk over and out I came with ring in hand. I got down on one knee and asked her to be my wife, all the while this was being shot by the photographer, from Serena Grace Photography, who was hiding at the other end. She said YES and the rest is history!
The Engagement Session
We picked Mount High in late November for a winter engagement session.  Although we actually got engaged early May, we waited for our photoshoot.  Being in warm, sunny LA, our photos are always bright, beachy and in cool summer clothing.  We wanted our engagement photos to be different from the others – the proposal photos and our wedding photos. Coming from upstate New York, Lulu always had an affinity for snow, so she planned a short getaway to Big Bear with our 2 dogs during the winter time to share that winter experience with Kevin.  We had such a good time, but we didn't get many pictures.  We thought it would be the perfect time to capture that feeling again of our vacation together as a keepsake memory.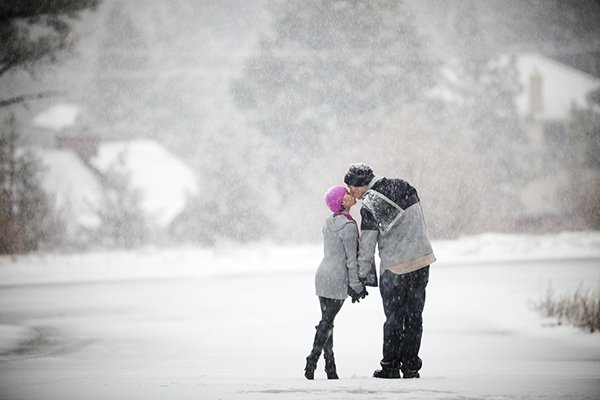 It actually snowed that day!  Our photographer, John Yao, was actually able to capture us playing in the snow, like making snow angels and throwing snowballs at him!  At one point, even his equipment were covered completely and it was hard to find them.  It was quite an adventure.
The Engagement Ring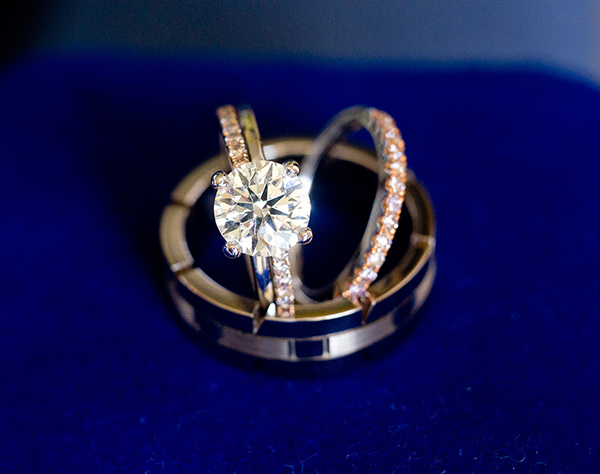 The engagement ring was custom made and modeled after a ring I had seen from De Beers. The only difference was I wanted pink pave diamonds to surround the diamond. This took months to find a supplier of pink pave diamonds and even longer to choose each and individual pink diamond for proper size and color.  The diamond also had to be sourced and specifically selected so that the crown of the ring fit the diamond perfectly. In the end the ring turned out more beautiful than I had imagined and I believe my fiance was equally impressed. I also had a wedding band made with the same pave pink diamonds to match the ring.
The Photographer: Simply Two Photography