Carrie & Ryan
How they Met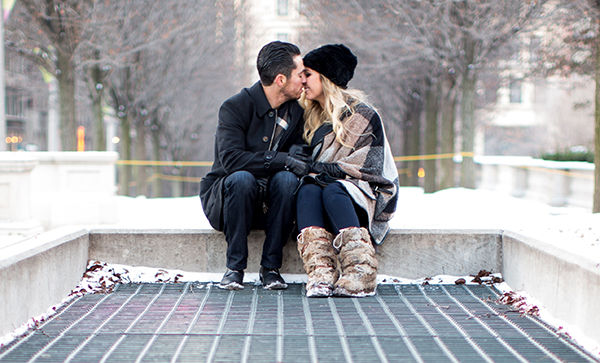 The first time I met Ryan was in our Discover Chicago class at DePaul. It was our first class freshmen year. I remember feeling as if I knew Ryan my entire life and was just giggling with an old friend. We both started going on runs/jogs together and ended up naturally spending a lot of time together as friends, talking and "catching up" on past time. Getting to know each other and where we came from. I've always felt so comfortable with Ryan. Never judged. Never forced. 
The Proposal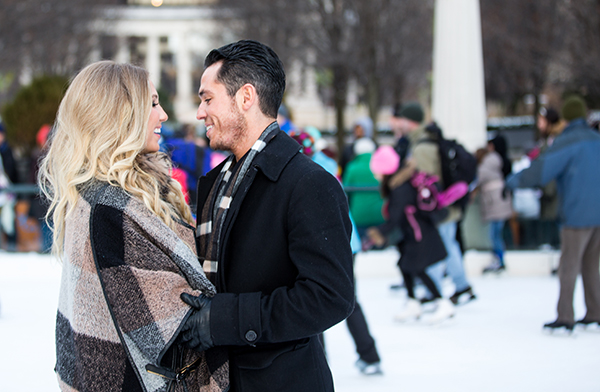 Carrie and I had been together for 8 years and I knew it would be a challenge to surprise her. I was no stranger to surprising her with Dinner or dates to places that we have never been before, so I thought a carriage ride would be perfect. I planned for December of 2014, but thought the October weather would be perfect for a romantic ride through the city. She was working that day, so I set the ride up so that I could pick her up from work in the carriage. To buy myself some time, I purchased a manicure and pedicure for her right beforehand.  However, I was not aware that the carriage was not allowed to enter Michigan ave until 7:00PM. I had to think fast. So we decided to pull up alongside intercontinental hotel and wait there. So, I asked Carrie to meet me there for dinner where I surprised her with the horse and buggy. "What is this?!?" She said. "Just a little surprise! I thought that we could try this! We never have done this and lived in Chicago for so many years!" The plan was to ride through the city from Michigan Ave to Japonais for dinner, stopping along the river on the way to propose. When we pulled up alongside the river, our horse, Spirit, put on the breaks and that was my cue. I got down on one knee in the carriage and asked Carrie if she would marry me. Much to my surprise, she was surprised!  I thought for sure I gave it away!
The Engagement Session
Ry played hockey his entire life and always had a love for the ice. He would often take me on winter dates to the ice rink during the holidays and would get a chuckle out of me attempting to skate. But he would be such a gentleman and always hold my hands. We thought that would be a perfect place to get our natural personalities to show and make for some different pictures, nothing too traditional.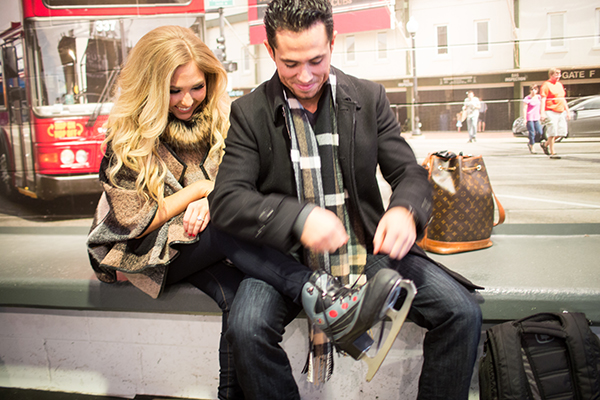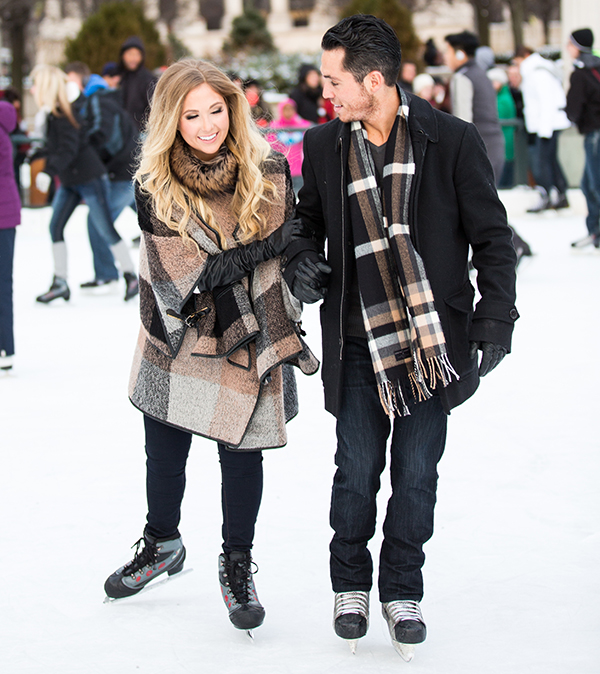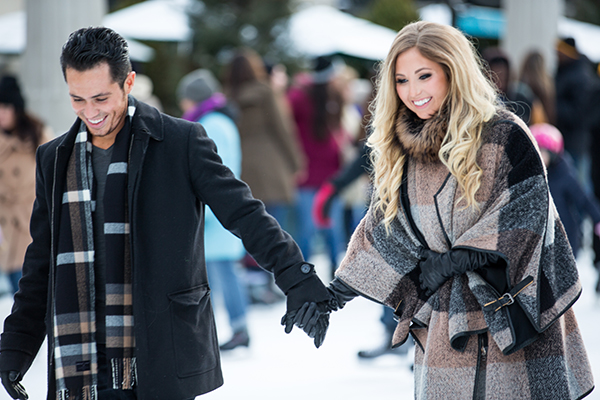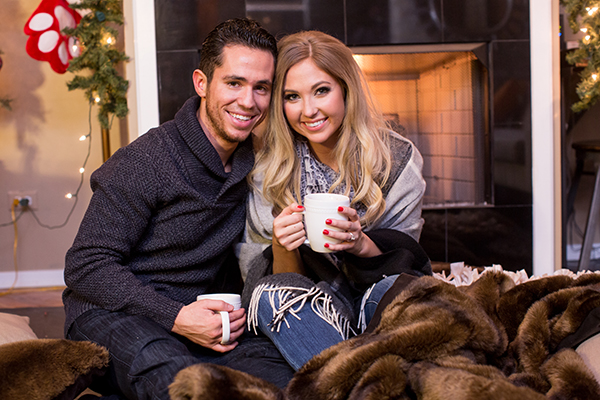 The Engagement Ring
I spent a long time deciding what I wanted to present to my fashion-forward  girlfriend on this huge day in our lives. I figured I would purchase the stone before I did anything. I knew I wanted a round cut stone and went to M. Martin Jewelers on 5 S Wabash, as he came recommended by a close friend. He has been in business for 25+ years. I knew I would get a great stone. From there, I decided Robbins brothers offered the best selection from multiple designers all over the country for the setting. I selected a piece from a designer out of California. It was so unique, unlike anything I had seen before. It is a halo design but the halo is in the shape of a flower with smaller diamonds surrounding the center stone and along the band. When it came time for the wedding band, I decided custom was the best route. James and Williams in Berwyn provided their expertise in jewelry design and designed to my specifications. It is a two-sided band with diamonds along each band that allowed Carrie to drop the engagement ring into the center. It is simply stunning.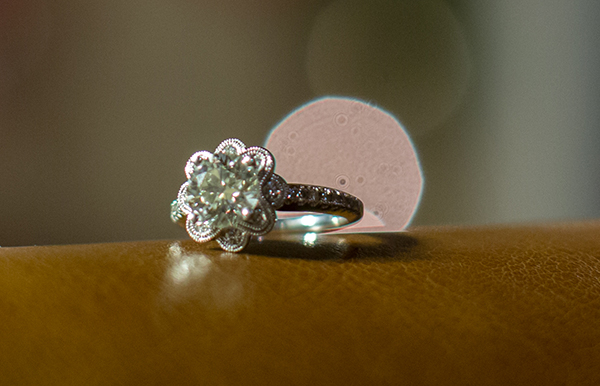 The Photographer
Jill Tiongco is a Chicago and Destination Wedding Photographer who creates authentic, timeless, and romantic photos. Jill specializes in photo-journalistic style photos, and loves telling her couples' stories through her lens.