Friday, July 10th, 2015
Going to the beach and/or the pool are a staple of summer. Now that we're nearing the end (I don't say that to depress you!), here are a few ideas of making one of those perfect moments last a lifetime.
1. At the Lake. Whether you're tubing, fishing, or just dipping your toes in to cool off– plan your proposal for one of these days. I would not suggest, however, pulling out the ring if you're in a tube moving down river, or pulling it out on the boat UNLESS you have it secure!
2. By the pool. Have a summer celebration with those closest to you. When things are at their most exciting, or perhaps when you have a quiet moment, let everyone know what the party is really for. Unroll that banner or just drop to one knee and ask your question! Make sure to have something to celebrate with: cupcakes, champagne, balloons– something!
3. Beach Camping. If you have a love of sand and an adventurous side, take her camping on the beach. Enjoy the smell of salt, the sound of the waves, and whether it's by the fire or during the sunset or sunrise, it will be hard to beat the atmosphere of this proposal.
Emily
Thursday, July 9th, 2015
If you're going to propose during a reception, this is the way to do it. Because not only are you not stealing the whole show (until this point), but you know the bride and groom are on board with you taking a part of the spotlight for a while.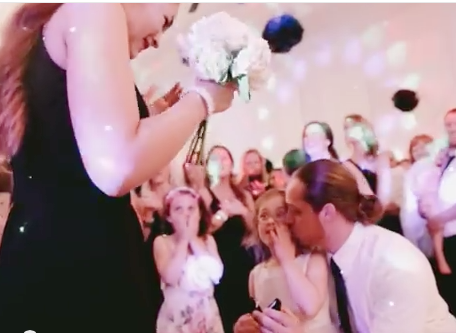 The bride is getting ready to do the usual tossing-of-the-boquet, but instead she takes everyone by surprise by turning around to look at the awaiting women. Next, she hands off the bouquet to one of her bridesmaids, and promptly turns her around. Who should be waiting there but her boyfriend and [his/her] daughter– and a ring.
I am personally not one for wedding reception proposals, especially if it takes away from the actual wedding that's going on. However, what amazing friends to have who were not only not upset by this proposal, but in on the surprise! I think this speaks loads for the surprise of the proposal, and the character of the bride and groom.
Congratulations to all!
Emily
Tuesday, July 7th, 2015
There is nothing like going old-fashioned for your proposal. What better way to try to do that than with two things working in your favor: a hot summer and ice cream.
Here are a few ideas!
1. One Shake, Two Straws. Yes, you know how this goes. After a day of enjoying each other's company, go somewhere to get an old-fashioned shake and order one with two straws. You can put the ring on top of the shake (though it might sink) or find a way to tie it to the glass (get your waiter in on it), or you can simply slide it her way while she's focused on slurping down some chocolate. Either way, this is a cute and subtle way to pop the question.
2. Ice Cream Social. Invite some friends and/or family over to enjoy some homemade ice cream, and make it an event. Whether there's pool fun or just games/company to be enjoyed, have people there to see the magic. When you offer her the first taste of the homemade deliciousness, have her close her eyes. Instead of slipping her a taste, drop to your knee and tell her to open her eyes.
3. Ice Cream on the Beach. Tell her you're going to get something sweet to cool off with. When you return, hand her the cone and the ring! I mean, you're on the beach, you're bringing her food, and you're proposing. What's not to love in that moment?
Whether you do it privately or with a bunch of people around, if you have an ice cream lover as your significant other, this is the way to do it!
Emily
Monday, July 6th, 2015
Two regular volunteers of Modesto, California were all decked out for the Fourth of July: Uncle Same and Lady Liberty. Well, Mr. Sam (whose real name is actually Sam), decided to take the opportunity to stop the show and have a very special moment– literally.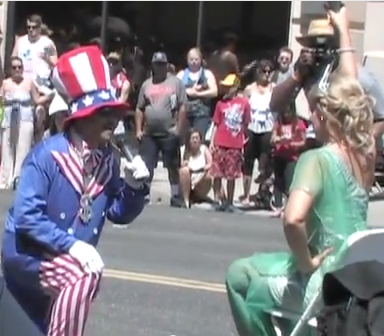 The parade stops for a moment to focus on "having Uncle Same and Lady Liberty in the same spot," but really it's so Sam can give the sweetest speech to his girl and put a ring on her finger. What surprises me is how well she stands/sits there with her hand in the air and the other on her hip; it almost made me think, for a moment, that this was going to end up being a proposal fail. Thankfully, that wasn't the case. His proposal starts around 1:35.
It's a wonderful thing to see people coming together on a day that celebrates our freedom.
Emily
Thursday, July 2nd, 2015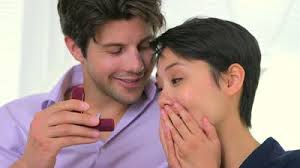 Every couple likes to celebrate their anniversary a little differently, but if you're thinking of taking the plunge on that special date– you may want to pay attention to this advice! Here are three tips on how to make it special, unique, and most of all: a surprise!
1. Downplay it just right. Whether your anniversary falls on a Monday or a Saturday, make sure to downplay it a little. Tell her you're excited to celebrate, but you hope she's ok with minimalistic plans because you've been so swamped with this, that, or the other. However, don't downplay it TOO much to the point where she's in a rotten mood or just doesn't want to celebrate because she doesn't think you care.
2. Include others. Whether you just include them in a video, letting them know what you're planning, or being there for the surprise itself– having your friends and family be a part of the big moment is special, because they're going to be there the rest of your life. Also, surprises are hard to keep to yourself… so it's good to have a confidante (or two) that you know will keep the secret but be excited with you.
3. Remember to celebrate your past as much as your future. Obviously, getting engaged is all about the next step: marriage. But don't forget to celebrate the moments that you got there. After all, it's your anniversary! You're celebrating the time that you've spent together up to that moment, and therefore it's just as important as the future you hope to have. You wouldn't have that future without the past, the good and the bad– so make sure to let her know that!
Emily
Wednesday, July 1st, 2015
James wanted to propose to Tina in a way she'd never forget. So, of course that involved getting her into a special screening of Jurassic World in Baltimore, only to have it really be about his proposal movie trailer.
Tina loves spy movies, so James decided to speak her "love language" and make a (pretty good) trailer that would play on her emotions. It doesn't take long for Tina to realize that the trailer has some of her family and friends in it, and she's the reason for the trailer itself. When it ends, James comes into the theatre and gets down on one knee (3:50).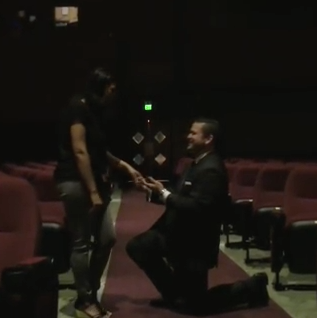 What Tina also doesn't know, is that her whole family is waiting upstairs in the theatre for her as a celebration surprise.
It's also fun, because at the big moment the two do a little sit-down interview where we get to hear all the details we didn't see in the video. Whole thing is well worth a watch.
Emily
Tuesday, June 30th, 2015
It's the week of Independence Day and you've decided it's time to propose! But, wait…how are you going to plan it so last minute?! Here are three ideas!
1. Grill Out.  There's nothing like grilling on the Fourth of July, and odds are you can round up some friends and family who don't have any plans (or are willing to change them) last minute. So grab some burgers and decorations, and prepare a speech, and you're set!
2. Private Fireworks. If you live somewhere that you're able, buy some home fireworks and tell her you wanted to do something a little more private for Independence Day. Whether you write it with a sparkler or ask her when you're shooting off some Roman Candles, it will be a night to remember.
3. Poolside. Another fun thing to do that's laid back is to hang out at the local pool. It may be a little busy, but there's still something intoxicating about the chlorine and red, white, and blue. While she's sun bathing, or after you guys have cooled off in the water, surprise her by pulling that ring out of somewhere safe (a beach bag, perhaps?).
HAPPY INDEPENDENCE DAY!!
Emily
Tuesday, June 30th, 2015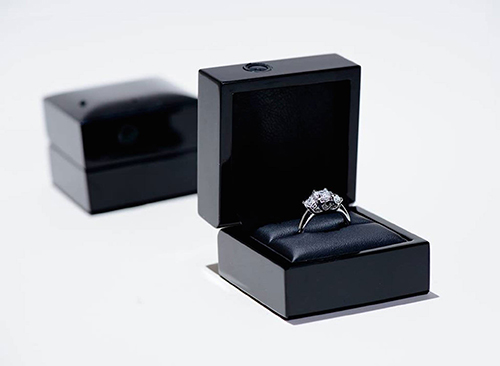 It's not always easy to capture the proposal in action. You could hire a professional photographer to hide somewhere behind a tree or get your best friend attempt it on his brand new iPhone, but what if the camera was hiding in the box itself? That's what Ring Cam is all about. A little spy in your pocket, ready to snap your most precious memory. For $99, you can rent this magic box for 2 weeks, $199 if you want the custom video. With this, you'll be sure to capture the moment you'll never forget. Hopefully, she'll say yes.
Monday, June 29th, 2015
Samantha thought she was just going to a screening of Jurassic World. What she didn't know was that her boyfriend, Adam, had planned something a little extra for their outing.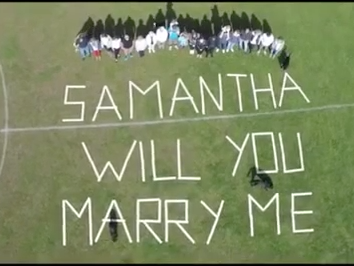 Making it look like a Disney trailer to begin with, Adam made a short that would preview before the screening to propose to Samantha. Not only did he and their dog go on a scavenger hunt to collect pieces of wood from spots significant to their relationship, but he included their family in on the proposal as well.
The whole thing is precious, but when the family gets involved is when we get clued in to just what is really going on. This happens around 3:50.
My favorite part? Well, the star of the show has to be their dog. I mean, come on! He does all the recovery work for the wood, right?
We don't get to see it in the video… but it has been reported that Samantha said yes!
Emily
Thursday, June 25th, 2015
If you have a job that allows you time off for the summer, or you're planning a vacation, then you should think about using the whole season to your advantage. Butter your loved one up with beach time, outdoor activities, and more. Then, when it's coming to an end, drop to one knee. Here are a few ideas!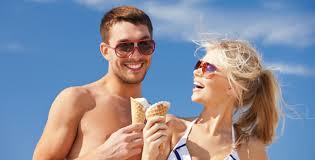 1. Vacation's All I Ever Wanted. Take an amazing summer vacation together, and plan it for the end of the season. This way you avoid plenty of tourists (because they've already done it), and you get to enjoy the last fading summer rays. When the time is right, perhaps at the end of the trip, plan something romantic and use that as your proposal time. Tell her how you've not just been waiting the summer, but your entire life to find someone like her.
2. Bucket List. Make a summer bucket list of all the things you want to do together. When you've checked everything off your list, tell her you want to add one more item– but it's a surprise! Plan accordingly, as always, and present the list back to her right before you drop to one knee and have it say, "Get Engaged." (There's a whole post on this idea!)
3. Summer Scrapbook. If you've been together a long time, collect pictures of the summers you've spent together and put them in order. Tell her how much you love the free time you have together, and then as she draws to the end of the scrapbook have a blank page that said, "Got engaged!" with the date. Drop to one knee, of course!
Emily